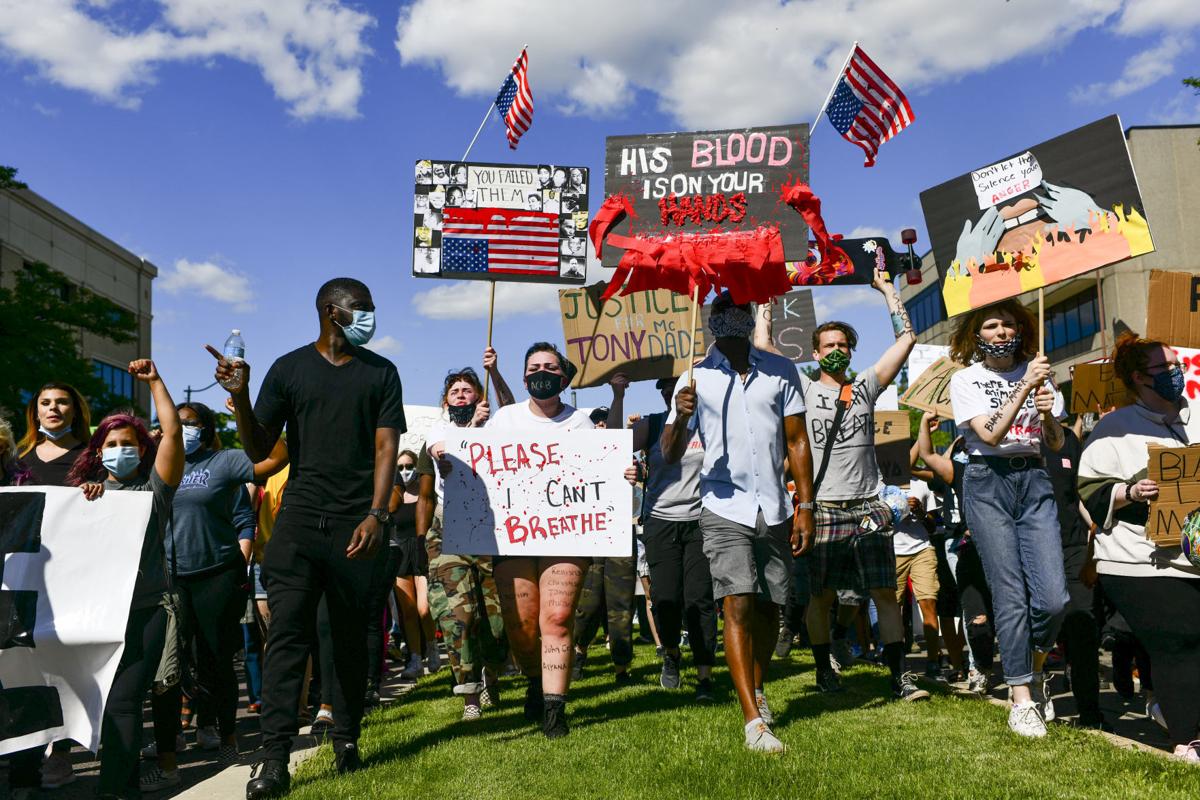 "I can't breathe!" Our community held our breath as we collectively watched in horror as another Black man was robbed of his last breath at the hands of a white police officer. Again.
George Floyd pleaded for his life after cooperating with police during an arrest for allegedly using a counterfeit $20 bill. The officer shoved his knee into the neck of a man who was handcuffed, lying on the ground, and not resisting arrest, for eight minutes and 46 seconds. George Floyd was unresponsive for two minutes and 53 seconds as bystanders begged the officer to stop and get him medical attention, to no avail.
Floyd's murder was a modern-day lynching. And these types of things happen every day across America — except this time it was videotaped and displayed live for Americans, and the world, to see. Our brother cried out 12 times as he gasped for his last breath. Our brother lost consciousness and died at the hands of systemic racism. We saw it before with Eric Garner in 2014, as he struggled to say those same words: "I can't breathe!" The outcome — no indictment. When police officers are not held accountable for the inexcusable use of excessive force with unarmed Black men, it emboldens those like the now-former police officer, Derek Chauvin. If there are no severe consequences for this blatant disregard for human life, it will continue.
If police officers who choose not to "protect and serve" had been convicted of the murders of Sandra Bland, Michael Brown, Tony Robinson, John Crawford, Tamir Rice, Philando Castile, Alton Sterling, Breonna Taylor and Ahmaud Arbery, George Floyd would be alive today.
These protests and riots are the voices of those who are fed up around the country — who are marginalized on their jobs, priced out of their neighborhoods, overcharged for payday loans and over-policed in their neighborhoods.
Now is not the time for violence, rioting and looting. I understand the anger that has built up after hundreds of years of oppression and so little progress in how black people are being treated in this country. However, it just fuels the stereotypes and destroys our neighborhoods. Now is not the time for destruction. Now is the time to unite for meaningful change in an organized manner. The destruction distracts us and the public from getting together and doing the hard work.
Our Black community is mentally and physically drained, we're tired and we're angry! What we witnessed on May 25 in Minneapolis was gut-wrenching, unbearably traumatizing and heartbreaking. These acts of violence against Black men and women at the hands of law enforcement must stop.
Most Dane County residents are good people, who care about these issues — yet many choose to stay clear of these kinds of conversations. I implore you to think differently and to step out of your comfort zone. There are a lot of good people in this world, but the only thing necessary for the triumph of evil is for good men and women to sit quietly and do nothing. Over the years, Black people have fought prejudice, racism, injustice and death. Many in our community have remained uninvolved and don't speak up or fight for what's right with us. And it hurts.
Most people read the Race to Equity report in 2015. We already know all about the deep racial disparities in criminal justice, poverty, education, health, housing and jobs. Many people were involved in talking about the report, but no sustainable action was implemented collectively and no systematic funding was allocated to eradicate it. So, these disparities continue. We've had a front-row seat to the frightening disparities during this recent global pandemic. In Wisconsin, the disproportionate numbers of positive tests and deaths due to COVID-19 for Black and Hispanic populations are staggering. This pandemic is not new for people of color; we have been living in a pandemic, or fight for our very survival, for the last 400 years or even longer.
These disparities are not going to vanish without the financial, intellectual and emotional commitment by the majority in this country. Yes, there can be peaceful protests, signing of petitions and calls made in support of eliminating the barriers for equality and justice for all. We don't want to see riots and violence born out of rage and anger from years of oppression. However, what we do want and need are substantial resources to metaphorically burn to the ground the systems and ideology that set up institutionalized racism. We need you to vote for those who support the dismantling of systemic racism. We need you to join us in, as rapper and activist "Killer Mike" said in an interview in Atlanta on Saturday, to "plot, plan, strategize, organize, mobilize" and unify!
So, for those who want to help, please know how mentally draining it is for Black leaders to keep educating our community on the same issues over and over again. There are many resources available online to help educate you further on how you can best support this effort to change. For now, here are my five points to consider:
1. Call your local police chief and board president and ask them to review their use of force policies. Include the mayor and your local councilperson. Hold them accountable.
2. Continue to support peaceful protest, host town hall discussions with focused outcomes of protecting African American families and invite donors to support those outcomes.
3. Help raise funds and demand policy changes that invest in sustainable long-term programs and leaders to address racial disparities in education, health, employment and incarceration.
4. For nonprofits and schools: Coordinate targeted programs for black families who are traumatized by these kinds of incidents, with mental health services and trauma-informed programming focused specifically for them.
5. Create a fund for the surviving family members of victims of families impacted by violence and racism, or who have been involved in officer-involved shootings, for legal fees, education, mental health services, etc.
Help us breathe by systemically investing and making Black families a top priority.
Michael Johnson is president and CEO of the Boys and Girls Club of Dane County. Johnson has raised money for the families of Michael Brown, Ahmaud Arbery and Tony Robinson, and will do the same for George Floyd. He has led a community effort that has so far raised $135,000 to support downtown businesses damaged over the weekend, 50% of which are women and minority-owned.
Share your opinion on this topic by sending a letter to the editor to tctvoice@madison.com. Include your full name, hometown and phone number. Your name and town will be published. The phone number is for verification purposes only. Please keep your letter to 250 words or less.
Catch the latest in Opinion
Get opinion pieces, letters and editorials sent directly to your inbox weekly!