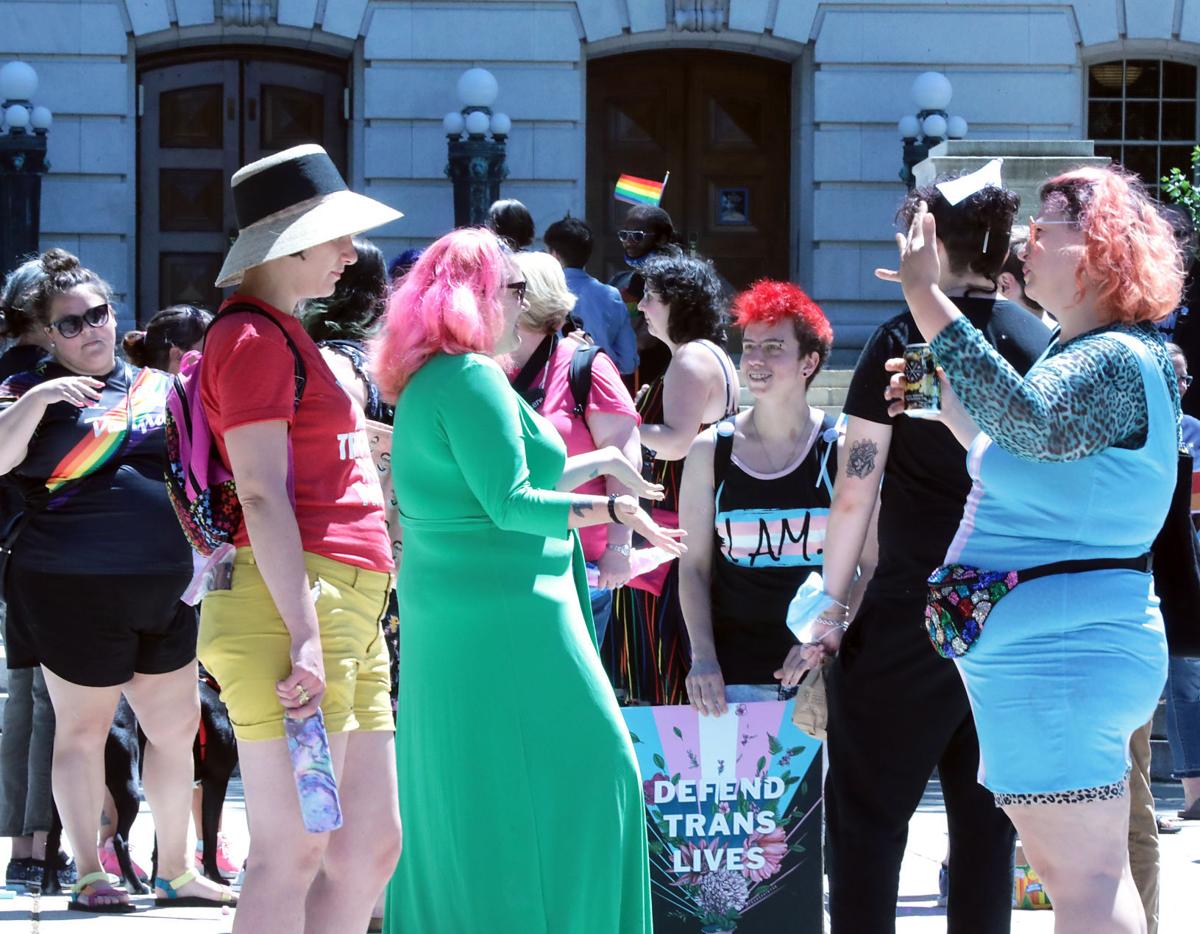 The opportunity to be a part of an affirming community should not be denied to anyone, including transgender and gender-expansive youth. Two bills have been introduced in both the state Senate and Assembly that force transgender and gender-expansive students, from kindergarten to college, to play on sports teams based on the biological sex on their birth certificate or to be on a coed team.
The three of us are students at Memorial High School, two cisgender athletes and a nonbinary person. We are outraged at the bills. By preventing students from accessing ways to grow collectively with peers through a team experience, these bills harm youth on and off the playing field, cisgender and transgender, through intentional outing and exclusion.
Historically, women's rights advocates have worked to ensure cisgender women have equal protections in sports. That right should extend to transgender people. Athletic teams foster community, relationships, competition and acceptance. All too often, transgender athletes are ostracized by their peers. Separating trans students from cis students with the same or similar gender will further cause divisions, defining trans students as different and therefore inferior to their peers.
Arguments for the exclusion of transgender and gender-expansive youth in sports overlook the fact that trans people do not have advantages in sports. Dr. Joshua Safer, the executive director of the Mount Sinai Center for Transgender Medicine and Surgery, concluded that genetics, chromosomes, and genitalia "are not useful indicators" of athletic ability. Rather, talent and training can be more important factors. Besides, the contrast between different players' talents is what creates a competitive environment and pushes other players to work harder and thrive.
While trans women and femmes are often targeted by similar anti-trans bills, transgender and gender-expansive people of all or no genders are harmed by sports bans. However, media surrounding such bills nearly always focus on trans women and femmes, using fears that they are threats to cis women. In 2016, a coalition of more than 200 sexual assault and domestic violence organizations disputed this claim, releasing a statement that trans-inclusive laws and policies have not coincided with a rise in violence against cisgender people. Transgender and gender-expansive people are not threats, but simply want to live their lives.
Not only would athletes lose the most important aspect of sports — the opportunity to build community — but these bills also place targets on transgender and gender-expansive youth. Violence against the transgender community is widespread and deadly. Transgender people of color face extraordinarily high rates of sexual assault, attack, harassment and murder. Last year was the deadliest year for transgender and gender-expansive Americans on record with at least 44 killed, according to the Human Rights Campaign. Eighty-two percent of those killed were people of color, including Arkansas teen Brayla Stone, who was murdered after someone put a "hit" on her. According to the 2015 U.S. Transgender Survey, nearly one in four transgender K-12 students in Wisconsin at that time had been attacked in school. If trans youth are forced to play on a team that aligns with their sex rather than gender, a co-ed team with solely trans youth, or a coed team labeled as "trans," students will be outed, increasing the risk of violence against children.
While trans inclusivity appears to be a new and concerning phenomenon, there have always been accepting spaces and cultures. If cisgender girls are safe around trans athletes, cis athletes are not at a disadvantage when playing against trans youth, camaraderie is harmed by exclusion, and legal discrimination compounds attacks against the trans community, why are these bills needed? Our communities thrive because of — not despite — our differences, a lesson that we collectively have learned time and time again. A more equitable future can only be achieved if we welcome people from all walks of life, and if adults trust youth when we say: Trans-inclusion strengthens and empowers us all.
Melanie Golden, Lola Hernandez and Amira Pierotti are students at Memorial High School.
Share your opinion on this topic by sending a letter to the editor to tctvoice@madison.com. Include your full name, hometown and phone number. Your name and town will be published. The phone number is for verification purposes only. Please keep your letter to 250 words or less.