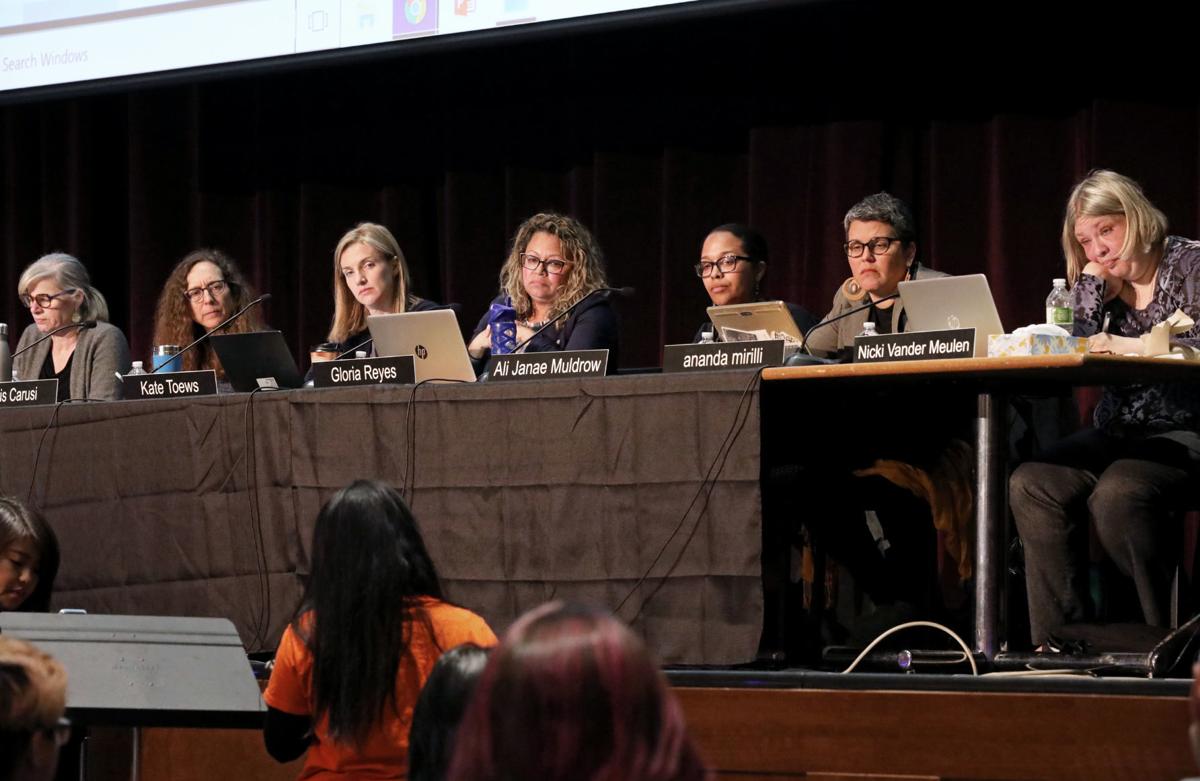 I've written before about the need for local education groups to be transparent. In light of Dr. Jennifer Cheatham's resignation as Madison Metropolitan School District superintendent, and the Madison School Board's largely behind-closed-doors selection of Dr. Jane Belmore as interim superintendent, I — at the risk of barking like a broken watchdog — am writing again with the same message.
This time, I'm speaking directly to the Board: the process to recruit and hire MMSD's permanent superintendent should be transparent. Official meetings related to the superintendent recruitment and hiring process should be held in open session. Records should be kept at all such meetings, and they should be made publicly accessible.
Why? As former Madison School Board member TJ Mertz wrote in a May blog post: "Transparency and accountability for government bodies depend on the public knowing the positions and actions of their elected officials, and at base that means knowing how they voted. When decisions to act, to not act, or how to act are made without votes whether in open or private … meetings, transparency and accountability are diminished."
Transparency in the Board's superintendent hiring process serves the public's interests. And it's what the Madison public — especially our kids — deserve.
My concern stems from recent Board actions that I find concerning enough to warrant this stern message. As local press has noted (here too), the Board's recent activities suggest a troublesome pattern of skirting, if not outright violating, open meetings and public records laws.
Wisconsin law requires school boards, like other local public bodies, to: a) hold their meetings publicly, hold them in reasonably accessible places, and open them to all citizens; b) have a quorum of members (usually a majority or more) before taking official actions; and c) precede each meeting with public notice, which includes to news outlets that have filed a written request for such notice.
There are narrow exemptions to the state's open meetings laws. For example, if a school board is to vote on a motion related to considering an employee's employment, they may be exempt and may move to convene in a closed session instead. Motions to convene in closed session can be adopted only if the body's authority announces to those in attendance the nature of the business to be considered at such closed session (i.e. the reason the meeting should be exempt from the open meetings law); further, this information, in addition to the vote of each member of the body, must be recorded in the meeting's records.
Two recent official actions by the Board leave me particularly wary. First, the hiring of an interim superintendent. Following Dr. Cheatham's resignation announcement to the Board during a closed session meeting on May 6, the Board held five additional closed session meetings at which the hiring of her replacement was on the agenda.
Only after The Cap Times reported that the Board was seriously considering Nancy Hanks for the interim position did the Board hold two open "workshop" sessions, though no votes were officially taken during these sessions. And when local reporters submitted multiple open records requests related to the Board's hiring process, including for its list of top choices and its list of all possible choices, MMSD legal counsel stated that no such records existed.
Further, in response to the reporters' additional open records request for meeting minutes from five of the Board's closed sessions spanning May 30 to June 17, the Board's secretary stated that the minutes hadn't been transcribed yet.
Second, and similarly unsettling, was the Board's official action on July 22 — a vote — to fill the seat left vacant by Mary Burke with Savion Castro. The vote occurred during an open session workshop during which no public comment was permitted. The open session workshop immediately followed a closed session meeting (the posted agenda for the closed meeting stated its purpose was to address a teacher discipline matter).
I've heard local education experts, attorneys, and parents call the open workshop "choreographed" and "a performance."
Did the Board really narrow the pool of applicants from 29 to 1 — unanimously — in a matter of 75 minutes? Or was the decision made ahead of time, during closed session meetings for which no records exist — or at least for which no records are publicly accessible, in violation of the closed session requirement that votes be kept as part of meeting records? Alternatively, and perhaps even more troublesome, was the decision the result of conversations tantamount to walking quorums?
So why hold open sessions at all? What purpose can they possibly serve you in making decisions, Board, if they're not actually a forum for decision-making?
What do you call a workshop that's held after the work has been done? And why tout the value of public input on one hand if the other hand can't be bothered to take or publish notes?
What I'm urging strongly here, Board, is that you approach the recruitment and hiring process for a permanent superintendent with more care — for your constituents who want to (and have the right to!) be a part of the process, for state laws that mandate transparency, and for the ethical precedent your acts set for future boards.
My message to the Board is this: be transparent with the public about the superintendent hiring process. Comply with the law.
What, according to state law, should the Board's transparency in the superintendent hiring process look like?
1. Open meetings: Hold all meetings regarding the superintendent hiring process in open session, where they are not subject to the "holding a vote" exemption to open meetings law. Give proper notice to the public of these meetings, including to news outlets. Keep records at the meetings. Release the records publicly and in a timely manner upon request.
2. Convening in closed session: Should there be a reason to move to convene in a closed session, state that reason on the record. Publish that record. If a motion to convene in a closed session passes by quorum vote and leads to a vote, record the votes of each voting member. Publish that record, too.
3. Walking quorums: Beware communications between Board members that amount to walking quorums of the ilk against which the state's Department of Justice warns: those that "produce a predetermined outcome and thus render a publicly-held meeting a mere formality." As the DOJ concludes, any use of a walking quorum in an attempt to avoid the appearance of a meeting is subject to prosecution pursuant to open meetings law. The Wisconsin Supreme Court has held that walking quorums need not be face-to-face gatherings to violate open meetings law; phone calls, emails, and other electronic messaging between Board members can violate open meetings requirements, too.
4. When MMSD's consultant identifies final candidates: Upon receiving public records requests, including from news outlets, disclose the names and addresses of the final superintendent candidates identified by MMSD's consultant. "Final candidate" means each applicant for superintendent who is seriously considered for appointment or whose name is certified for appointment and submitted for final consideration. If there are at least five candidates for the position, "final candidate" includes each of the five candidates who the consultant/Board considers most qualified for the position. If there are fewer than five candidates, "final candidate" includes each of the candidates. If the appointment is to be made directly from a group with more than five candidates (i.e. there will be no second round of consideration), "final candidate" includes each candidate in that group.
5. When in doubt: Heed Wisconsin's legislative mandate in Section 19.31 that the state's open meetings and public records statutes must be construed with a presumption of complete public access. The denial of public access contradicts public interest.
To the six of you on the Board who were elected by the people of Madison, and to Mr. Castro, who was also chosen to represent the city's constituents, I offer the following excerpt from Wisconsin's legislative mandate about open meetings and public records laws: "In recognition of the fact that a representative government is dependent upon an informed electorate, it is declared to be the public policy of this state that all persons are entitled to the greatest possible information regarding the affairs of government and the official acts of those officers and employees who represent them. Further, providing persons with such information is declared to be an essential function of a representative government and an integral part of the routine duties of officers and employees whose responsibility it is to provide such information."
If this call for transparency incites your pushback, Board, please — pause, really pause, and ask yourselves: why?
Though increased transparency will demand the Board's time, it certainly won't hurt the public. But a Board that acts with knowing disregard of its statutory duty to inform and involve its electorate certainly will.
And those who a continued lack of transparency will hurt the most are the very reasons all of us got involved in local education in the first place: our kids.
Mckenna Kohlenberg is a dual J.D./M.S. candidate in Educational Leadership & Policy Analysis at the University of Wisconsin. She is also a long-time resident of Madison and editor for the Simpson Street Free Press.
Share your opinion on this topic by sending a letter to the editor to tctvoice@madison.com. Include your full name, hometown and phone number. Your name and town will be published. The phone number is for verification purposes only. Please keep your letter to 250 words or less.