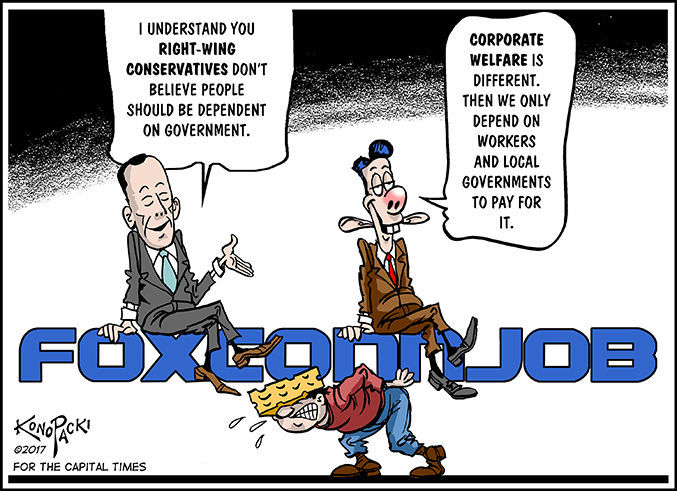 Moving quickly through the approval processes of Gov. Scott Walker's rubber-stamp Legislature is a $7 million advertising campaign to lure out-of-state workers to Wisconsin, largely to fill spots at a yet-to-be-built Foxconn facility.
Wisconsin taxpayers are being forced to pay twice. First, pay $4.5 billion to a foreign corporation known for horrible working conditions to come to one corner of the state. Then, fund ads in Illinois, Michigan and Minnesota so out-of-state workers can take the jobs Wisconsinites are spending billions to create.
This double payment begs an important question: If there aren't enough Wisconsin workers for Foxconn, why is Walker forcing us to spend billions creating jobs in southeast Wisconsin?
It's not as though other areas of Wisconsin don't need economic development. Communities all across our state are reeling from job loss thanks to Walker's neglect as he campaigned for president and worked to advance his political career. The 600 layoffs at Kimberly-Clark are the latest in a string of downsizes and closures that hit companies like Appleton Coated, Graphic Packaging and Oscar Mayer while Walker toured the country to promote himself.
The unfortunate answer to why Walker is paying billions to create jobs we can't fill is that Foxconn is a very costly campaign stunt. He's trying to cover up his lousy record on jobs and infrastructure. If Walker really wanted to attract people and businesses to Wisconsin, he would have spent his full term promoting policies to make Wisconsin the most attractive place to live, work and start a business.
Unfortunately for Wisconsin, Walker cares more about his own re-election and covering up his broken jobs promise than he does about governing. Last year, 96 percent of state spending to help businesses create jobs went to just one business: Foxconn, a foreign corporation. Layoffs happening across our state by Wisconsin businesses — that got no attention from Walker — reflect that narrow-minded focus.
Imagine if Wisconsin had spread even a fraction of the $4.5 billion — estimated around $200,000 per job — across the state and divided it among Wisconsin businesses and startups from Abrams to East Troy. That would actually create jobs in every zip code around the state, and it wouldn't require us taxpayers to fund $7 million in propaganda for Chicagoans.
Wisconsin is facing some serious problems. Factories are being shuttered, our roads are crumbling and our classrooms have been cut to the bone. I love Wisconsin and I believe deeply in our potential. A serious economic development plan that benefits all areas of Wisconsin can fix these problems. We just need a governor that cares more about saving our state and not merely saving his own job in a tough election year.
Martha Laning is chair of the Democratic Party of Wisconsin. 
Share your opinion on this topic by sending a letter to the editor to tctvoice@madison.com. Include your full name, hometown and phone number. Your name and town will be published. The phone number is for verification purposes only. Please keep your letter to 250 words or less.
Catch the latest in Opinion
Get opinion pieces, letters and editorials sent directly to your inbox weekly!