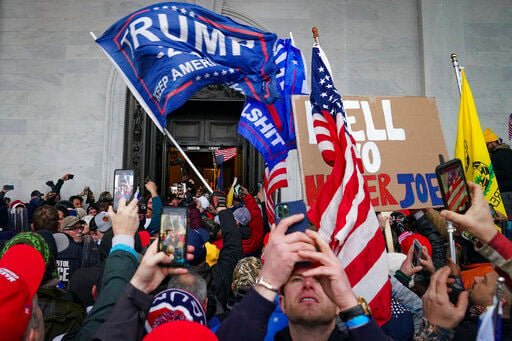 Our family is largely a radio and print news family; we rarely watch television news, but like much of the country, my husband and I were riveted to our television last Wednesday. Jan. 6 may prove to be one of those dates, like JFK's assassination or 9/11, when the world as we know it shifted on its axis.
Countless people have said that it was shocking — and it was that, and more, to see a right-wing mob smashing doors and windows, destroying public property, invading the Capitol and interrupting congressional action.
By the time we tuned in, much of the video footage was of aimless, leaderless people, looking unclear about what they should do or how to act. It seemed to me that, in the wake of the leaders and violent actors, followed thousands of gullible people who had swallowed the lies that President Trump and several other Republicans had continued to perpetrate about his having actually won the election and its having been delivered to Joe Biden through election fraud rather than democracy. Those people broke the law when they trespassed, with a goal of interrupting a process they had been told was anti-democratic and illegal.
For those thousands, whose principal impulse was to defend democracy, not to undermine it, I fault them for not testing adequately the sources of their information, for gullibility, and for being led into illegal and absolutely anti-democratic behavior blindly. But the outrage I feel is more directed at their leaders, who clearly planned this violent takeover and attempted coup, and the people who aided and abetted the false understanding that motivated their behavior. I'm angry at Republican leaders who have been too afraid of a base misinformed and fired up by this president to stand up for foundational principles of democracy and for the truth. And I'm outraged at media outlets willing to aid and abet President Trump and others intent on lying to serve their own ends.
I have been feeling for many years, and with heightened concern over the past several months, that American democracy is greatly at risk from the entirely unfettered right-wing broadcast media and unfiltered use of social media to propagate lies, whether it's racist birther myths about President Obama, racist lies about immigrants, lies about the COVID-19, the legitimacy of the 2020 election, or countless other complete misrepresentations. Wednesday's assault confirmed the danger. In the weeks leading up to last week's assault on the Capitol, Fox News gave full voice to those challenging the legitimacy of the election, and its commentators reinforced it; Newsmax and other media are as bad, if less powerful. Trump supporters on Twitter and Facebook had every reason to believe the "Stop the Steal" propaganda that Trump spewed.
Last Wednesday, after watching other channels for an hour, we turned to Fox to see what they would say. Despite earlier reporting that was sympathetic to the protest march, once the assault on the Capitol began, Fox switched to what we saw — responsible coverage, incredulous reporters appalled by what they were seeing. Over the weekend, Trump was removed from several social media platforms — actions that were long overdue. But holding broadcast corporations like Fox accountable may require companies that advertise on Fox and other networks feeling the heat for their advertising — pressure that's long overdue.
Margaret Krome of Madison writes a semimonthly column for The Capital Times. She is policy program director for the Michael Fields Agricultural Institute.
Share your opinion on this topic by sending a letter to the editor to tctvoice@madison.com. Include your full name, hometown and phone number. Your name and town will be published. The phone number is for verification purposes only. Please keep your letter to 250 words or less.