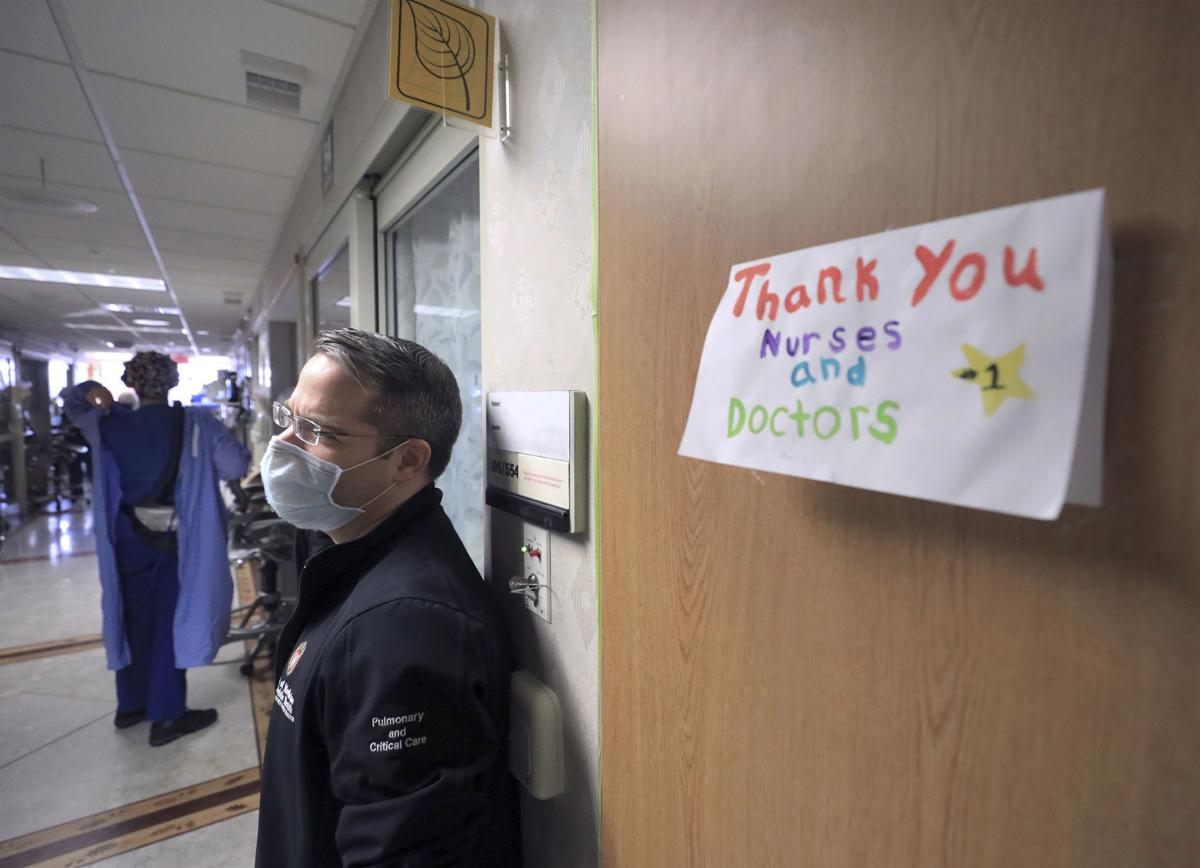 A friend apologized for being squeamish about attending social gatherings of any kind, indoor or outdoor. "I know it's irrational, but COVID spread is so intensive right now in Wisconsin," she explained.
But of course, it isn't irrational. The total number of COVID-19 cases doubled this past month, and more than 1,000 Wisconsinites died from the virus. The deputy secretary of Wisconsin's Department of Health Services pointed out last week that the state is experiencing more cases per day than New York City did last spring at the peak of their epidemic.
At the end of October, 1,972 Wisconsinites had died in the pandemic's first six months. But with a weekly death rate of 53, more than 1,000 more people have died during November, with 3,115 total deaths reported on Tuesday. At the end of the weekend, 87% of hospital beds for COVID-19 patients were full.
It's evident that my friend's skittishness doesn't reflect obsessive anxiety, but highly rational and justified caution. Driving on two-lane highways to our cabin in pre-dawn hours on Saturday morning, whenever I saw oncoming headlights, I never worried whether those drivers might suddenly take a whim to drive across the yellow line into my lane and kill us both. Daily, I assume that mutual self-interest guides others' behavior most of the time and that most people follow important laws.
However, this epidemic has defied norms of human interaction. The medical certainty that wearing masks and social distancing reduce COVID's spread has been overthrown by Republican leaders like President Trump and state legislative leaders who frame such caution as anti-business or violations of individual freedoms. While some businesses meaningfully limit patrons in their establishments, in many places, state mask mandates are represented as impositions of a nanny state, and keeping businesses prospering is prioritized over employees' safety.
A wise young woman serving as a Wisconsin contact tracer wrote me last weekend. "Oooof," she texted. "Just feeling another overwhelming wave of concern for Wisconsin. 5 of 6 people I've interviewed this weekend told me that while they are actively contagious, someone they have been living with (household contact) has been told by their employer not to quarantine and to report in to work until they show symptoms. Scary... It's an outrage and deeply disconcerting, as it undermines the ENTIRE response, which at this point is based on the assumption that positive cases will be able to notify and advise their contacts on how to quarantine and that info will be sufficient."
It's understandable that businesses, so stressed by COVID, worry about survival. But, even as earlier failures to tame the epidemic resulted in additional damage to businesses, today's spikes will wreak further economic havoc later. Of course, building economic security for everyone through another congressional COVID-19 aid package will be essential to reassure businesses and households alike.
Statistics from this weekend suggest that Wisconsin's spike in caseloads could be starting to moderate, with declines last week in both the seven-day averages for test positivity rates and daily case increases, and zero new deaths Sunday. Perhaps Wisconsinites are realizing that crossing the yellow line isn't an exercise in casual self-realization or political identity. Social distancing and wearing masks saves real peoples' lives, speeds us to a better economic future, relieves the burdens on exhausted health care workers, and gives us hope for a better 2021.
Margaret Krome of Madison writes a semimonthly column for The Capital Times. She is policy program director for the Michael Fields Agricultural Institute.
Share your opinion on this topic by sending a letter to the editor to tctvoice@madison.com. Include your full name, hometown and phone number. Your name and town will be published. The phone number is for verification purposes only. Please keep your letter to 250 words or less.