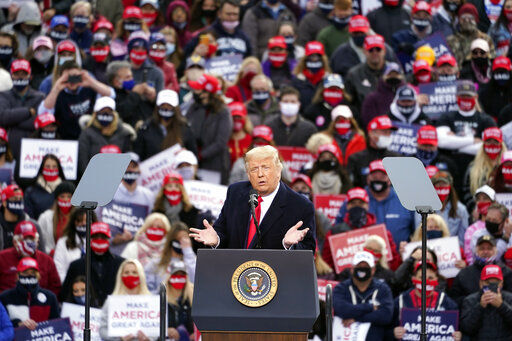 There's no doubt we're in a swing state. When my text notification pings, my family tries to guess what and whose political exhortation it will be, knowing it surely will include some all-caps words like "I'm PLEADING with you to donate" or "Margaret, I'm DESPERATE," or similarly dubious fundraising strategies. Calls to action, but mostly money in this COVID-19 year, seem endless.
But political behavior doesn't predict the other significant distinction for Wisconsin. Last week, out of the nation's 10 metropolitan areas with highest rate of COVID-19 cases, seven were in Wisconsin. Dr. Anthony Fauci, who directs the National Institute of Allergy and Infectious Diseases, continues to urge social distancing and wearing face masks to slow the virus' spread.
However, this doesn't seem to trouble the Trump campaign, which continues to schedule campaign rallies in Wisconsin even during the two-week quarantine period after contracting COVID-19 himself, ignoring public health advice and dangerously escalating the spread of the virus.
"People are tired of COVID," he said last week. "I have the biggest rallies I've ever had, and we have COVID. People are tired of hearing Fauci and all these idiots."
We learned last week that Trump hasn't attended a White House coronavirus task force meeting in "several months," even as new cases in the U.S. continue to skyrocket. At a Nevada rally on Sunday, Trump criticized Biden by saying his rival would, shockingly, "listen to the scientists" if elected president. Indeed, level heads, like Dr. Fauci, have been counseling such science-based, fact-based approaches as the surest way to contain the virus and protect public health and safety, and wise political leaders, like Wisconsin Gov. Tony Evers, have signaled those strategies as the best way to protect the state's economic growth.
With several people on Vice President Mike Pence's team now testing positive for COVID-19, the prudent way to demonstrate leadership during this dangerous epidemic is to exercise restraint, campaign virtually, wear a mask in public at all times, and expect all around him to do the same. Instead, Pence is following Trump's playbook, minimizing the value of masks, leaning into his campaign schedule and consequently, certainly spreading the virus at rallies.
If you thought public emergencies would bring together people in bipartisan problem-solving, you would be dreaming of a time long past. With COVID-19 running rampant, Republicans should be energetically supporting every measure to slow the spread of the virus and return the state and nation rapidly to economic vitality built on safe practices. Instead, some non-COVID but equally pernicious malady seems to have afflicted state and national Republican legislative leaders sometime in May, rendering them unable to act to serve the public.
In May, Wisconsin Senate Majority Leader Scott Fitzgerald and Assembly Speaker Robin Vos successfully sued to kill Evers' order designed to ensure social distancing, committing to create a COVID-19 response plan of their own. In all of these months, they've yet to produce a plan. Nationally, since May, when House Democrats passed their COVID-19 relief bill, Republican leaders (I use the term loosely) have dithered and failed to negotiate, so no relief is in sight.
Never in my lifetime has a public emergency so clearly demonstrated which party looks facts in the eye, plans accordingly, and makes difficult but necessary decisions. Democrats are doing their duty, and Republicans are failing in their public responsibilities.
Margaret Krome of Madison writes a semimonthly column for The Capital Times. She is policy program director for the Michael Fields Agricultural Institute.
Share your opinion on this topic by sending a letter to the editor to tctvoice@madison.com. Include your full name, hometown and phone number. Your name and town will be published. The phone number is for verification purposes only. Please keep your letter to 250 words or less.
Catch the latest in Opinion
Get opinion pieces, letters and editorials sent directly to your inbox weekly!