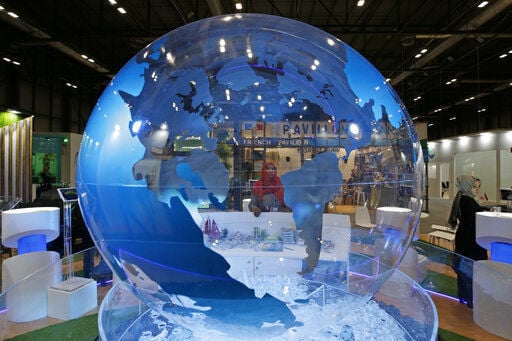 Over the weekend, the world watched as a stubborn bloc of countries — including the United States — successfully undermined any progress at the Paris Agreement climate negotiations in Madrid, bringing urgent and critical diplomacy to a halt. This confirms two truths: Where the United States used to be a global leader, there is now a dangerous vacuum — and action to address climate change from local and state elected officials is more critical now than ever.
Getting serious about climate action is in the Midwest's interest. This year, climate-driven extreme weather racked up a price tag of at least $11 billion in damages in this country. The northern Midwest and Wisconsin not only experienced plunging temperatures, setting new record freezing temperatures, but also increasingly extreme rain that fueled ferocious floods, which inundated 30 states along the Missouri and Mississippi river corridors simultaneously.
The threat of climate change and the economic opportunity of clean energy are clear as day, and Gov. Evers and I have made it a priority to address the threat and leverage the benefits.
This year, Wisconsin became one of nine states committing to power itself with 100% renewable energy by the year 2050. In October, Gov. Evers appointed me to lead the task force to create a climate and energy blueprint for Wisconsin's future. Wisconsin can lead the Midwest and provide a new model of climate leadership in America. We want to harness the power of clean energy not just to create jobs, but to create justice and equity. We must invest directly in the communities who have been affected the most by pollution and climate change — communities of color, Native Peoples and low-income communities — so everyone has access to clean energy jobs and everyone can benefit from a healthy environment. The task force will chart an ambitious course to transition away from polluting energy sources and to modernize our infrastructure so we don't get knocked out by floods and storms. That's the Wisconsin Gov. Evers and I are working to create.
Wisconsin is proof that America can course-correct. In 2018, Wisconsin voters showed climate denial the door. We can show America how to do it again in 2020.
I joined over 70 American elected officials, business representatives and leaders from institutions across the United States in Madrid at this year's international climate negotiations to show that world that America is more than just a corrupt climate denier. The delegation represented the 77% of Americans who think the U.S. should remain a party to the Paris Agreement, as well as nearly 70% of U.S. GDP.
Put another way, if the contingent of the United States that has declared itself still in support of the Paris Agreement were a country, it would have the largest economy in the world, larger even than China. Adding up the climate actions of all the cities, states, tribes, businesses and other institutions who are tackling this problem puts the U.S. on track to meet at least two-thirds of this country's original Paris Agreement promise of cutting emissions by 26-28% by the year 2025. To fulfill our promise, we need the U.S. federal government to prioritize climate change and clean energy policies. The Midwest has a crucial role in making that possible.
The Midwest has experienced more than its share of climate impacts, so we have learned the hard way that we must slash emissions, transform our energy systems and invest in climate-adaptive infrastructure like modernized storm drains and higher roadways for floods, and better heating pumps to protect Midwesterners from Arctic blasts. We must support leaders up and down the ballot who prioritize climate change solutions. As 2020 campaigns battle to win over voters in the Midwest, they'd better come to Wisconsin with serious plans for tackling the climate emergency and capitalizing on the job-creation promise of clean energy.
The days of Wisconsin's government ignoring science are over. Instead, we're going to build a brighter future — one that respects the science showing the problem, and the technology that offers solutions.
Mandela Barnes is the lieutenant governor of Wisconsin.
Share your opinion on this topic by sending a letter to the editor to tctvoice@madison.com. Include your full name, hometown and phone number. Your name and town will be published. The phone number is for verification purposes only. Please keep your letter to 250 words or less.