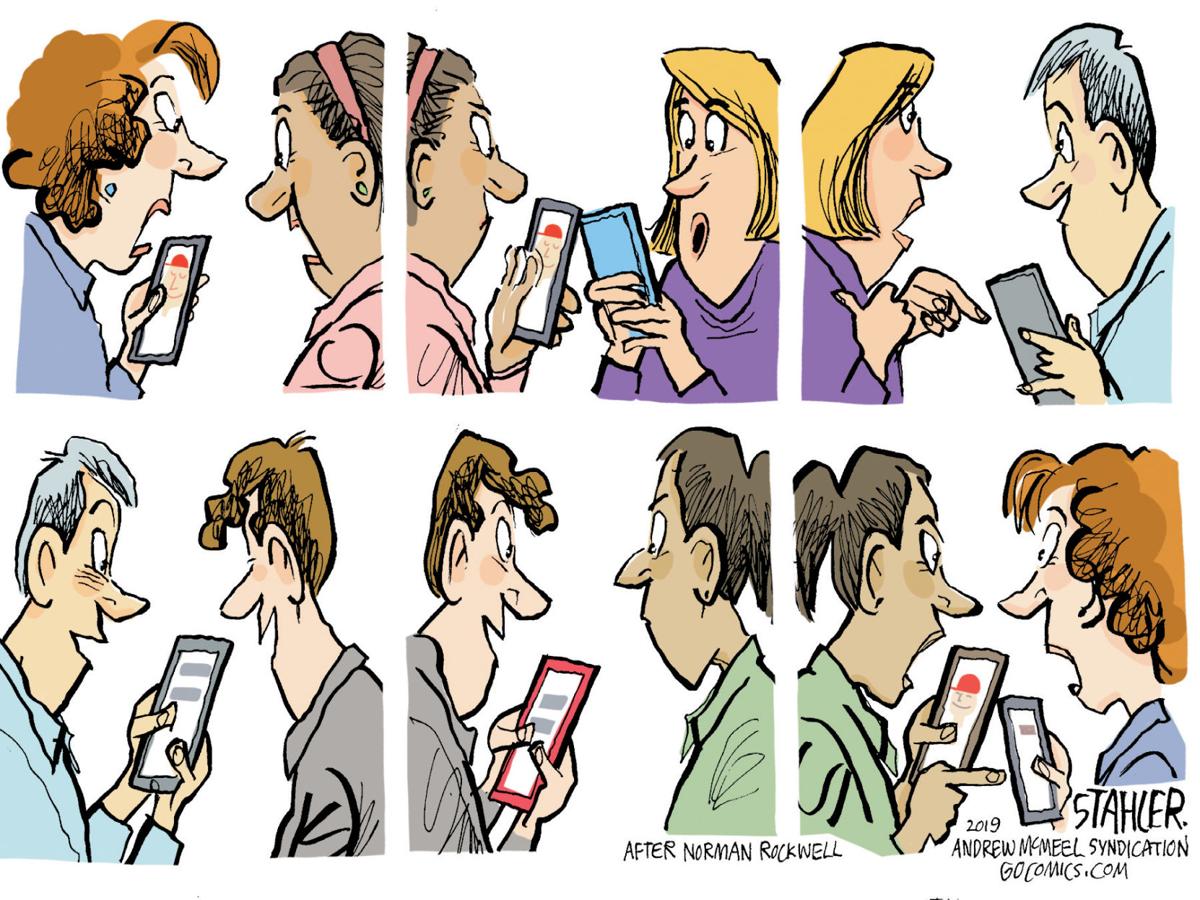 One of the least pleasant cocktail party experiences is to be cornered by a member of the grammar police. The conversation quickly turns to the rampant abuse of the subjunctive, the shame of split infinitives, the unconscionable verbizing of nouns such as "impact" and "conflict," the utter disregard for the sanctity of noun and pronoun agreement, ad nauseam.
The best one can hope is to find a grammatically correct manner in which to extricate oneself — being careful, of course, not to dangle one's participle.
Though they can tend toward the histrionic, grammarians have a point. While they willingly concede that language is not immutable, static — that change is inevitable — they are concerned about the speed with which change is taking place and, frankly, about the silliness of some of it.
To know that language changes over time, one only need try to read John Bunyan's "Pilgrim's Progress" (1678) in its original English. It's akin to struggling with a foreign language.
But, today, change in language — vocabulary and construction — seems to be quickening beyond what might be considered normal or even desirable. One can ascribe blame broadly to the accelerating pace of life itself paired with the rapidity of technological change. Or one can narrow it to my favorite whipping "boy" — the internet and its generally unmanageable social media offspring.
One of the characteristics of language is that it simplifies over time. For example, one no longer goes to the hospital. One goes to hospital. Articles like "the," "a" and "and" have been early victims of simplification.
Then there are the abbreviations so common in emails, texts and tweets — OMG, LOL, WTF, TTYL. If some of these are unknown to you, or if you'd like to add more to your "vocabulary," visit this internet slang website.
As for "emoticons," let's not even go there.
A rltd trnd is drppng vwls. Thx and pls have been with us for a lng tm. But the vowel-less srsly, rlly and bsns are more recent additions. (Yes, some consider "y" to be a vowel, although, more often than not, it acts as a consonant.) Even well-known websites have joined in — Tumblr, Flickr, Grindr and Scribd, for example. Each, however, felt it necessary to retain one vowel. Wusses!
Known to some as "disemvoweling," the trend was labeled the "modern vowel massacre" by John Williams. He writes: "The first step in the next stage of language's inevitable evolution — or devolution — may have already hppnd."
Columbia University linguist John McWorter confirms. "There is a fashion in American language culture right now to be playful in a way that is often childlike. This business of leaving out the vowels and leaving you to wonder how to pronounce something…channels this kid-ness in a way…."
Which brings us to "My bad."
If you've been Rip Van Winkling, you may have missed the recent upsurge in use of the phrase "My bad." (Incidentally, I will freely confess that I just, without permission, converted a proper noun to a verb. My bad!)
In case you're not familiar with the phrase, here's an example of usage. "Hey, kids! I just ran over the cat. My bad!" It's a short-cut apology and one, obviously, that fails to convey any real sense of remorse. It's often delivered ironically and without sincerity.
It's been suggested that the phrase originated with inner-city street basketball players in the 1970s who made a bad pass or other mistake. Its first appearance in mainstream media was apparently in the 1995 film "Clueless," which helped promote its more widespread use. I couldn't find an explanation for the recent apparent uptick in use. Perhaps it could be attributed McWorter's suggestion that language is becoming more childlike. One might also attribute it to simple linguistic slothfulness.
It also fails miserably in grammatical correctness. "Bad" is an adjective, so it is used to describes a noun or pronoun. The phrase converts "bad" to a noun. You might like to toss that into the next conversation you have with a member of the grammar police.
Parenthetically, I wonder why there doesn't seem to be a phrase for the antithesis of "My bad." Like "My good." I think it would be particularly useful for the POTUS, for example, since he never really apologizes for any of his misdeeds or malfeasances. Everything he does, therefore, is "My good."
Lorin R. Robinson, Ph.D., is a writer and former chair of the journalism department at UW-River Falls. His current book is "The 13: Ashi-niswi." 
Share your opinion on this topic by sending a letter to the editor to tctvoice@madison.com. Include your full name, hometown and phone number. Your name and town will be published. The phone number is for verification purposes only. Please keep your letter to 250 words or less.