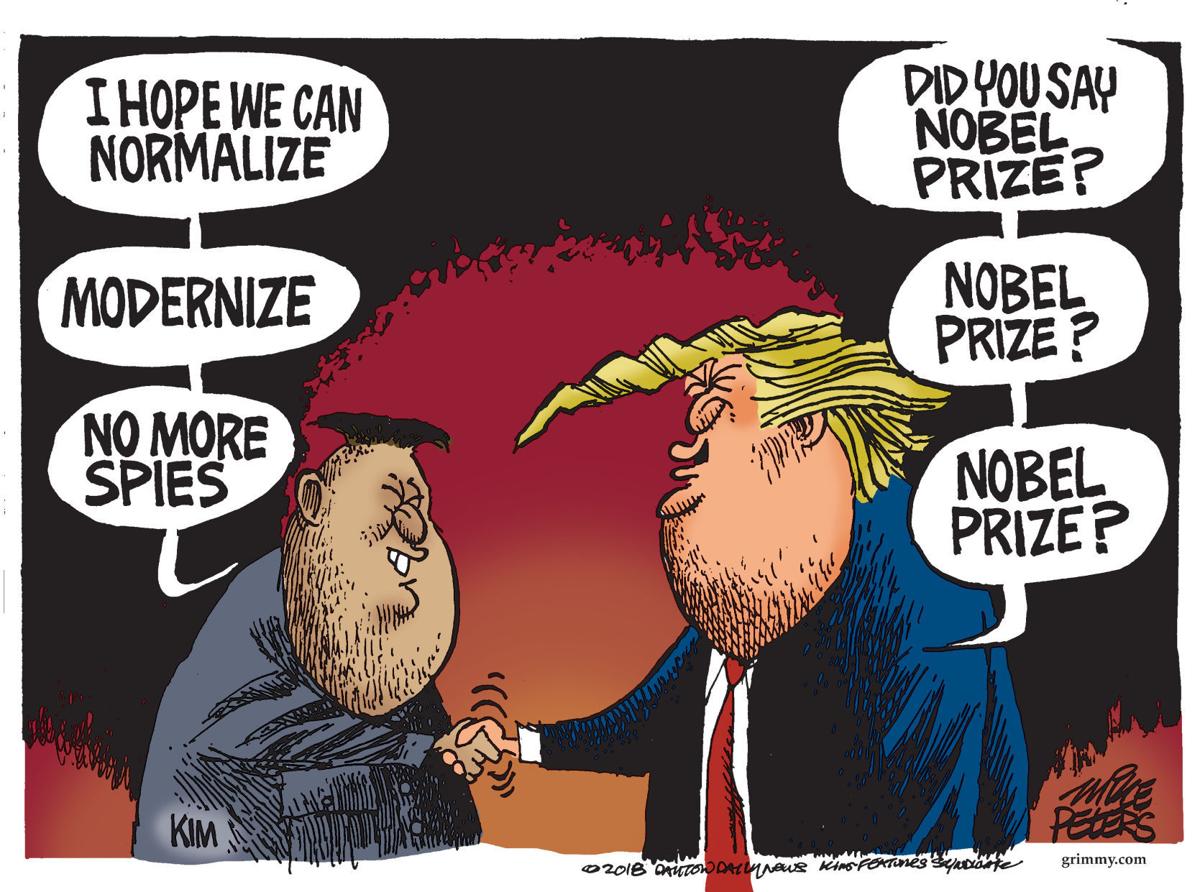 The POTUS finally got his wish. After shamelessly campaigning for a nomination for the prestigious Nobel Peace Prize, Trump's name was put forward by 18 Republican toadies who told the Norwegian Nobel Committee that Trump has worked "tirelessly to apply maximum pressure to North Korea to end its illicit weapons programs and bring peace to the region."
Trump was also nominated by two members of the Norwegian Progress Party for similar reasons. Not coincidentally, The Progress Party is libertarian and about as far right as it's possible to go without bumping into Attila the Hun.
Acceding to a bald-faced request from the White House, Japanese Prime Minister Shinzo Abe is reported also to have filed a nomination for Trump. Nobel Peace Prize nominators, however, are supposed to remain anonymous for 50 years. Either no one told the POTUS or, as is more likely, his gargantuan ego made it impossible for him not to trumpet.
It's possible that Abe figured he could throw Trump a bone without anyone knowing until long after the two are gone. When asked to confirm, the prime minister would only comment: "I'm not saying it's not true."
The Nobel Peace Prize has been awarded yearly since 1901, skipping 19 years along the way. The winner is based on a short list of nominations. While winning the award is tough, being nominated is not. Nominations can be made by anyone deemed qualified — members of national assemblies, governments, university professors, Nobel Committee advisers and former recipients.
Well, at least Trump's nominations this year seem legitimate. Such apparently was not the case in 2018 when the Nobel Committee received and disqualified two bogus nominations. Although the committee has been reluctant to provide details, a person or persons unknown forged the names of some heavyweights on nominations. Possibly considering the reputation of the "nominee," the committee, wisely, checked with the supposed signatories and unearthed the fraud.
Why this escapade didn't lead to "Nobelgate" is a mystery. Perhaps it fell too low on the growing list of Trump's alleged crimes and misdemeanors to raise eyebrows.
In any case, Trump is now in the running. He has a chance, however slim, to match the Nobel success of his nemesis, Barack Obama. But no one, Trump included, expects him to win the Nobel any more than he and his cronies expected to win the presidency. But, then, we all know what happened in 2016.
For the record, four U.S. presidents and a vice president have won Nobels.
Theodore Roosevelt (1901-09) in 1906 "for his successful mediation to end the Russo-Japanese war and for his interest in arbitration, having provided the Hague arbitration court with its very first case."
Woodrow Wilson (1913-21) in 1919 for founding the League of Nations, the predecessor to the United Nations.
Jimmy Carter (1977-1981) in 2002 "for decades of untiring effort to find peaceful solutions to international conflicts, to advance democracy and human rights, and to promote economic and social development."
Al Gore (1993-2001) in 2007 for his work in research and dissemination of knowledge about global warming.
Barack Obama (2009-2017) in 2009 "for his extraordinary efforts to strengthen international diplomacy and cooperation between peoples."
Incidentally, it's worth noting that none of these recipients is or was Republican. Roosevelt, a one-time Republican, founded the Progressive Party after dissatisfaction with the GOP led him to part ways.
Italian Fascist dictator Benito Mussolini was nominated in 1935 — the same year he invaded Ethiopia and placed three-quarters of Italian businesses under state control. The reason for the nomination is a mystery since the nominator's letter has been lost.
Adolf Hitler was nominated in 1939 by a member of the Swedish parliament, not because he believed in der Führer, but to protest the Nobel nomination of British Prime Minister Neville Chamberlain, who supported the Munich Agreement that gave parts of Czechoslovakia to the Nazis.
Russian dictator Joseph Stalin was nominated first in 1945 and again in 1948. The reasons for the nominations are obscure. One of Stalin's major accomplishments, of course, was killing about 20 million of his own people through purges, pogroms and one-way trips to Siberia.
Clearly, these nominations — like that of the current POTUS — had more to do with politics than world peace.
Lorin R. Robinson, Ph.D., is a writer and former chair of the journalism department at University of Wisconsin-River Falls. His current book is "The 13: Ashi-niswi."
Share your opinion on this topic by sending a letter to the editor to tctvoice@madison.com. Include your full name, hometown and phone number. Your name and town will be published. The phone number is for verification purposes only. Please keep your letter to 250 words or less.