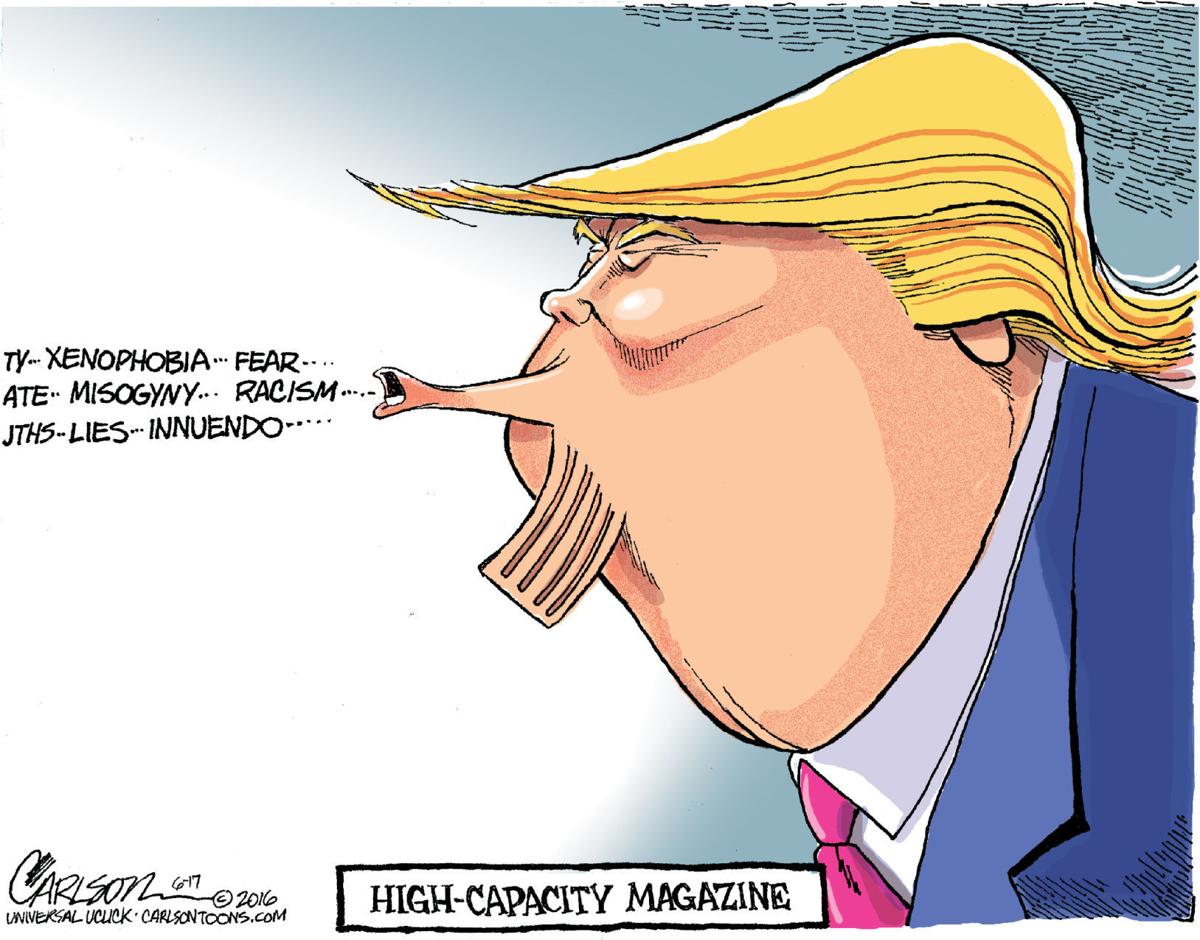 A few days before Christmas, the White House was the scene of an orgy of smarmy sycophantic self-congratulations in celebration of the passage of Trump's infamous tax bill. The uniforms were different, but I found myself wondering if this is how it must have looked and sounded when Hitler's coterie of henchmen gathered 'round, as they did regularly, to heap praise on Der Fuhrer.
Trump, playing emcee, summoned each of the speakers to the podium to heil the chief.
House leader Paul Ryan: "Something this big, something this generational, something this profound could not have been done without exquisite presidential leadership. Mr. President, thank you for getting us over the finish line…."
Vice President Mike Pence: For a full two minutes he dutifully offered thanks for the president's "middle-class miracle," and said he was "deeply humbled…to be here. You," he gushed, "will make America great again."
Rep. Diane Black, Tennessee: "Thank you, President Trump, for allowing us to have you as our president…."
Sen. Orrin Hatch, Utah: "You're living up to everything I thought you would. You're one heck of a leader…. This presidency could be the greatest presidency we have seen not only in generations but maybe ever."
Then, to add more frosting to the cake, former Arkansas Gov. Mike Huckabee on Tuesday likened Trump to Winston Churchill. Needless to say, historians far and wide found the comparison beyond ludicrous.
Incidentally, all these embarrassingly florid comments came after Republicans had grumped for months about Trump's ineffective and erratic leadership.
Trump reportedly looked stern as he listened, his arms crossed below his chest.
Which brings us, logically, to a brief discussion of the cult of personality:
"A cult of personality arises when a regime uses mass media, propaganda, or other methods such as government-organized demonstrations, to create an idealized, heroic, and, at times, worshipful image of a leader, often through unquestioning flattery and praise," Wikipedia says.
Can we think of any other leaders of recent vintage the definition describes? Let's do this alphabetically so as not to appear to be rank ordering in terms of nastiness: Castro, Hitler, Mao, Mussolini, Stalin…. Then, of course, there's Trump's current nemesis — Kim Jong Un, the roly-poly supreme leader of North Korea.
Surely, you say, we can't lump Trump in the same category with those miscreants. True. He hasn't yet been able to dismantle our admittedly ailing democratic system. He hasn't yet been able to turn his title of "commander in chief" into operational command of the military. He hasn't yet been able to stifle what is still a free and independent Fourth Estate. And, with public approval ratings consistently bouncing around the low 30s, he has a long way to go to achieve the status of "heroic" leader.
But that doesn't mean he doesn't want to.
Volumes have already been written, of course, about his personality — his extreme narcissism; his incessant need for approval; his pathological lying, usually for self-aggrandizement; his authoritarianism; his need to micromanage. So, there's no need to go there — except to point out that these characteristics are shared with most of those defined as "cult" dictators.
Examples of the president's proclivities to prove the point, however, don't have to be big ones. Sometimes, as the cliché suggests, the devil is in the details.
For two decades, commanders in chief have doled out distinguished-looking coins as personal mementos. Now, the presidential coin has undergone a Trumpian transformation.
The presidential seal has been replaced by an eagle bearing Trump's signature. The eagle's head faces right, not left as on the seal. Isn't that subtle? The 13 arrows representing the original states have disappeared. And the national motto, "E pluribus unum" — a Latin phrase that means "Out of many, one" — is gone.
Instead, both sides of the coin feature Trump's official campaign slogan, "Make America Great Again."
The changes don't stop there. In addition to his signature, Trump's name appears three times on the coin, which is thicker than those made for past presidents. And forget the traditional subdued silver and copper. Trump's coin, a White House aide, sounding very much like the boss, marveled, is "very gold."
Can the president change his coin? Of course. Taxpayers aren't paying for it. However, no previous president has. Barack Obama, for example, managed to control his undoubted impulse to engrave the coin with his own campaign slogan, "Yes, We Can!"
Let me conclude with an effort to raise my hipness quotient. Here are a few phrases from the 1988 hit "The Cult of Personality" by Living Colour:
"Look in my eyes, what do you see?
I know your anger, I know your dreams.
I've been everything you want to be….
… I sell the things you need to be.
I'm the smiling face on your T.V.
I'm the cult of personality.
I exploit you, still you love me.
I tell you one and one makes three
I'm the cult of personality…."
Lorin R. Robinson, Ph.D., is a writer and former chair of the Journalism Department at UW-River Falls. His current book is "Tales From The Warming."
Share your opinion on this topic by sending a letter to the editor to tctvoice@madison.com. Include your full name, hometown and phone number. Your name and town will be published. The phone number is for verification purposes only. Please keep your letter to 250 words or less.