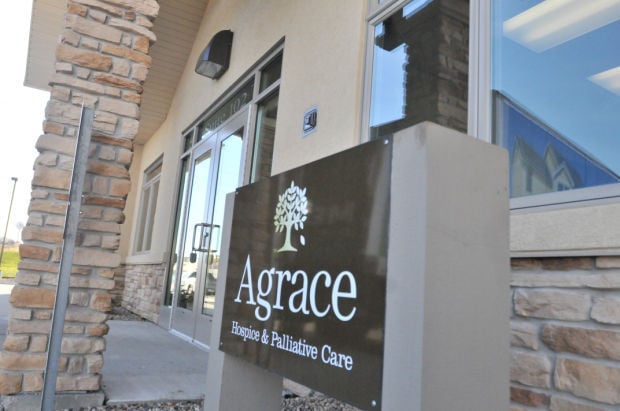 Pat and Les Niles had a wonderful Wisconsin life and family on a Paoli farm, until their daughter, Heather, was diagnosed at 14 with an incurable genetic disorder so rare that it had no medical billing code.
After Pat and Les depleted their resources to support their daughter, Heather decided to enter hospice. It was a difficult decision, but Pat admitted, "It is awful when you can't take care of someone you love, but when there is nothing else you can do, you have to open up."
Heather entered Agrace with support from its Care for All program, and was able to spend her final days with her family in a safe, supportive environment. As her sister Danni said, "We didn't have to worry about her care or her pain. Even though Agrace couldn't heal her body, they healed so much."
With two small children, Beth and Andy were a local couple of modest means when Andy was diagnosed with brain cancer and had to give up his job. They struggled with medical and even food bills, and, as his disease became terminal, Beth felt hopeless. Andy was too young to qualify for Medicare's hospice benefit, and their insurance hospice coverage was inadequate. But Andy did qualify for Agrace's Care for All program, which allowed him to spend his last 15 days at home with Beth and their children.
These are just two stories that illustrate, perhaps unbeknownst to most, many people in our community reach the end of life with no resources or support to provide a dignified death. Of course, some of these individuals have problematic backgrounds, yet others have reached that situation through no fault of their own, like Pat, Les and Beth. Regardless of how people come to the end stage of life, our society and our community can be judged on how we treat the most disadvantaged among us, particularly at this most meaningful time.
In order to provide everyone a dignified death, Agrace began a "Care for All" endowment program in 2015 to support those individuals unable to afford hospice services and to do so in perpetuity. Agrace has now completed a $15 million endowment that will enable Agrace to serve that populace. To provide context to what this endowment means to citizens of Dane and surrounding counties, Care for All has now served 322 patients, aged 8 months to 102 years. Undoubtedly, this need will grow in the future, but our community now has a permanent foundation that can support that growth.
We would like to thank the 1,931 individuals, businesses, foundations and staff who supported this endowment and to acknowledge the amazing work of all Care for All committee members, whose tireless efforts made success inevitable.
The compassion shown to Care for All patients is a reflection of the values of our entire community, and we are proud to be a part of it.
Linn Roth and Jean Martinelli are the co-chairs of Agrace's Care for All endowment committee.
Share your opinion on this topic by sending a letter to the editor to tctvoice@madison.com. Include your full name, hometown and phone number. Your name and town will be published. The phone number is for verification purposes only. Please keep your letter to 250 words or less.