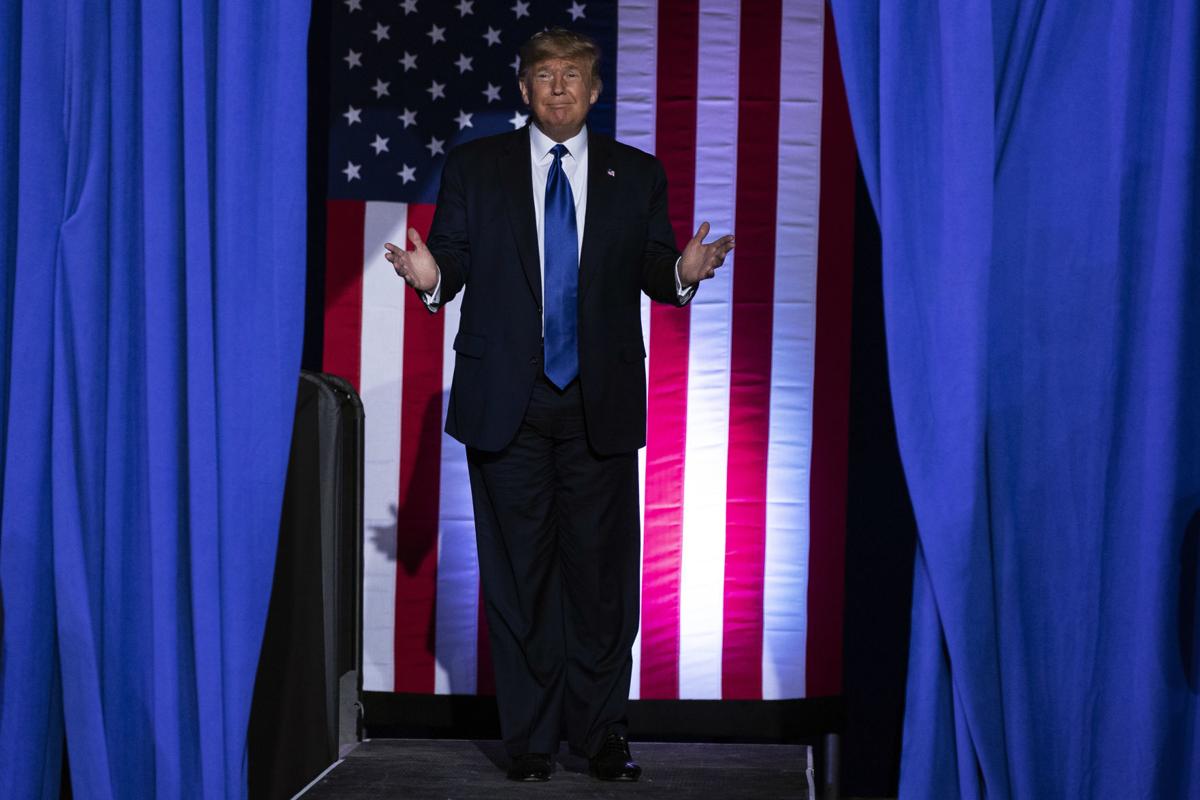 "A Warning" — by Anonymous, the Republican who wrote a New York Times column in 2018 about the "resistance" in the Trump administration — paints a picture of a disaster in progress.
"I cannot overstate the consequences of re-electing Donald Trump," the author writes. "I've seen the impact of his leadership on our government and country, up close and all too personal. The Trump administration is an unmitigated catastrophe, and the responsibility rests entirely at his feet, the predictable outcome of assigning organizational leadership to a man of weak morals. What is more regrettable is that his faults are amplifying our own. I believe firmly that whatever benefits we may have gained from individual Trump policies are vastly outweighed by the incalculable damage he has done to the fabric our republic."
In the beginning, Anonymous writes, staffers wanted Trump to succeed "but we were alarmed by his unstable behavior." Now "the instability within the Trump administration has intensified." The few people who were willing to challenge the president have been replaced by people like Mick Mulvaney, the acting chief of staff, whose philosophy is to "let Trump be Trump."
The "warning" is that if Trump is re-elected, "the guardrails will be gone entirely, and freed from the threat of defeat, this president will feel emboldened to double down on his worst impulses."
The author says he/she may come forward in due course. I hope so, because that would give the book more credibility.
Quotes from the book tell the story:
Trump "wants to do what he wants to do, consequences be damned."
"Fundamentally, the president never learned to manage the government's day-to-day functions, or showed any real interest in doing so. … The White House, quite simply, is broken."
"Not everyone sees the full Trump, especially the one who is red-faced, consumed with fury, and teetering at the outer limits of self-control."
"The demands of the job rarely keep him away from the golf course."
"The sheer level of intellectual laziness is astounding."
A group of fiscal conservatives warned the president about the eventual dangers of his spending, which is adding a trillion (yes, trillion) dollars a year to our deficit. In one such meeting, Trump reportedly said, "Yeah, but I won't be here."
"The president's impetuousness poses a danger to our military, the full extent of which will not be known for years. He is more than a minor headache for the Pentagon. He is a blinding migraine."
"I once walked out of a meeting with the president, and a visibly shaken briefer, who was new to the Trump circus, pulled me aside. 'Are you kidding me?' he remarked. Moments earlier Trump expressed a spur-of-the-moment reversal about a military mission. 'What should we do? The briefer asked nervously. 'He wants us to scrap everything the agency was planning.' … 'Relax,' I assured him. 'We aren't going to do anything. I swear he'll change him mind tomorrow,' I was wrong. The president changed his mind later that afternoon."
"Fundamentally, Trump does not understand how trade works. … Estimates show the economy has already lost hundreds of thousands of jobs because of his trade war. … Working-class and poor Americans will be hit hardest."
"When he does sit down for a briefing on sensitive information, it's the same as any other Trump briefing. He hears what he wants to hear, and disregards what he doesn't. Intelligence information must comport to his worldview for it to stick. If it doesn't, it's 'not very good.' As a result, the president of the United States is often ignorant on the most serious national security threats we face and is, therefore, ill-prepared to defend against them."
"The unavoidable conclusion is that the president sees himself as above the law."
"Our enemies and adversaries recognize the president is a simplistic pushover. They are unmoved by his bellicose Twitter threats because they know he can be played. ... He is visibly moved by flattery. He folds in negotiations, and he is willing to give up the farm for something that merely looks like a good deal, whether it is or not. They believe he is weak, and they take advantage of him. When they cannot, they simply ignore him."
"The president has been called a pathological liar. I used to cringe when I heard people say that just to score political points, and I thought it was unfair. Now I know it's true."
"Despite some accomplishments, it's evident Donald Trump is behaving immorally, weakening the party he professes to lead, undermining democratic institutions, abandoning crucial U.S. alliances, emboldening our adversaries, dividing Americans with hateful rhetoric and chronic dishonesty, and surrounding himself with people who will only reinforce his defects. … Donald Trump deserves to be fired."
Wow. All this is from a Republican who wanted Trump to succeed. And it's entirely consistent with what we have seen and heard ourselves.
Judie Kleinmaier is a former opinion editor for The Cap Times.
Share your opinion on this topic by sending a letter to the editor to tctvoice@madison.com. Include your full name, hometown and phone number. Your name and town will be published. The phone number is for verification purposes only. Please keep your letter to 250 words or less.
Catch the latest in Opinion
Get opinion pieces, letters and editorials sent directly to your inbox weekly!