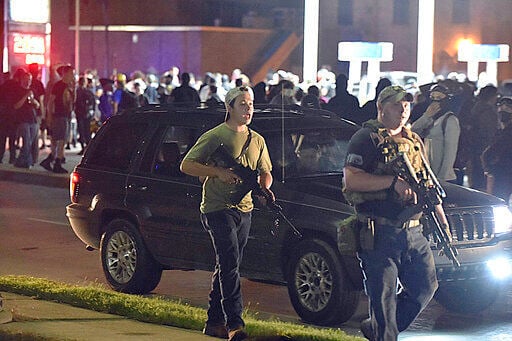 Wisconsin's senior senator could not — or would not — find the words to denounce the shooting deaths of Anthony Huber and Joseph Rosenbaum in Kenosha.
"It's a tragedy," Johnson said.
"Do you condemn that?" Bash asked.
"It's a tragedy," Johnson said.
"Do you condemn it?" Bash responded.
"It's a tragedy," Johnson said again. "It's a tragedy."
"It's a tragedy," Bash continued, "but do you condemn it?"
"The entire situation's a tragedy. Listen, I don't want to see any loss of life. It's a tragedy, and the way you prevent these tragedies is you support law enforcement, you calm the situation, you allow for peaceful protest, but you don't allow peaceful protest to turn ... into siege," Johnson said. "Listen, I don't want to see anybody lose their life. I don't want to see the violence continue. I don't want to see businesses burn down. I don't want to see economic destruction. I condemn it all." 
So, he got there. Sort of. 
Is it really so difficult to vocally object to a teenage, self-identified militia member driving 20 miles from Illinois to Wisconsin — with the ostensible charge to "protect" businesses and people — allegedly shooting three protesters with an AR-15 style rifle and killing two? 
You can say that about all kinds of unspeakable acts that don't sit right with your moral code. The shots allegedly fired by Rittenhouse that killed Huber and Rosenbaum and wounded Gaige Grosskreutz last Tuesday in Kenosha. The shots fired by a still unidentified person that killed Aaron J. Danielson on Saturday in Portland, Oregon. The shots fired — seven of them, into Jacob Blake's back — by Kenosha police officer Rusten Sheskey that paralyzed Blake on Aug. 23 in Kenosha. 
Yes, some of the people who were killed have criminal records. That fact does not warrant vigilante or police violence resulting in death.
The late, great Molly Ivins put it this way (in 1993, mind you): "As a civil libertarian, I of course support the Second Amendment. And I believe it means exactly what it says: 'A well-regulated militia being necessary to the security of a free state, the right of the people to keep and bear arms shall not be infringed.' Fourteen-year-old boys are not part of a well-regulated militia."
There is so little we can cling to right now in the way of shared values or mutually agreed upon facts. Let's even, for this moment, take the shooting of Jacob Blake out of the equation, just in case that's holding anyone up. 
Can we really not all agree that vigilante "justice" is not a system we condone? Can we not agree that protests, even when they result in property damage, do not warrant gunfire dispensed by an unregulated "militia" member? That holes in buildings do not warrant holes in bodies? 
Much like our senior senator, our president cannot.
"I think it's disgraceful," Trump said of the death of 39-year-old Danielson, who was associated with right-wing and Pro-Trump causes, during a White House news conference on Monday.
And what about Rittenhouse?
"We're looking at all of it. That was an interesting situation," Trump told reporters. "You saw the same tape as I saw. And he was trying to get away from them, I guess, it looks like, and he fell, and then they very violently attacked him, and it was something that we're looking at right now and it's under investigation, but I guess he was in very big trouble. He would have been — he probably would have been killed, but it's under investigation."
But why let facts get in the way?
Former Vice President Joe Biden, in contrast, has not been deterred by the facts, as ugly as they may be.
"We have to stand against violence, and every form it takes — violence we've seen again and again and again, of unwarranted police shooting, excessive force, seven bullets in the back of Jacob Blake, a knee on the neck of George Floyd, the killing of Breonna Taylor in her own apartment. Violence of extremists and opportunists. Right-wing militias," Biden said during a Monday speech in Pittsburgh.
Trump "can't stop the violence," Biden said, "because for years, he's fomented it." 
"He doesn't want to shed light; he wants to generate heat," Biden said.
Whether Trump can't or won't stop the violence, Biden is correct; the president wants to generate heat. Outgoing White House adviser Kellyanne Conway said the quiet part out loud last week: "the more chaos and anarchy and vandalism and violence reigns, the better it is for the very clear choice on who's best on public safety and law and order."
From where Trump sits, chaos that he blames on Biden — who, in fact, does not currently occupy the White House — is key to his reelection as a "law and order" president.  And Johnson, arguably the most prominent Republican in the state of Wisconsin, has decided that what's good for Trump is good for him.
Biden has made it clear — he denounces violence committed "under any political banner." 
With two Wisconsinites dead, another injured and a fourth paralyzed, why is it so hard for Johnson and Trump to do the same?
Jessie Opoien is opinion editor of The Capital Times. jopoien@madison.com and @jessieopie.
Share your opinion on this topic by sending a letter to the editor to tctvoice@madison.com. Include your full name, hometown and phone number. Your name and town will be published. The phone number is for verification purposes only. Please keep your letter to 250 words or less.
Catch the latest in Opinion
Get opinion pieces, letters and editorials sent directly to your inbox weekly!