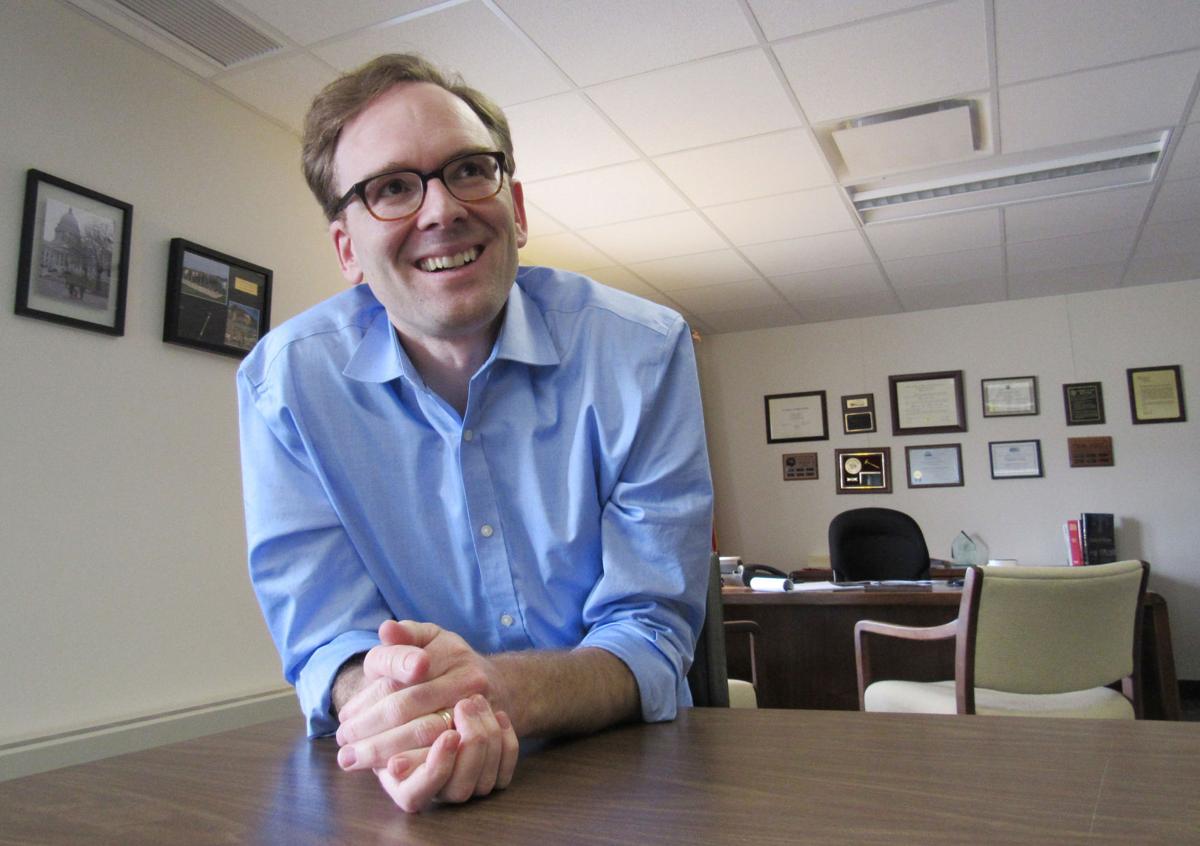 Outagamie County Executive Tom Nelson, the former majority leader of the Wisconsin Assembly, has filed the necessary paperwork and today will announce a bid for the 2022 Democratic nomination for the U.S. Senate seat held by Republican Sen. Ron Johnson.
Nelson won't be the only Democrat in what could turn out to be a crowded contest to replace Johnson, an ally of President Donald Trump. Johnson, who has been plagued by controversy in recent months, has not said whether he will seek a third term — although he told the Baraboo News-Republic in 2016 that his second term would be his last. On the Democratic side, there's speculation about Lt. Gov. Mandela Barnes, State Treasurer Sarah Godlewski and several members of the Legislature as prospective 2022 Senate contenders.
While the other Democratic prospects are waiting until after the 2020 election is decided, Nelson has chosen to move early.
When I asked him why, Nelson said, "It's never too early to do the right thing and fight back. In fact, we've waited too long. It's been four years. Johnson is an unmitigated disaster. Every time he opens his mouth, he embarrasses himself and our state. Someone needs to take him on, not next year, not next month, but right now. We — progressives and Democrats and, quite frankly, independents and even moderate Republicans — are fired up like never before. I believe that (announcing early) will only help build on the excitement that is sweeping the ranks of the Democratic Party, which of course has been fueled by a renewed progressive movement thanks to Bernie Sanders. I believe it's going to build momentum for a Biden-Harris victory, a one-two punch."
Nelson argues that "we have a once-in-a-three-generation opportunity to return this country back to its progressive mores with Wisconsin leading the way."
He also says running as a county executive could be a strength in mounting a challenge to Johnson.
"County executives, mayors and administrators are leading our country in the fight against COVID because people like Ron Johnson have not. In fact, he even voted against one of the first COVID relief bills," Nelson told me. "Look at the things that we've had to do as local officials. We've had to write local orders (to address the threat posed by the coronavirus pandemic), we've had to close non-essential offices in counties, we've had to cobble together a regional coalition to implement some of these measures. If you think about it, if local officials can take on COVID, can take on a pandemic, we can take on anything, period."
It's no coincidence that Nelson is launching his bid as the U.S. Senate is taking up the Supreme Court nomination of Judge Amy Coney Barrett.
"I believe that Johnson's support for confirmation vote will be an important issue in the campaign, because you're talking about the sixth right-wing justice," he explained. "Everything is at stake, OK? Roe v. Wade, a woman's right to choose, the Affordable Care Act, the list goes on and on."
Nelson, who was a Democratic delegate for Vermont Sen. Bernie Sanders in 2020, echoes many of the economic, social and racial justice messages that Sanders raised in his 2016 and 2020 presidential bids.
"I think that, as far as the campaign goes, his campaign will be a model," the former legislator said. "What this campaign is going to be about is there's going to be a very clear strategy in both policy and the politics — the mechanics of the campaign and so forth. When you go to my website, there are two colors, blue and green. One of my goals is to use this campaign to forge the elusive blue-green coalition in the progressive movement, to unite the environmental and labor movements."
Nelson talks a great deal about his interest in a Green New Deal approach to renewing the U.S. economy, and he is also enthusiastic about a national industrial strategy.
"This country is one of the few developed countries that does not have a national industrial strategy," the county executive — who is close to organized labor and has been active for many years in efforts to retain paper industry jobs in the Fox River Valley — said. "It's a big reason why I believe that the core of manufacturing was hollowed out in the 1970s and 1980s. A national industrial strategy will allow us, under one umbrella, to address all these key bread-and-butter issues, economic issues, everything from trade policy, research and development support, targeted industries, and bargaining rights."
He is talking, as well, about criminal justice reform, universal health care and a host of other issues. In particular, Nelson is enthusiastic about strengthening protections for voting rights. One of the first things he would do in office, he said, would be to approach U.S. Rep. Mark Pocan and ask to be the Senate author of the Right-to-Vote Constitutional Amendment. Referencing concerns about voter suppression and Republican-sponsored legal challenges to voting rights, he said, "We need the Right-to-Vote Constitutional Amendment so that we can be done with all this nonsense, all this litigation."
Nelson speaks of "a 24-month campaign" with enthusiasm. While other Democrats are waiting to see how the 2020 presidential contest is decided, the county executive who has mounted winning and losing campaigns in the past (including a 2010 bid for lieutenant governor and a 2016 bid for Congress) says he sees no reason to wait.
"People who run for office tend to put their finger in the air and say, 'OK? If the president wins, if Trump wins, is it easier to unseat someone like Ron Johnson in 2022,' or, 'If Joe Biden wins, it is going to be difficult to unseat Ron Johnson.' That should not be part of the calculus," Nelson said. "You should run for office because you're running for the right reasons, because you have a fire in your belly. So I'm not waiting. Enough is enough. I've watched him, as his neighbor to the north. He's from Oshkosh, I'm from the other end of the Fox Valley. I talk to doctors, I talk to nurses, first responders. I talk to my colleagues, other executives, and mayors. I think people are looking for someone to stand up."
John Nichols is associate editor of The Capital Times. jnichols@madison.com and @NicholsUprising. 
Share your opinion on this topic by sending a letter to the editor to tctvoice@madison.com. Include your full name, hometown and phone number. Your name and town will be published. The phone number is for verification purposes only. Please keep your letter to 250 words or less.
Catch the latest in Opinion
Get opinion pieces, letters and editorials sent directly to your inbox weekly!