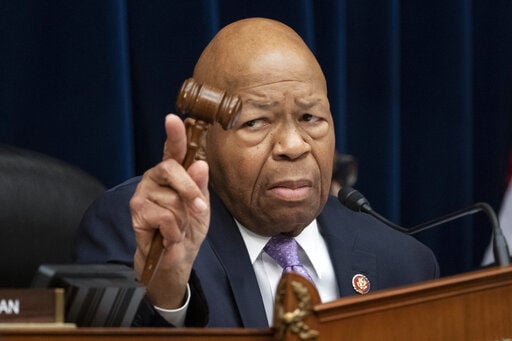 Congressman Elijah Cummings, a Democrat from Maryland who died Thursday morning at age 68, will be remembered for the clarity of his opposition to Donald Trump's miserable excuse for a presidency. It was Cummings who, after Trump attacked the congressman and his hometown of Baltimore in vile terms, responded with a rebuke steeped in moral terms. "Those at the highest levels of the government must stop invoking fear, using racist language and encouraging reprehensible behavior. It only creates more division among us, and severely limits our ability to work together for the common good," Cummings declared in an Aug. 7 speech at the National Press Club. "As a country," he said, "we finally must say that enough is enough — that we are done with the hateful rhetoric."
Trump was not capable of hearing, let alone accepting, the invitation that Cummings offered, an invitation to be a better man and a better president. This is one of the many reasons why Trump will have to be impeached. And when he is impeached, it will be recalled that Cummings, who was chairman of the House Committee on Oversight and Government Reform, played a pivotal role in laying the groundwork for that accountability moment.
But Wisconsinites have another reason to remember Cummings.
In the spring of 2011, Wisconsin Gov. Scott Walker appeared before the House's oversight committee at a time when Walker was attacking public employee unions in the state and crusading nationally against organized labor. Walker said in his formal statement that his frenzied efforts to undermine the collective-bargaining rights of workers and their unions — including moves to prevent them from collecting dues, maintaining ongoing representation of members, and engaging effectively in political campaigns — had nothing to do with politics.
Congressman Gerry Connolly, D-Va., pressed Walker on the matter of his political intentions. "Have you ever had a conversation with respect to your actions in Wisconsin and using them to punish members of the opposition party and their (union) donor base?" asked Connolly.
"Never had such a conversation?" asked Connolly.
A year after Walker testified to the committee, video surfaced showing Walker saying the opposite to Diane Hendricks, a Beloit billionaire who would eventually give his campaign more than $500,000. Captured in January 2011 by a documentary filmmaker who was trailing Hendricks, the conversation provided rare insight into the governor's long-term strategy for dividing Wisconsin. That strategy was entirely political.
In the video, Walker is shown meeting with Hendricks before an economic development session at the headquarters of a firm Hendricks owns, ABC Supply Inc., in Beloit. After Walker kisses Henricks, she asks: "Any chance we'll ever get to be a completely red (Republican) state and work on these unions?"
Then, referencing anti-labor legislation favored by Republican strategists who seek to weaken private-sector unions, Hendricks asks: "And become a right-to-work (state)?"
Walker replies: "Well, we're going to start in a couple weeks with our budget adjustment bill. The first step is we're going to deal with collective bargaining for all public employee unions, because you use divide and conquer."
With that explanation, Walker tells the woman who had just asked him about making Wisconsin a "completely red state": "That opens the door once we do that."
After the video surfaced in May 2012, I wrote an article headlined, "Did Scott Walker lie under oath to Congress?" The subhead read, "He says no. Video says yes." A week later, Cummings and Democratic members of the committee dispatched a copy of the article and a pointed letter to the Republican chair of the committee, Californian Darrell Issa, demanding an answer to the question. They then wrote Walker, earning headlines in Washington and Wisconsin.
The Republicans resisted that accountability moment, but Cummings had made his point. And he would continue to do so, again and again, when issues of worker rights were at stake.
The representative's work on impeachment has been vital, and he should be remembered for it. But he should also be remembered for the fights that were perhaps not so well noted but that spoke to his passion for worker rights in places like Wisconsin.
Just a few weeks before his death, Cummings observed, "Unfortunately, too many Americans have been left behind in the modern economy. Every month working families scrimp and save, only to struggle to afford child care; women work hard to only — on average — earn 80 cents for every dollar a man makes; and across the country, labor unions are being attacked and are losing their right to organize."
The representative concluded, "These hardworking men and women are not forgotten."
Throughout his service in the House, Elijah Cummings made sure that they were never forgotten and that workers had a voice on Capitol Hill.
Share your opinion on this topic by sending a letter to the editor to tctvoice@madison.com. Include your full name, hometown and phone number. Your name and town will be published. The phone number is for verification purposes only. Please keep your letter to 250 words or less.
Catch the latest in Opinion
Get opinion pieces, letters and editorials sent directly to your inbox weekly!