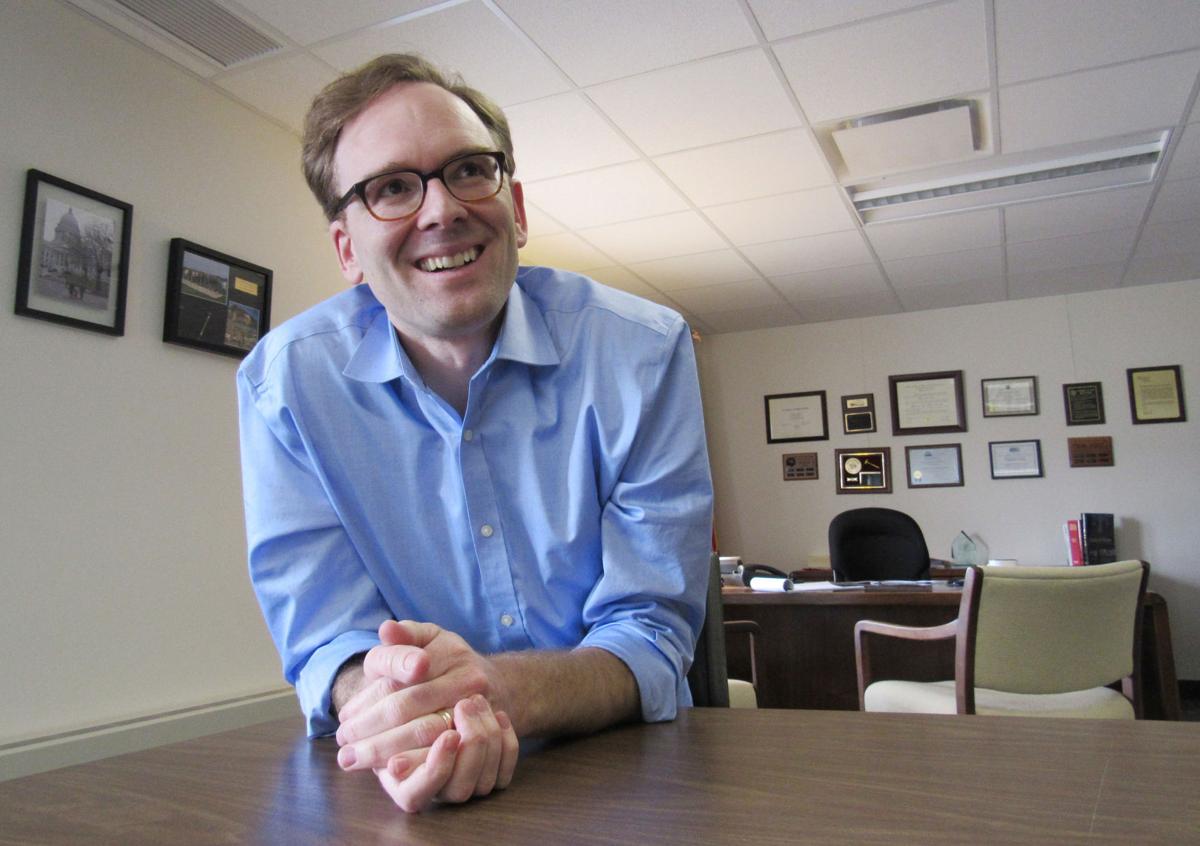 Office holders and candidates for office often write books.
But they rarely write anything worth reading.
Outagamie County Executive Tom Nelson is the exception. He has written an outstanding book, which makes a compelling argument for the importance of labor unions as advocates for workers, communities and a politics that values people over profits.
The book will cause Wisconsinites to take a second look at Nelson, as he bids for the Democratic nomination to take on Republican U.S. Sen. Ron Johnson in 2022. While all the Democrats who are seeking the nomination are avowedly pro-labor, Nelson's book distinguishes him as a Democrat who has thought long and hard about the issues that matter most to working-class voters.
The book, "One Day Longer: How One Union Local Saved a Mill and Changed an Industry — and What It Means for American Manufacturing" (Rivertowns Books), recounts the specific story of the struggle to save Appleton Coated, a paper mill in the Fox River Valley of Combined Locks. Like a hundred other mills in a hundred other towns across the United States, Appleton Coated was destined for closure in 2017 — the latest factory set to be swept into oblivion by the great wave of deindustrialization that has devastated American workers and their communities.
But this story ends differently than most. Appleton Coated was saved. The hundreds of family-supporting jobs that it provided were not "downsized," "offshored" or "outsourced." Nelson recounts an inspiring story of how, "in 2017, when Appleton Coated faced certain death in the wake of a brutal receivership sale, I joined with the community to fight back. Led by the USW (United Steelworkers union), we challenged the sale of the mill to an industrial scrap dealer. The ingenuity of our legal and political strategy reflected a new three-part model of labor, management, and government working together to revitalize a troubled industry and rekindle its potential, saving the kind of jobs that helped build the American middle class in the first place."
But if that was all he did, this would merely be a useful case study. What makes Nelson's book stand out is his savvy examination of the politics of deindustrialization and the neoliberal lies that underpin it.
Nelson recognizes the sins of both major parties, and he is not afraid to call out his fellow Democrats. Like U.S. Sen. Bernie Sanders, whose presidential bid Nelson supported as a delegate to the 2020 Democratic National Convention, he calls out the toxic influence of money in politics — especially the Wall Street money that has led too many Democrats to adopt the same positions as corporate Republicans when it comes to trade agreements, industrial policy and banking reforms.
Recalling a meeting with union members at a point when it looked like the Appleton Coated plant was doomed, Nelson writes, "These paper makers of Wisconsin had lost more than their jobs. They'd also lost their faith in the system — or whatever faith they'd still had after years of economic struggle. As their mill had slowly spiraled downward toward what seemed like certain death, the workers had gotten few if any calls from Republicans in government, and no concrete help. The Democrats hadn't done much better."
Nelson reflects at length on the fact that the United States, unlike other western democracies, lacks a political party explicitly dedicated to serving the interests of working people — like the Labor Parties of Britain, Australia and New Zealand, and Canada's New Democratic Party.
He points to "America's struggle with racism and bigotry, a legacy that goes back to the founding of the country," as a factor that "short-circuited attempts to establish a labor-based party in the United States."
"The racial schism challenged solidarity and undermined class-conscious movements," Nelson writes. "For much of American history, labor unions deliberately excluded Black workers, denying them equal access to jobs." While there were labor leaders who challenged racism, there were too many who failed to do so. Just as there were too many Democrats who "blew racist dog whistles."
Nelson is blunt in his assessment that "at different eras in our history, both the Democratic Party and the Republican Party have used racism to appeal to poor, working, and middle-class Americans."
Nelson's frankness about the past, and the present, is what makes "One Day Stronger" a powerful book. There is a feel-good story here, and he tells it well. The workers won. The Appleton Coated plant is still open, thanks to an innovative receivership objection strategy that upended plans for selling off the mill and a host of other legal and political tactics. As the author notes, "pressure from the union, the village, and a handful of determined leaders prevented a new owner from shuttering a mill and selling its parts for scrap."
But Nelson is realistic. He knows that this story represents only one green shoot "poking out through the infertile soil of corporate greed and showing what can be done to change the destructive dynamic that currently dominates the American economy." He proposes to nurture that shoot, by strengthening unions and by remaking the Democratic Party so that it more deeply recognizes "the labor movement and how it is inextricably part of a larger socioeconomic organism."
Nelson has provided a bold vision, with a measure of hope, but also, a measure of stern counsel. It is possible to save family-supporting jobs, to keep mills open, to have a politics of economic, social and racial justice, with a commitment to environmental sustainability and a Green New Deal vision for the future. But, Nelson reminds us, that will require a renewal of "social solidarity" that has at its core a determination to "resist (the forces of greed and division) by building strong, vibrant and resilient communities were everyone is welcome and secure."
John Nichols is associate editor of The Capital Times. jnichols@madison.com and @NicholsUprising. 
Share your opinion on this topic by sending a letter to the editor to tctvoice@madison.com. Include your full name, hometown and phone number. Your name and town will be published. The phone number is for verification purposes only. Please keep your letter to 250 words or less.