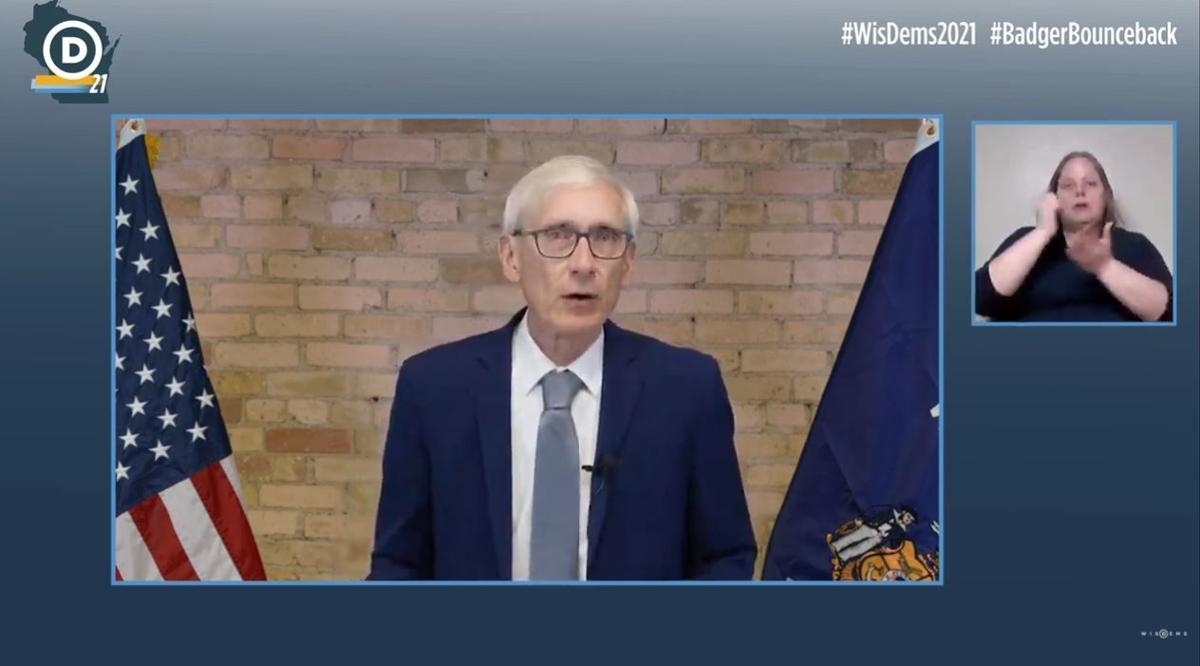 The Democrats who hope to defeat Republican U.S. Sen. Ron Johnson in 2022 got a chance to show their stuff Sunday during a virtual forum that was the most dynamic feature of a Democratic "convention" that asked delegates to sit in front of computers rather than gather for the traditional assembly of the faithful.
The good news for Democrats is that all the candidates were capable of stringing together coherent sentences without engaging in the sort of delusional ranting and embarrassing shows of self-pity that have made the Republican incumbent the laughingstock of the Senate.
The bad news, at least for the announced candidates, is that none of them delivered a performance sufficiently spectacular to settle things for the substantial proportion of Democrats who remain undecided about who to put up against Johnson.
Outagamie County Executive Tom Nelson hit a lot of the right notes with a speech that blended bold policies, self-deprecating humor and an homage to former U.S. Sen. Russ Feingold. The most politically experienced contender, the former legislator delivered biographical tidbits, jabs at Johnson and a healthy share of progressive populism. Speaking from his garage, as Feingold did during his successful 1992 Senate run, Nelson distinguished himself not just from Johnson but from wealthy rivals for the Democratic nod. "There are too many millionaires and billionaires in the Senate who look after their own," said Nelson. "This is why we haven't taxed the rich, made it easier for workers to organize, let over 1,200 Wisconsin family farms die off in the last decade. It's why he haven't passed Medicare for All or a Green New Deal."
Nelson admitted that he is an underdog in the race for the nomination. But his presentation was compelling, as was that of another underdog, Wausau radiologist Gillian Battino. With an intersectional message that called for centering economic and racial justice in framing legislation, Battino spoke of stark inequalities in a country with great wealth. "America is the land of the free," she concluded, "but if you have to choose between your health and financial ruin, you are not free." That honest line set up her declaration that, "It's time for Medicare for All. … Health care is a human right, not a privilege."
State Treasurer Sarah Godlewski gave the most energetic presentation, ably linking Johnson's conspiracy theories with defeated former President Donald Trump's ongoing assault on democracy — and the truth. Reminding Democrats that Johnson "is still in denial that Joe Biden won," she told delegates, "He's not just out of touch with Wisconsin, he's out of touch with reality." The strongest part of Godlewski's pitch was not her shredding of Johnson, however. It was her appeal for a more activist approach to governing. The time has come to "go on offense" and "get rid of the filibuster," said Godlewski, who argued that rule changes are required to defend democracy with legislation such as the For the People Act and to pass the George Floyd Justice in Policing Act.
Steven Olikara, the 31-year-old founder of the Millennial Action Project, put the most effort into making an impression. He appeared outdoors with a handful of supporters waving posters. Technical glitches tripped Olikara up at the start. But he eventually delivered a philosophical appeal that focused on "dignity, inclusion and compassion," referenced Mahatma Gandhi and the Rev. Martin Luther King Jr. and called out "the current system of hate and dehumanization" as "unsustainable and immoral." What came through was Olikara's earnestness, especially when he described himself as a "skinny, first-generation brown kid from Brookfield" who proposes to have "Wisconsin reclaim its place as the laboratory of democracy."
While some might suggest that Olikara tried too hard, no one will say that of Milwaukee Bucks executive Alex Lasry. A wealthy newcomer to Wisconsin, Lasry's sales pitch was an all-too-predictable argument that decent business practices translate into a governing vision. Lasry was more appealing when he spoke of his father's experience as an immigrant from Morocco, and when he explained — correctly — that popular Democratic U.S. Sen. Tammy Baldwin needs "a partner" rather than a conspiracy theory peddling colleague like Johnson.
State Sen. Chris Larson, a Milwaukee Democrat who recently entered the race, addressed the party faithful in the most robust language. Speaking in a calm, conversational tone that worked well in the video format, Larson recalled his record as an activist legislator who walked out of the Capitol as one of the 14 Democratic senators who sought to block former Republican Gov. Scott Walker's 2011 assault on labor rights. The senator positioned himself as a progressive who calls out not just Republicans but compromise-prone Democrats. That gave heft to his appeal for a politics that seeks to "unrig the system" and recognizes the political challenges created by "the creeping, festering fascism that's overtaking America"
The potential candidate who did not speak Sunday morning was Lt. Gov. Mandela Barnes, who chose instead to deliver his remarks on Saturday with Gov. Tony Evers and other statewide officeholders. Barnes hasn't decided whether to run for another term as lieutenant governor or to enter the Senate race. But his speech was the most potent of the convention. Appearing outside a barn on a family farm near Monticello, he spoke as a deeply-rooted Wisconsinite about the need to reconnect with the state's progressive tradition of leading for economic, social and racial justice. "The history of this place gives us so much to be proud of," he said. But Barnes warned that fights are not finished: for voting rights, worker rights, criminal justice reform and preservation of the planet. Appealing for Democratic unity to reelect Evers and to assure that "Democratic voters turn out to finally retire Ron Johnson," Barnes concluded, "Wisconsin is a state that's made history before, and I'm here to tell you that we'll do it again."
John Nichols is associate editor of The Capital Times. jnichols@madison.com and @NicholsUprising. 
Share your opinion on this topic by sending a letter to the editor to tctvoice@madison.com. Include your full name, hometown and phone number. Your name and town will be published. The phone number is for verification purposes only. Please keep your letter to 250 words or less.