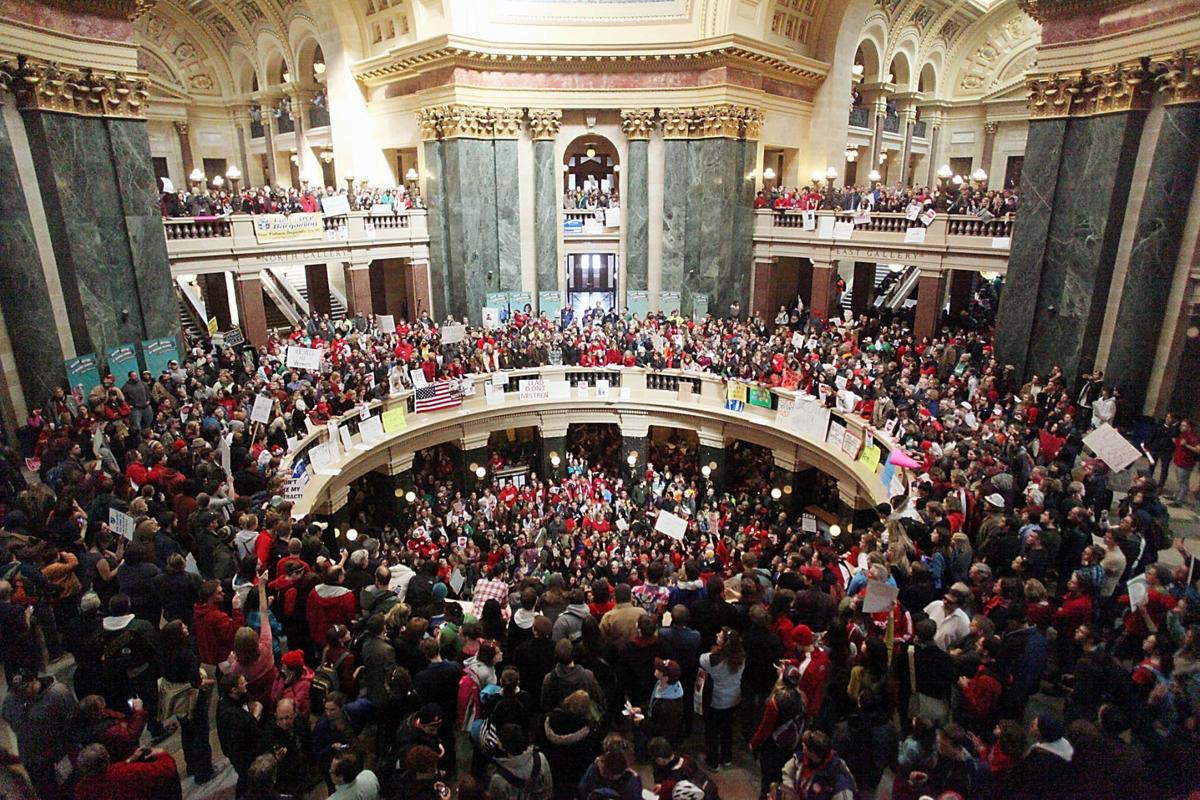 One of the greatest parts about the Wisconsin uprising that kicked off 10 years ago this week was the music. Rockers, rappers, folkies and country balladeers made their way to Madison from across the country to sing for the tens of thousands of peaceful protesters who rallied in opposition to former Gov. Scott Walker's brutal assault on the rights of workers, public education and public services. And one of the greatest of the musicians who showed up was Anne Feeney.
There's a terrific video of the labor troubadour in the state Capitol, standing on the balcony and reciting the lyrics of "Solidarity Forever" through a bullhorn:
In our hands is placed a power greater than their hoarded gold
Greater than the might of atoms, magnified a thousand fold
We can bring to birth a new world from the ashes of the old
For the union makes us strong
A thousand voices joined her for the chorus:
For the union makes us strong
It was a perfect moment, so perfect that the crowd chanted, "Thank you! Thank you!" as Feeney concluded.
Workers were constantly thanking Feeney, who died last week at age 69. The lawyer turned songwriter showed on picket lines across the United States and around the world to sing the union songs of Ralph Chaplin, Florence Reece, Woody Guthrie, Pete Seeger and Josh White — along with compositions of her own, such as "Have You Been to Jail for Justice?"
Feeney's song about the pride she and her comrades took when they were arrested for resisting injustice — "The more you study history the less you can deny it / A rotten law stays on the books 'til folks like us defy it" — became a favorite of the Solidarity Singers who kept the spirit of the Wisconsin uprising alive with daily singing sessions at the Capitol. The singing infuriated Walker and his right-wing allies, and the governor pressured the Capitol Police to arrest the members of that warm-hearted ragtag ensemble. So Feeney came back to Madison and added her voice to the chorus, in joyous defiance of the governor and his stooges.
Walker was eventually voted out of office by the people of Wisconsin, and the Solidarity Singers finished their long run in the rotunda of the Capitol. But Feeney found plenty of protests to join during the Trump years, as she rallied crowds for labor rights, civil rights, women's rights and every other economic, social and racial justice crusade that needed a song to get people up on their feet and marching.
As the granddaughter of an Irish immigrant miner and union organizer, who had herself come of age in the 1960s, Anne understood the role of music in making movements.
"I can't even imagine the civil rights movement without singing. I can't imagine the early CIO days without singing. Music instills power and bravery," she told UE News, the newspaper of the militant United Electrical, Radio and Machine Workers of America (which now represents Willy Street Co-op workers). "Those kids, sweating in those Alabama churches, singing 'We Shall Not Be Moved,' then walking right out into a barrage of police dogs and fire hoses. It's the music that allowed them to face all of that, and build the movement and change the world, in my opinion."
Feeney's faith in the power of a good rendition of "Solidarity Forever" was absolute and unyielding.
"I played an IBEW regional conference in Traverse City and the director said 'You know, when I was a young electrician we represented about 80% of the construction workforce and we started every meeting with a song and we ended singing "Solidarity Forever." Now we represent about 12% of the construction market in Michigan and we don't sing anymore, and I think it's time we started singing again,'" she recalled a few years ago. "Singing builds solidarity. People recognize each other as brothers and sisters."
It took a pandemic to stop Feeney, who died from COVID-related pneumonia on Feb. 3.
In the weeks to come, those of us who believe that labor rights are human rights will recall the Wisconsin uprising of 2011 with pride and a renewed sense of purpose. We will carry on, dedicating ourselves to the renewal of unions in Wisconsin and across this country — and to the justice struggles that Anne Feeney wrote about when she sang:
Was it Cesar Chavez? Maybe it was Dorothy Day
Some will say Dr. King or Gandhi set them on their way
No matter who your mentors are, it's pretty plain to see
That, if you've been to jail for justice, you're in good company
Have you been to jail for justice? I want to shake your hand
Cause sitting in and lyin' down are ways to take a stand
Have you sung a song for freedom? Or marched that picket line?
Have you been to jail for justice? Then you're a friend of mine.
John Nichols is associate editor of The Capital Times. jnichols@madison.com and @NicholsUprising. He is the author of "Uprising: How Wisconsin Renewed the Politics of Protest, from Madison to Wall Street" (Bold Type Books).
Share your opinion on this topic by sending a letter to the editor to tctvoice@madison.com. Include your full name, hometown and phone number. Your name and town will be published. The phone number is for verification purposes only. Please keep your letter to 250 words or less.