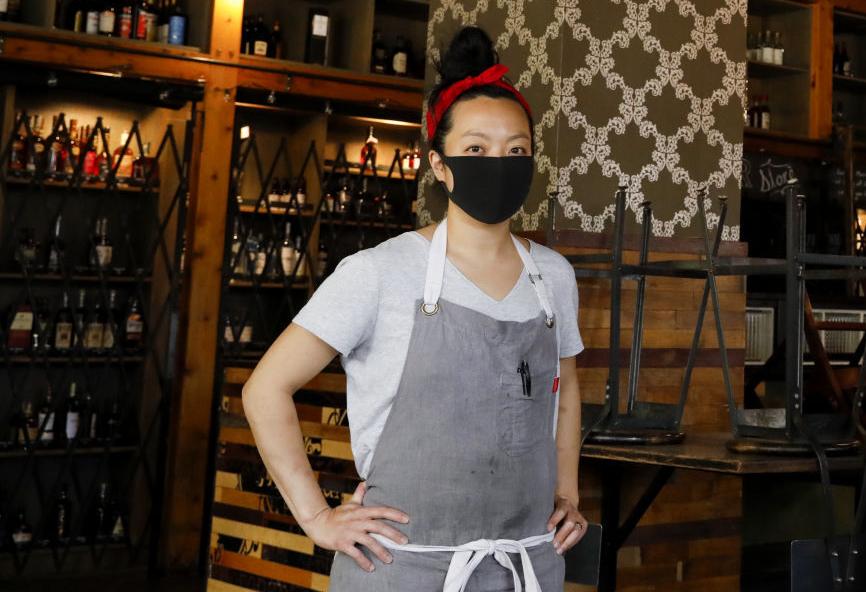 Wisconsin Assembly candidate Francesca Hong has regularly posted social media images of herself wearing face coverings to protect against the spread of COVID-19, and she has coupled the images with a message: "#WearADamnMask."
Hong, one of a number of impressive contenders for the Democratic nomination for the open seat representing the Madison-based 76th district, leaves no doubt about her position on the supposedly controversial issue of whether Wisconsinites should be wearing masks to combat the pandemic.
Right-wing Republicans have rejected science and common sense from the start of the pandemic. They have attacked legitimate and necessary public health mandates, and politicized discussions about public safety with an eye toward dividing Wisconsinites. That's wrong. But that's where the debate stands in 2020.
Candidates who recognize the seriousness of the threats we face must take a stand. And they must do so aggressively.
This is no time for cautious language or compromise positions. At a point when 150,000 Americans have died from COVID-19, when case numbers are surging in Wisconsin and across the country, when decisions about reopening schools and businesses are being placed on hold because of the failure of the Trump administration and its political allies to address this crisis, we have reached a "Which Side Are You On?" moment.
Hong — an issue-oriented progressive who campaigns as "a second-generation Wisconsinite, mother, community organizer, and service industry worker" — is clear about the side she is on.
She didn't just hail the decision Thursday by Gov. Tony Evers to declare a statewide public health emergency and to issue an emergency order requiring Wisconsinites to wear face coverings. She posted another masked image and repeated the "#WearADamnMask" message.
When state Sen. Steve Nass, R-Whitewater, called on Republican legislative leaders "to immediately call the Legislature back into session to pass a joint resolution ending Governor Evers' new illegal and unnecessary emergency declaration," Hong pushed back with an appropriate mix of fury and sarcasm.
"Oh so now you want to go to work. Not because almost 1,000 people have died in Wisconsin from Covid19, the economy is permanently damaged and we are in the midst of multiple public health crises as well as being the most segregated state in the nation," she wrote. "Woooooooooooow."
Hong is blunt and unapologetic.
"Instead of suppressing the virus and condemning racism," she says, "Wisconsin GOP leaders are leading the charge in perpetuating multiple public health crises."
Like U.S. Rep. Mark Pocan — the Town of Vermont Democrat who regularly mocks the "ignorant politics" of Republicans who are on the wrong side of science — Hong refuses to respect the absurd pronouncements of political charlatans. Like state Sen. Chris Larson, the Milwaukee Democrat who organized a petition drive in support of the mask mandate, she recognizes that threats to public health and safety must be confronted.
When the lives and livelihoods of Wisconsinites are at stake, the cautious messaging of the past doesn't cut it. Too much is at stake for anything less than a #WearADamn Mask politics.
Share your opinion on this topic by sending a letter to the editor to tctvoice@madison.com. Include your full name, hometown and phone number. Your name and town will be published. The phone number is for verification purposes only. Please keep your letter to 250 words or less.
Catch the latest in Opinion
Get opinion pieces, letters and editorials sent directly to your inbox weekly!