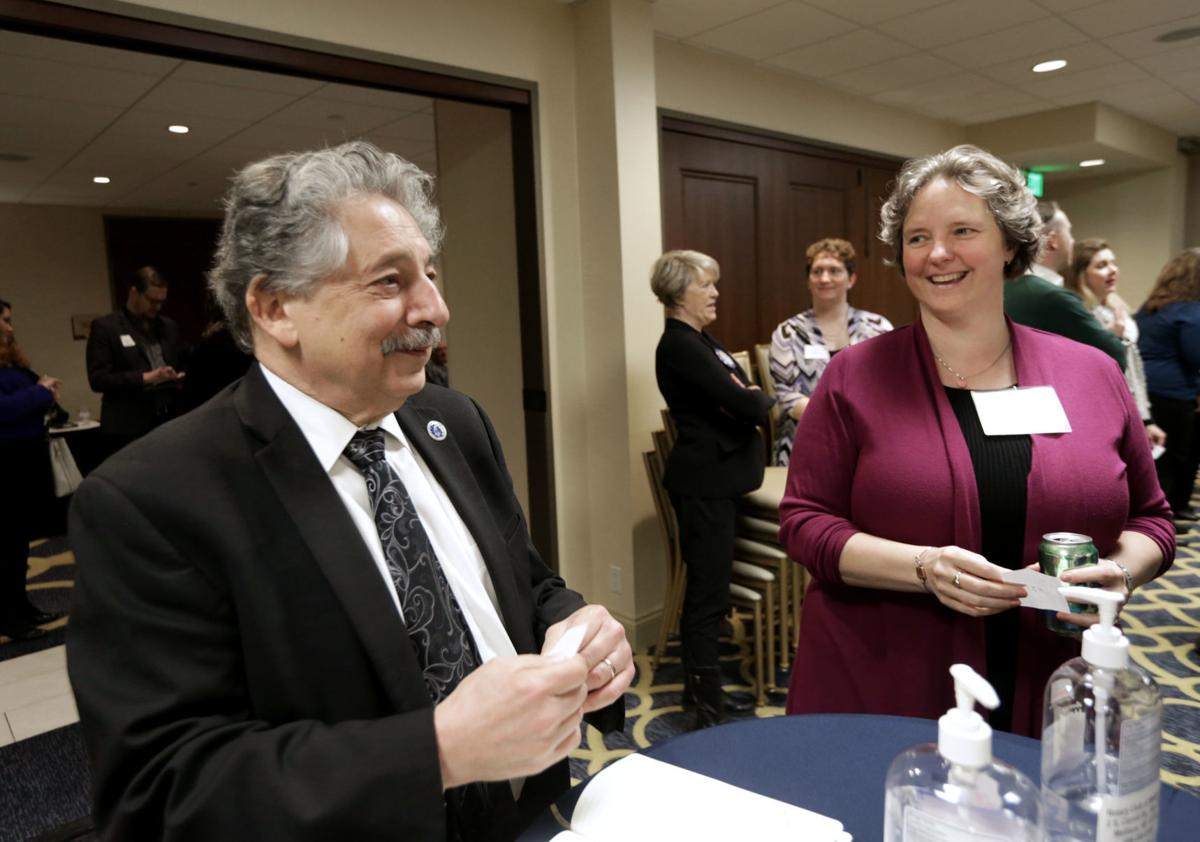 Madison mayoral candidate Satya Rhodes-Conway raised an important issue in last week's Downtown Rotary forum, where she appeared with incumbent Mayor Paul Soglin.
"It does not make sense to me that the police department thinks they are not accountable to elected officials," said the former City Council member who essentially tied with Soglin in the primary and will face off against the incumbent in the April 2 general election.
That was not criticism of police officers or the police chief. Like the mayor, Rhodes-Conway expresses regard for law-enforcement personnel and the challenges they face, arguing: "We (have) asked our police to be mental health officers, addiction counselors and youth workers. I think that's not fair. We need to bring resources to work with the police, people who are trained in all of those things so that they can take some of the burden off of the front-line officers and the officers can actually do the public safety work."
Rather, what Rhodes-Conway offered was a common-sense observation by someone who has hands-on experience in city government and who has worked for more than a decade with mayors nationwide as the managing director of the Madison-based Mayors Innovation Project.
This points to a broader issue the candidates should be considering: whether Madison's model of resting so much responsibility for public safety agencies with the appointed Police and Fire Commission still makes sense.
As of now, the PFC "appoints the chief of each department; approves or disapproves promotions and supervision of the hiring process, with certification of an eligibility list and approval of those who are finally hired; holds hearings on disciplinary matters brought to its attention either directly or through appeal and imposes discipline if appropriate."
The 2017 Madison Police Department Policy and Procedure Review noted: "Once selected, the PFC statute requires a finding of 'just cause' for the PFC to remove a Chief of Police, essentially resulting in a situation where a Chief enjoys the possibility of life tenure provided he or she does not commit a significant transgression. This paradigm is again relatively unique to Wisconsin; in most jurisdictions, the Chief serves at the pleasure of a Chief Administrator or City elected officials, and some have a fixed term of years."
Many able and honorable Madisonians have served on the PFC, and continue to do so. But there's a debate to be had about whether the fairly unique model that exists in Madison is the right one for the future.
The 2017 policy and procedure review recommended a number of steps that might be taken to increase accountability and transparency. But a deeper debate is called for about whether more oversight responsibility should be shifted to elected officials, including the mayor and members of the council? Or, perhaps, about whether PFC members might be elected, rather than appointed?
Democracy, transparency and accountability build trust in all public agencies. That trust benefits police officers and the other public servants who make significant sacrifices on behalf of citizens and the community. Rhodes-Conway is right to raise this issue, and she and Soglin would do well to discuss it more thoroughly as the mayoral race enters its final weeks.
Share your opinion on this topic by sending a letter to the editor to tctvoice@madison.com. Include your full name, hometown and phone number. Your name and town will be published. The phone number is for verification purposes only. Please keep your letter to 250 words or less.