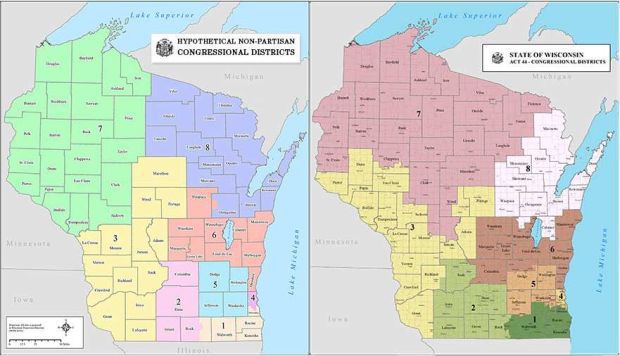 Wisconsin's delegation to the 115th Congress will be sworn in this week. But it will not represent Wisconsin.
The eight-member delegation is made up of five Republicans — House Speaker Paul Ryan and Congressmen James Sensenbrenner, Glenn Grothman, Sean Duffy and Congressman-elect Mike Gallagher— and three Democrats — Congressmen Mark Pocan and Ron Kind and Congresswoman Gwen Moore.
Yet Wisconsin did not vote on Nov. 8 at a 5-to-3 ratio in favor of Republicans.
In fact, Democratic contenders earned 1,379,996 votes to just 1,270,279 won by Republican contenders.
Wisconsin's 2016 congressional races were not, for the most part, aggressively contested. The Democrats gave little real support to challengers in various districts, while the Republicans could not get their acts together to mount challenges in some districts. So it is fine to quibble about what might have been. For instance, if national Democrats had gotten serious about rural policy and embraced the candidacy of National Farmers Union member and rural activist Sarah Lloyd in Wisconsin's 6th District, the party's numbers in central Wisconsin and its statewide numbers would undoubtedly have been higher. Similarly, if Republicans had put some energy into challenging Democrat Ron Kind in the traditionally competitive 3rd District, they would have had better numbers in that district's southwestern areas of the state. But the bottom line does not change: Wisconsin's congressional district lines have been so gerrymandered to favor Republicans that even when the Grand Old Party loses the popular vote, it wins a clear majority of seats in the House.
Gerrymandering diminishes democracy, not just in Wisconsin but nationally. And since the "Republican wave" election of 2010 gave GOP governors and legislators disproportional power to warp district lines in states like Wisconsin, that diminishment has grown more severe.
In 2012, Democrats won 59,645,531 votes for congressional seats across the country while Republicans won 58,228,253 votes. In a system where votes were distributed proportionally, Democrats would have won 49 percent of the seats to 47.5 percent for the Republicans, with the remainder going to third-party contenders. But in the gerrymandered system that now exists, Republicans gained almost 54 percent of the seats in the 113th Congress, with a 234-201 advantage and complete control of the chamber.
In 2016, the Republicans narrowly won the national vote for seats in Congress, gaining 49.1 percent to 48 percent for the Democrats, with the remainder going to independent and third-party contenders. Yet, because of gerrymandering, Republicans won more than 55 percent of the seats in the House, for a 241-194 advantage and complete control of the chamber under Speaker Ryan.
This is not what democracy looks like.
Under a proportional system nationally, the House split in the 115th Congress would be 213 for the Republicans to 209 for the Democrats, with 13 seats going to third-party and independent contenders.
Some small countries actually employ national systems of proportional representation. But most large countries adopt different approaches to produce legislative bodies that are representative of the regional diversity and the popular will.
One approach is to have proportional representation at the state, provincial or regional levels. Under such a system, in 2016 Democrats would have gotten at least four seats representing Wisconsin, instead of three.
But in the absence of a proportional system — or the even more democratic ranked-choice system that Maine recently adopted — Wisconsin could still produce fairer and more representative results.
All that is required to eliminate gerrymandering is an honest approach to drawing congressional district lines.
The first step involves removing the power to draw district lines from the politicians. Under the current system, legislators get to choose their voters. They draw districts that virtually ensure the re-election of incumbents, even in cases where voter sentiments may be shifting against those political careerists.
Ryan is a prime beneficiary of gerrymandering. The old 1st Congressional District was built around four counties: Racine, Kenosha, Walworth and Rock. While bits and pieces of other counties might be included following the decennial census, the core counties were definitional. Now the district has been drawn by Ryan's Republican allies in the Legislature to remove Democratic-leaning parts of Rock County while adding heavily Republican sections of southern Waukesha and Milwaukee counties.
But Ryan is certainly not the only beneficiary of this political chicanery. While Republicans have been the worst players in recent years, Democrats have gamed the process in the past.
What's needed now is a multipartisan commitment to competition.
If Wisconsin were to create a nonpartisan redistricting commission, and charge that commission with creating as much competition as possible, the likelihood is that (for geographic reasons) a couple of Democratic incumbents would retain advantages (probably Pocan and Moore) while a couple of Republican incumbents would be similarly well-positioned (probably Sensenbrenner and Grothman). But there would be real competition in at least half of the state's districts. And in years with big political swings in one direction or another, that competition could put even traditionally safe seats in play.
The only barrier to competition is the unwillingness of the political careerists in the Legislature to embrace fair and open elections. Of course, that's a big barrier. But it can and should be countered by building a movement of voters — Democrats and Republicans, Greens and Libertarians and independents; progressives, liberals, moderates and conservatives — who are committed to democracy.
As it happens, that movement is being built by a number of groups, including the League of Women Voters, Common Cause in Wisconsin, and the terrific Wisconsin Democracy Campaign. They have legislative allies like state Sen. Dave Hansen, D-Green Bay. What these energetic and engaged groups need now is a groundswell of grass-roots support for genuine political competition. So here's a 2017 resolution: Vote for the candidates and parties that are most supportive of reform, and if it is your inclination contribute time and money to the contenders who most appeal to you. But give a little something extra to the groups that are building the movement to end gerrymandering and restore democracy to Wisconsin and America.
Share your opinion on this topic by sending a letter to the editor to tctvoice@madison.com. Include your full name, hometown and phone number. Your name and town will be published. The phone number is for verification purposes only. Please keep your letter to 250 words or less.