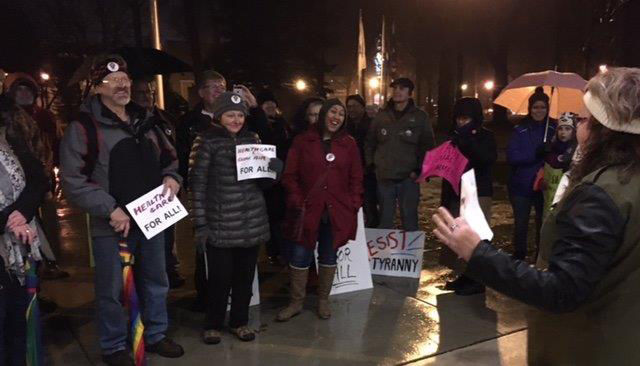 Millions of Americans poured into the streets of Washington, New York, Chicago, Los Angeles and other major American cities at the close of last week to challenge Donald Trump's new administration — raising a mighty outcry against policies that will be harmful to women and humanity in general. They were joined by crowds in college towns and state capitals such as Madison, where Trump's candidacy was overwhelmingly rejected in an election that saw him finish 3 million votes behind Hillary Clinton.
But this national show of resistance was not just an urban phenomenon. It was not merely a blue-state objection to a new chief executive whose darkly drawn inaugural address highlighted the divisions that Trump exploited as a contender for the Republican nomination and the presidency itself.
Across America, from the westernmost incorporated community on the continent (Adak, Alaska: population 326) to islands off the east coast of Maine (Vinalhaven: population 1,165), rural and small-town Americans marched and rallied to announce their determination to "Resist Now!"
That's what one of the handmade signs read as 50 activists from rural Walworth County, Wisconsin, marched through the streets of the county seat at Elkhorn to object to divisiveness and to declare their support of policies that are truly "For All."
"Health care for all! Education for all! Equal pay for all! Workers' rights for all!" chanted Ellen Holly, one of the organizers of the march. "An America that is for all of us! That's what we want."
The Elkhorn marchers cheered.
Not everyone in Walworth County was so enthusiastic. A few Trump fans jeered the hearty band that marched through the rain on a night when temperatures dipped toward the freezing mark. No surprise there. Trump carried Walworth County by 57 percent to 37 percent on Election Day, with exit polls telling us that small-town and rural America backed the Republican nominee by an overwhelming 62-34 margin. (In the most rural areas, according to an analysis by the Daily Yonder website, support for the Democrat fell below 30 percent.)
In states such as Wisconsin, Michigan and Pennsylvania, where Trump's narrow victories gave him the numbers he needed in the Electoral College, a massive rural swing to the Republican line was key to his victory. Walworth County, the most rural region of House Speaker Paul Ryan's congressional district, offers a prime example of the phenomenon. In 2008, Democrat Barack Obama won 48 percent of the vote in the county. In 2012, he held at 43 percent. Those were not wins, but the numbers were credible enough to combine with figures from across the state to contribute to easy Wisconsin wins for the outgoing president — and down-ballot wins for Democratic candidates in key Senate and House races.
Wisconsin is not an exception to the rule of regional politics. National exit polls from 2008 gave Obama 45 percent of the vote from small towns and rural areas. In 2012, Obama still took roughly two-fifths of the rural vote.
In 2016, the bottom fell out for Democrats. While Trump concentrated attention on rural areas, the Clinton campaign was criticized for making an insufficient commitment. Had Clinton simply maintained the same level of small-town and rural support that Obama won in 2012, she could well have won several more states and closed the gap in the Electoral College count. But that did not happen.
Media coverage, which is invariably neglectful of rural areas, has since the election imagined near monolithic rural support for Trump. But rural and small-town America is far more diverse and dynamic than major media outlets bother to note. Clinton won roughly 8 million votes from rural areas. And Trump, who did not even bother to name a secretary of agriculture until the day before he was inaugurated, has shown little interest in rural and small-town America.
Trump's Cabinet picks and policy pronouncements are already stirring anxiety among rural and small-town voters, said Walworth County's Ellen Holly. "People are worried about what's going to happen with rural schools, whether they are going to be supported," said the high school counselor. "They're worried about Medicare and Medicaid and what they're doing to the Affordable Care Act."
"When people start losing health care coverage, that's going to shake things up," said Steve Doelder, as he marched in Elkhorn.
"That's why the organizing matters. People are going to be upset with Trump."
A Bernie Sanders backer in Wisconsin's 2016 Democratic primary — when the senator from Vermont swept 71 of the state's 72 counties, including Walworth — Doelder now serves as treasurer of the Walworth County Democratic Party. After the Nov. 8 election, the party kept its headquarters in downtown Elkhorn open — funded with donations from party activists, staffed by volunteers.
As Trump assumed the presidency, local party Chair Colleen Robson announced: "In 2017 we need to come together to fight back against the regressive GOP agenda for America and the GOP's vandalism of Wisconsin's ideals."
"Although we can't immediately change the balance of power at the state and national level, we can still have an impact — especially on the local level," she added. "In the coming year, we will continue our focus on building a strong county party with the infrastructure needed to establish and maintain winning coalitions."
Resisting Trump and Trumpism is not just about national fights. There will be calls for solidarity in communities of every size. There will be local struggles on an array of issues and local campaigns to be mounted. (Doelder's running for the village board this spring in the Walworth County village of Bloomfield.)
There are movements to build.
Those movements will not prevail if they are not truly national. That's why it matters that activists are stepping up in every corner of these United States in cities and suburbs, in small towns and the rural regions. Those places include Walworth County, where the Democrats just posted a new message across the top of their website: "Resist."
Share your opinion on this topic by sending a letter to the editor to tctvoice@madison.com. Include your full name, hometown and phone number. Your name and town will be published. The phone number is for verification purposes only. Please keep your letter to 250 words or less.