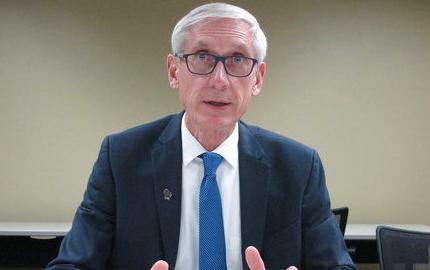 Pundits and politicians who are wrapped up in the debilitating D.C. politics of this moment will always second-guess someone like Tony Evers. They will not recognize, let alone understand, what drives the new governor of Wisconsin.
But people with roots in Wisconsin, people who value the state's unique political history, and the patterns of progress and reaction and progress again that have shaped its governance, get the guy. They know that Evers defeated Scott Walker precisely because the former state superintendent of public instruction speaks to a longing on the part of Wisconsinites for a presumption of civility.
Evers is exceptionally polite, deeply observant and inclined to get on well with everyone — even the Republicans who have tried to upend the new Democratic governor.
As someone whose family settled in Mineral Point in the 1820s and entered into territorial politics, the work of statehood and the governing that extended from it, I appreciate where Evers is coming from.
When we spoke the other afternoon, he talked about growing up outside Plymouth in rural Sheboygan County. "I lived in the country," he recalled. "I had to ride my bike four miles into town to play baseball. I was kind of isolated, so I wanted as many friends as I could find. And that meant that you had to get along to get along."
This instinct does not incline a governor toward unprincipled compromise but toward fruitful cooperation; it is not a sign of weakness but rather a strength. It has motivated some of the state's greatest governors — Bob La Follette (a native of the town of Primrose), John Blaine (Boscobel), Gaylord Nelson (Clear Lake), Warren Knowles (New Richmond) Pat Lucey (Ferryville),  and Tommy Thompson (Elroy). And it framed a discussion from which the following insights are drawn:
On whether a small-town background teaches you to get along with people you disagree with politically: Oh God, yes. In a big city, you can ignore them. In a small town, you cannot. It creates an atmosphere where you have to find common ground. Can you be principled (by holding firm on an issue like taking Medicaid money)? Yes. Can you be principled and find common ground? I think so.
On what he means when he says he's a "Plymouth progressive": I view progressivism as maybe more pragmatic than others might. I think that's what I mean by "Plymouth progressive." It's from the small-town experience. You figure out what people's value systems are. You respectfully deal with it. You try to reach common ground in discussions with people who may be Democrats, may be Republicans.
On his sense that Wisconsinites will reject the power-grab politics practiced by Republicans in the lame-duck legislative session: I am going to continue to talk about it in the way I have talked about it. It's a mess. And I believe that many of (the changes made to weaken the governor's authority) not only didn't reflect what happened in last November's election but also likely aren't constitutional. I'm not a lawyer, so I can't make that final judgment, but I believe that to be true. So we're going to continue to talk about it. Clearly people are upset about it. I know (that speaking up on these issues) creates pushback from the Republicans saying "this is all about nothing." Well, if it was about nothing, then why the hell do it?
On his plan to counter legislative resistance by organizing Wisconsinites to support his agenda: I learned this as state superintendent. (The superintendent position) could be nothing more than an inside job. You've got a bureaucracy and they are all these good people doing good work. But if you're not out there selling your product, talking about public education and essentially creating an atmosphere where all these good people are able to do good work, you've got nothing.
(In the new administration) we've hired quite a cadre of good secretaries for our agencies. It's up to me, now, to make sure that the people of Wisconsin get the services they need. But also to make sure that the people of Wisconsin understand how important what we do in government is to solving problems. It is campaigning — campaigning for ideas and to get things done.
On using the bully pulpit to rally support for a budget that is focused on education, transportation and health care: Once our budget's done, regardless of what the legislators do we're taking it directly to the people of Wisconsin. Not just having press conferences; we're going to bring back the same kind of format (that was used for the listening sessions to shape his budget plan). We're going to say: OK, here's the budget, let's have at it. How can you, the people of Wisconsin, participate in this budget-making process? How do you want to make this happen? How do you, as the citizens of Wisconsin, participate in this democracy, in this legislative process that's going to create the policies that move us forward?
On how he plans to build a popular movement in support of his budget: I believe that we will get people invested in making this happen. It can't just be me. And it can't just be lobbyists who lobby for large organizations and interest groups. We have to get people involved in passing this budget.
On critics who say he is naive to think he can tip the balance by building a popular movement for his budget: Of course they do. They say: "Why don't you just tell me if you're going to veto the Republican budget?" I'm not convinced I have to. I think we can get to a point where they, the Republicans, recognize that there's a consensus out here — it's all about discourse, civility, finding common ground, Wisconsin values.
Share your opinion on this topic by sending a letter to the editor to tctvoice@madison.com. Include your full name, hometown and phone number. Your name and town will be published. The phone number is for verification purposes only. Please keep your letter to 250 words or less.