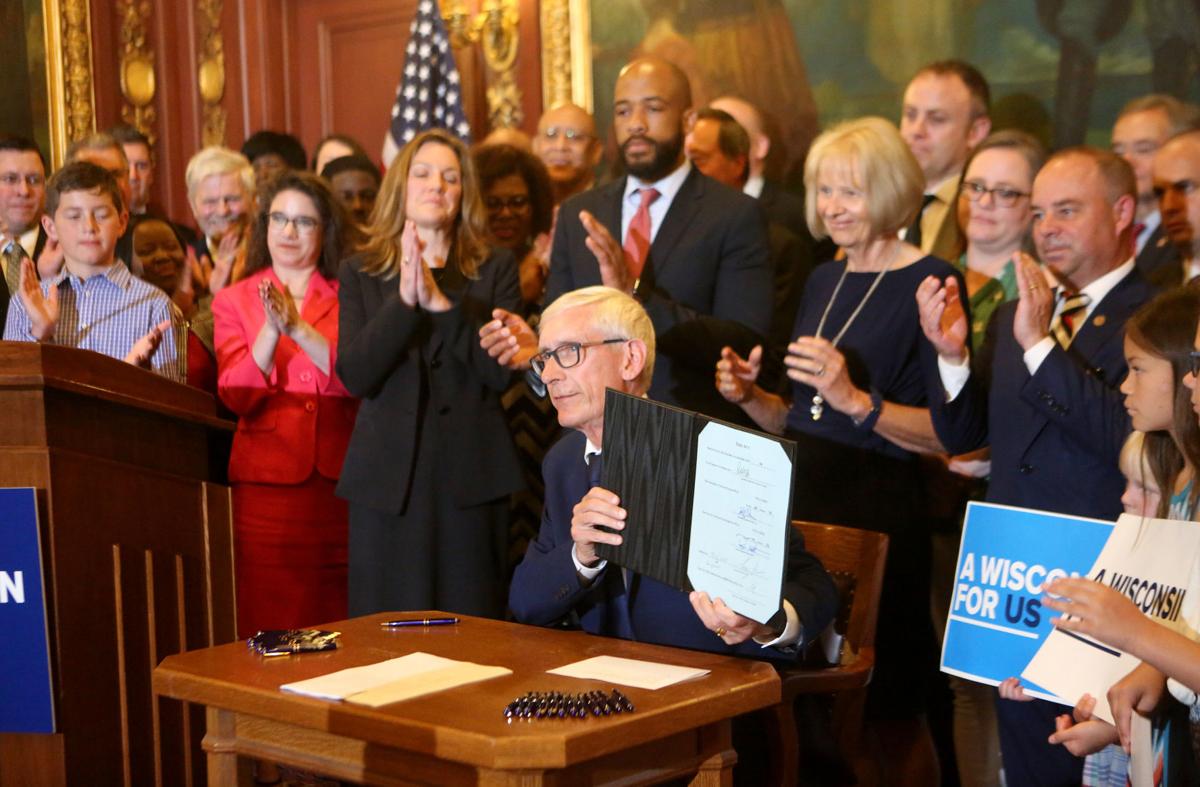 Tony Evers is not a natural politician, thankfully. The veteran educator does not play the game the way that political careerists do. Rather, he eschews personal clashes and backroom maneuvers in favor of a strikingly open and genial pursuit of the common good that is rooted in Wisconsin's progressive tradition.
So far, this approach has proven to be enormously successful.
In 2018, Evers entered a crowded field of Democratic contenders in the race for the party's gubernatorial nomination and was immediately dismissed as too mild, too nice, too old-school to prevail. He won 42 percent of last summer's primary vote, leading the next closest candidate in the 10-candidate field by 26 points.
Evers then took on Republican Gov. Scott Walker. The incumbent had the name recognition, the money and a low-road strategy that combined personal attacks on Evers with divisive anti-immigrant rhetoric borrowed from President Donald Trump. Yet, Evers prevailed, defeating Walker and leading a sweep that saw Democrats win every statewide contest.
Republicans retained control of the state Legislature, thanks to extreme gerrymandering and the infusions of out-of-state campaign money that had sustained Walker. Predictably, they sought to thwart the will of the people. They used a "lame-duck" session power grab to undermine the new governor's position. Then, they proposed to obstruct and undermine Evers' "people's budget."
But Evers outwitted them. He campaigned hard for his budget plan, clearly defining it for Wisconsinites who liked what he was saying about expanding access to health care, spending more on schools, fixing roads and renewing the promise of progressive taxation — by cutting taxes for working families while making corporations and the wealthy pay their fair share. And he made it clear that he was prepared to veto bad budget provisions.
The Republicans buckled. They agreed to so much of what Evers asked for that they faced a revolt by conservatives who said they were giving in to the governor. Assembly Speaker Robin Vos and Senate Majority Leader Scott Fitzgerald eventually delivered a budget. And it was insufficiently progressive. But Evers then used 78 vetoes of to dramatically improve the document.
The governor moved an additional $87 million into education for an overall increase of almost $600 million for K-12 schools. He restored funding for child welfare programs while thwarting ill-thought GOP schemes on prison building and expanding county jails. He steered money to charging stations for electric vehicles, as part of a plan to reduce auto emissions, while rejecting a GOP plan to spend $2.5 million to study toll roads.
Did Evers get the full "people's budget?" No. But on Wednesday, Evers signed a budget that, he noted, includes substantial "investments in special education, the largest general school aid increase in a decade, increased revenue to fix our roads, and critical investments in broadband expansion, Wisconsin shares, child welfare, rural hospitals, and transit, among other important priorities."
Fitzgerald and Vos were grumbling. But Evers was smiling. And rightly so. The governor had, once again, outwitted his rivals.
Share your opinion on this topic by sending a letter to the editor to tctvoice@madison.com. Include your full name, hometown and phone number. Your name and town will be published. The phone number is for verification purposes only. Please keep your letter to 250 words or less.
Catch the latest in Opinion
Get opinion pieces, letters and editorials sent directly to your inbox weekly!