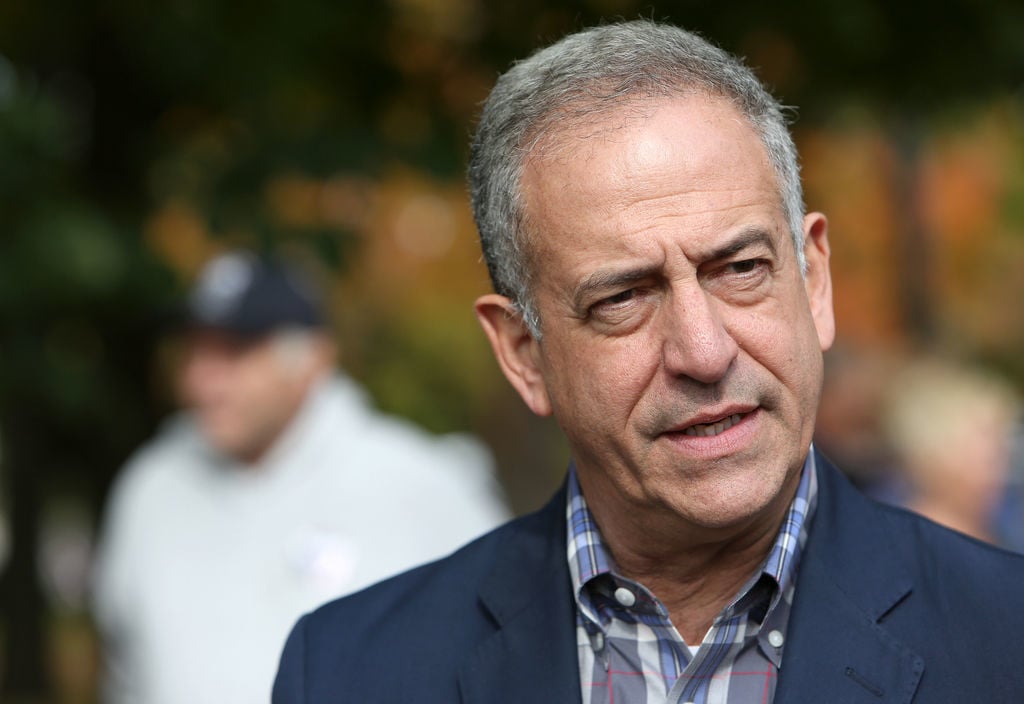 Russ Feingold knows his way around politics, as a former Wisconsin legislator who served three terms in the United States Senate. But even he was taken aback by the haste with which President Donald Trump and Senate Majority Leader Mitch McConnell, R-Kentucky, began talking about naming and confirming a replacement for Supreme Court Justice Ruth Bader Ginsburg in the hours after the death of the pioneering jurist.
Feingold's initial response to the news that Ginsburg had died Friday night at age 87 was measured and deeply respectful of the justice's legacy. As a former member of the Senate Judiciary Committee who now serves as the president of the American Constitution Society, he wanted to put her service in perspective.
"There are only a few justices in a generation or two where you just realize that they stand out as combining legal ability with a truly principled approach that looks to the future of the country and not just to the past. She was brilliant at doing that, and that's what we need on the Supreme Court," he said. "The Supreme Court can't simply be an attempt to somehow replicate what the founders thought — which of course is not always possible to know — but to appropriately interpret and adapt the Constitution to the reality of the diverse country that we are now. Justice Ginsburg was in many ways one of the most preeminent justices to be able to do that."
Ginsburg's recognition of the unique role of the judiciary, Feingold explained to me, made her "a legendary figure at a time when there was an attempt — unfortunately very successful — to co-opt the court for the far right in this country. She stood against that in a principled and intelligent way, developed personal relationships with other justices, particularly (conservative Justice Antonin) Scalia, and never wavered from her principled adherence to the Constitution and its role in making sure that all Americans are part of the idea of the American dream, particularly women."
When we spoke on the morning after Ginsburg's death, Feingold reflected on the need to understand her contribution before talking about replacing her.
"If you cannot take a moment out to pay respect to somebody of this magnitude at the moment of her death," he said, "we've lost our souls. Somehow we have to make sure that those kinds of standards of decency are restored."
To that end, Feingold is in the camp that says there should not be a rush to replace this justice.
"The American Constitution Society and progressive groups generally are in strong agreement that we believe it is entirely inappropriate to take up a nomination prior to Jan. 20, until we know who the president will be at that point. (South Carolina Sen.) Lindsey Graham actually said that a year ago. Others have said it," Feingold said. "People know that this is a complete violation of fairness to go and try to jam this nomination through. You can look at history in that regard or you can just look at common sense, that when you're in the middle of a presidential election that's imminent, when the country is in tremendous turmoil with regard to COVID-19, the economy, and racial injustice, putting somebody on the bench for life is not something that has to be rushed and should not be rushed. The only reason it is being done is for purely political reasons, and it flouts the whole idea of the Senate as a deliberative body that would seriously consider a nomination."
Though he has been out of the Senate since 2011, Feingold retains a reverence for its role in a system of shared powers and responsibilities.
"I voted for six justices as a senator. For four of them, I was on the Judiciary Committee. It was a very deliberative process, you know? Individually, as members of the Judiciary Committee, we would gradually meet with each of the nominees for an hour — and we would have, as you know, a couple of weeks of hearings, and then it would go out to the floor, and this is after the president usually took a little time and was careful in who they would nominate."
Now, Trump and McConnell are proposing a rushed process that could see the Senate voting on a Supreme Court nominee before the Nov. 3 election.
"What's happening now is a mockery of what everybody believed was the appropriate way to handle those nominations, and that is the way they were handled even under Bush. There was not an attempt to immediately jam through those nominations. In fact, in the one case with (George W. Bush nominee) Harriet Miers, she was nominated and was considered for a while, and then the nomination was actually withdrawn. So there was a deliberative process."
The rush to judgement, Feingold said, should be resisted by senators because of the threat it poses not merely with regard to this one seat, but to the future of the judicial selection process.
"Essentially what these people are showing is that they could care less about the way in which this country should choose its justices," he warned. "The Constitution provides that the Senate should advise and consent, not simply jam something through."
John Nichols is associate editor of The Capital Times. jnichols@madison.com and @NicholsUprising. 
Share your opinion on this topic by sending a letter to the editor to tctvoice@madison.com. Include your full name, hometown and phone number. Your name and town will be published. The phone number is for verification purposes only. Please keep your letter to 250 words or less.
Catch the latest in Opinion
Get opinion pieces, letters and editorials sent directly to your inbox weekly!