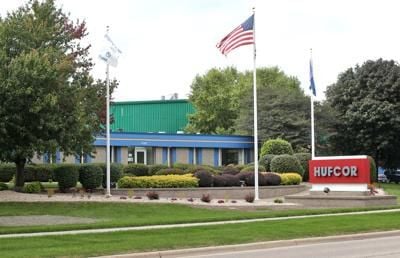 Sen. Tammy Baldwin has a long record of opposing the ill-thought trade deals and corporate-friendly policies that have cost Wisconsin and other Great Lakes states tens of thousands of jobs. That is no small matter, as it has required the Madison Democrat to break with Democratic and Republican presidents to defend the interests of workers and their communities.
Baldwin could rest on that record and merit the support of Wisconsinites who understand the vital importance of industrial policies that are broadly designed to preserve family-supporting jobs, keep factories open and strengthen basic industries.
But Baldwin has never been satisfied simply to maintain a solid voting record in Washington. She wades into specific struggles to protect workers and their communities when threats arise.
That's what the two-term senator has been doing in recent weeks as she has emerged as a high-profile defender of the jobs of 166 workers for Hufcor, one of the oldest manufacturing concerns in Janesville. The once locally owned factory, which produces movable doors and room partitions, was taken over in 2017 by OpenGate Capital, a Los Angeles-based private equity firm. OpenGate, which has a record of dismembering factories with heartless disregard for workers and communities, announced last month that it would end production in Janesville as part of an expected shift of operations to Mexico. OpenGate plans to permanently lay off the workers in Janesville, many of whom have spent decades building the company's reputation — and keeping it profitable.
With strong support from the community, Hufcor workers and their union, Communications Workers of America Local 84811, are fighting to keep the jobs in Janesville. Baldwin has emerged as a vital ally in that struggle.
The senator has met with Hufcor workers and will do so again this week. Now she is using her position to amplify their stories and to challenge the hedge fund to change course.
In a recent letter to Andrew Nikou, the founder and CEO of OpenGate, Baldwin wrote, "I have met with Janesville workers who face pending layoffs and they shared stories with me about the pain the plant's closure will cause them, their families, and the community in Wisconsin. Jesse Arnt shared his cancer diagnosis with me and how he and other workers are dependent on the health benefits their current manufacturing jobs provide. Other workers have shared their fears of being unable to provide for their children or pay for their college education. I encourage you to meet with these workers as well so you have a better understanding of why their years of hard work should be respected."
With appropriate bluntness, the senator described the threat that hedge funds pose when they swoop into historic manufacturing communities, buy up factories and then outsource the work.
"Hufcor has been an integral part of the Janesville community for nearly 120 years, providing jobs with good wages and benefits and contributing to our Made in Wisconsin economy," notes Baldwin. "In stark contrast, OpenGate Capital has a history of shutting down businesses and giving workers pink slips in Wisconsin. In 2013, your firm shut down the Golden Guernsey plant in Waukesha and did so in such an abrupt manner that you reportedly failed to properly notify workers about layoffs, locked them out of the plant, and did not compensate them for their accrued wages and benefits. This was a violation of state law and the State of Wisconsin had to file a claim with a bankruptcy court to help these workers receive a portion of the compensation they worked for and earned."
Using her position as a senator to get the attention of a wealthy Californian who might not pay attention to workers in a distant manufacturing town, Baldwin used the June 16 letter to pose questions to Nikou, such as:
• Do you plan to shut down the Hufcor manufacturing plant in Janesville?
• If you are planning to shut down the manufacturing plant, how many workers will be laid off?
• If you plan to lay off these workers, when will these layoffs occur?
• Will Hufcor workers be abruptly locked out of their workplaces as you did to Golden Guernsey workers who were unable to retrieve tools and personal belongings?
• Will Hufcor workers receive accrued wages and earned vacation if they are laid off?
• Will these Wisconsin jobs be outsourced to Mexico?
• Given the fact that a plant you previously purchased, and then sold, in Reynosa, Mexico, was allegedly overrun by a Mexican drug cartel, will you reverse your plans to shut down the Janesville plant and move these Wisconsin jobs to Mexico?
Nikou should answer those questions, just as he should respond to inquiries from Hufcor workers and their union. But on the chance that he does not, Baldwin is making it clear that she's not letting this issue go.
"I have called for fundamentally reforming the private equity industry and leveling the playing field by forcing private equity firms to take responsibility for the outcomes of companies they take over, empowering workers, and protecting investors," the senator wrote in her letter to the OpenGate CEO. "Your predatory actions in Wisconsin are a powerful example of the urgent need for these reforms."
John Nichols is associate editor of The Capital Times. jnichols@madison.com and @NicholsUprising. 
Share your opinion on this topic by sending a letter to the editor to tctvoice@madison.com. Include your full name, hometown and phone number. Your name and town will be published. The phone number is for verification purposes only. Please keep your letter to 250 words or less.