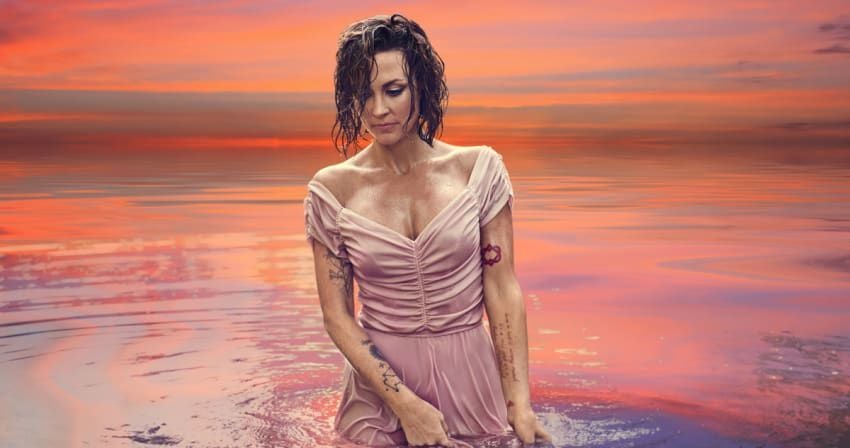 Within the first 45 seconds of "The Problem," I found myself back — in my mind — in the Planned Parenthood clinic on Orin Road.
I wasn't there for myself. Three years ago, as a reporter, I spent a day accompanying six women who had found themselves within the secured walls of the east Madison clinic as they sought to end a pregnancy. All but one were there for the first of what would be at least two visits; the other was on her second.
Their faces remain as vivid as they were under the lights of the exam rooms. None of their stories were exactly the same. All were certain of their decisions; some were more pained by it than others.
The story told by Amanda Shires and her husband, Jason Isbell, in her new song, "The Problem," does not speak universally for any of the women I met on that September day. And at the same time, in some ways, it speaks for all of them.
The plaintive piano chords introduce a narrative started — but not led — by Isbell, soon driven by Shires.
Tenderly, they trade lines, telling the story of a couple grappling with the reality of abortion.
"What do you want to do?" he asks.
"I'm scared to even say the truth," she responds. "Trying not to think of names. Will you look at me the same? Do you need the reasons why? Is a chrysalis a butterfly?"
Proceeds from the song, released on Monday — International Safe Abortion Day — will benefit The Yellowhammer Fund, a reproductive justice organization based in Alabama. Alabama and Wisconsin are among 23 states listed by the pro-abortion rights Guttmacher Institute as "extremely hostile" to abortion access.
In addition to coinciding with a day dedicated to reproductive rights, the song's release also falls on the eve of a fierce battle for the U.S. Supreme Court seat vacated by the death of Justice Ruth Bader Ginsburg — a tenacious and consistent advocate for women's rights and reproductive rights. President Donald Trump has nominated Judge Amy Coney Barrett, after previously pledging to only select justices who would overturn Roe v. Wade, the 1973 Supreme Court ruling that legalized abortion in the U.S. 
Should Roe v. Wade be overturned, 21 states have laws on the books that could be enforced to prohibit abortion in some or all cases. Wisconsin and Alabama are among nine states that have never repealed their pre-Roe abortion bans. Wisconsin's law, enacted in 1849, includes no exceptions for rape, incest or the health of the mother.
"I didn't want to bring anything down on my family, but I keep getting madder and more frustrated," Shires told The Tennessean. "I feel like women's health and women's rights are important and you can't wait any longer."
Her comments reminded me, in particular, of two of the women I met at the Planned Parenthood clinic — one of just three facilities that provide abortions in Wisconsin.
One was Sara, who was then a 20-year-old UW-Madison student planning to attend medical school and become a doctor. Sara was seven weeks pregnant before she was able to return to the clinic, so the doctor who administered her counseling appointment could, as required by state law, watch her take the first of two pills involved in a medication abortion.  
"I just think it's ridiculous, because the people who make these laws just contradict themselves. If you don't want people to get abortions so far along, then make it easier to get an appointment," Sara told me. "I think people think it's a super easy decision, but it's not, obviously." 
"It pisses me off. You know? It makes me wish that there were more women in politics," she told me. "And it makes me feel like there's not an understanding, like there's not empathy, like they're not trying to understand things from the perspective of a senior undergrad student who's trying to continue and get her degree and have a life that doesn't involve having a child when she's 21. It seems very behind the times, and it makes me really uncomfortable, too. Because, like I said, it just makes me trust the system less."
Wisconsin women seeking abortions have been required to participate in a counseling appointment followed by a 24-hour waiting period since 1996, under a law signed by Republican Gov. Tommy Thompson.
In 2012, Republican Gov. Scott Walker signed a law banning telemedicine abortions — a practice by which women take the required doses for a medication abortion at home, with support from a doctor by webcam — and implementing additional measures designed to ensure women seeking abortions are not coerced. The law requires the pills for a medication abortion to be given to a woman by the same doctor she sees for her state-mandated counseling appointment.
The following year, Walker signed a bill requiring women to undergo an ultrasound before having an abortion. Women are read a script describing what is on the screen and given the option of viewing it. 
The same law also included a requirement, later blocked by the U.S. Supreme Court, that abortion providers have admitting privileges at a hospital near their clinic. Two years later, Walker signed a law that bans abortions if the fetus has reached 20 weeks of medically dubious "probable post-fertilization age."
"There is no other field of nursing or medicine that is regulated in this way," a Planned Parenthood nurse told me during my visit. "I think it really does affect how our patients are able to access our care."
But, the nurse continued, "What I have learned working in this job is that the women of Wisconsin are smart and resilient and far, far more capable than these laws give them credit for. The women of Wisconsin are able to know their lives, their families and what's best for them."
Shires' song reminds us that that's true of all women, not just those of us here in Wisconsin. And it does the important work of starting a conversation about abortion and reproductive rights, rather than shying away from a divisive issue.
If we value a woman's right to access abortion, we need more of that. We need to support candidates who will seek to codify Roe v. Wade as federal law, who will allow Medicaid coverage for abortion, and who will end government funding restrictions for family planning organizations and for those that provide abortion referrals. And we need to be vocal in our support.
"I'm on your side" is the refrain repeated by Isbell throughout "The Problem," offering unconditional support no matter what his partner chooses — and to anyone listening to the song.
"If anybody feels alone, I don't think they ought to," Shires told The Tennessean. "Or they can, but I'll be on their side if nobody else is." 
We need to elect candidates who will be, too. 
Jessie Opoien is opinion editor of The Capital Times. jopoien@madison.com and @jessieopie.
Share your opinion on this topic by sending a letter to the editor to tctvoice@madison.com. Include your full name, hometown and phone number. Your name and town will be published. The phone number is for verification purposes only. Please keep your letter to 250 words or less.
Catch the latest in Opinion
Get opinion pieces, letters and editorials sent directly to your inbox weekly!