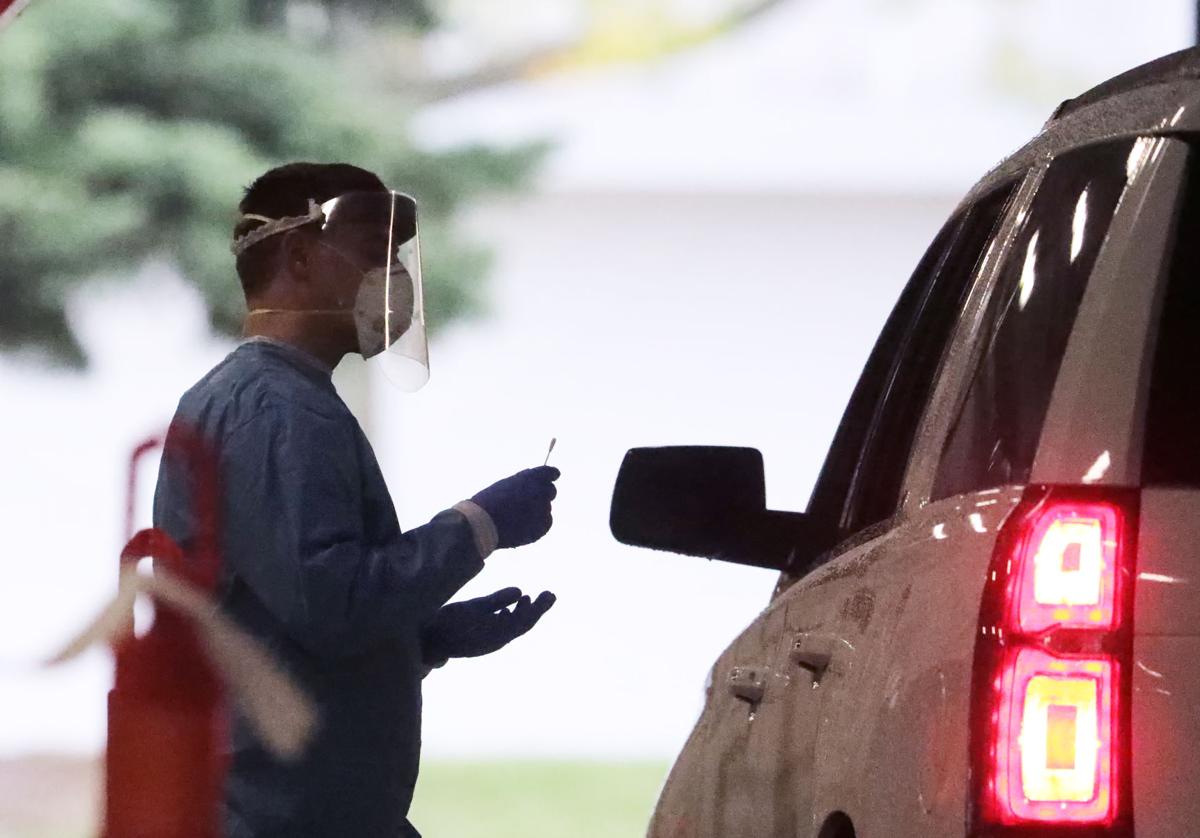 Another day, another set of national headlines highlighting Wisconsin's abysmal response to the coronavirus pandemic.
"Wisconsin is battling America's worst coronavirus outbreak, and the state's broken politics are partly to blame," read the headline of an Oct. 10 Yahoo News story.
And that's not to mention the extensive on-the-ground coverage from Wisconsin news outlets who keep us informed of these threats — and our state's failure to mitigate them — on a daily basis.
Here are the facts, which will be outdated by the time this is published and certainly by the time you read it: As of Oct. 12, more than 150,000 Wisconsinites had tested positive for COVID-19. More than 1,400 Wisconsinites had died as result of this illness. 
The New York Times has a frequently-updated map displaying coronavirus "hot spots" across the country. Wisconsin jumps off the page with the largest contiguous swath of crimson, surrounded by sections of deep red and orange not replicated in any other state. As of Oct. 12, Wisconsin was in the top five states ranked by cases per capita, and in the top 10 states for cases reported on college campuses.
And yes, it's personal for me, like it is for everyone. 
As of Oct 12, the greater Marinette area — the small town in the far northeastern corner of Wisconsin where I grew up — ranked No. 13 in daily cases relative to population over the last two weeks. The greater Oshkosh area — home to my first reporting job out of college — was second, with nearby Appleton and Green Bay following in third and fourth.
These are the facts, and yet, President Donald Trump, just two weeks after testing positive for COVID-19 and being treated at Walter Reed Medical Center, plans to visit Janesville for a rally on Saturday. This comes weeks after local officials asked him not to hold an event there, even before his COVID-19 diagnosis. 
These are the facts, and yet, Republican legislative leaders in Wisconsin have, at every turn, fought efforts from Democratic Gov. Tony Evers' administration to diminish the spread of the virus. They have fought — successfully — Evers' stay-at-home order, issued in late March, when the number of COVID-19 cases in Wisconsin was below 500. They have fought — so far, unsuccessfully — Evers' order requiring people to wear masks in public places. 
As of Oct. 12, Wisconsin's average positive test rate was 20%. On the same day, Wisconsin hospitals recorded a record-high number of COVID-19 patients — 950 — a 21% increase from the previous week. As of Oct. 12, it had been 180 days since the Republican-controlled Wisconsin Legislature passed a bill.
These are the facts, and yet, our state cannot muster the gumption to take a rational, cooperative approach to this pandemic. A WisPolitics review last week found that Wisconsin's Legislature has been the least active full-time state legislative body in the U.S. since states began addressing the coronavirus pandemic.
Last week, Republican legislative leaders requested a meeting with Evers. 
"With cases once again rising, it's clear the governor's go-it-alone, grab bag approach to responding to the coronavirus has been a failure. We must work together in order to keep our businesses open and our citizens safe. We would like to request a meeting with the governor as soon as possible to discuss answers to deal with the virus, especially solutions that don't result in families going bankrupt and thousands being added to the unemployment lines," wrote Assembly Speaker Robin Vos, R-Rochester, in a letter opposing Evers' extended mask order. 
On Monday, Evers responded.
"Given it has been 180 days since the Legislature last passed a bill and that you have repeatedly — through costly litigation and your public comments — expressed opposition to nearly every action my administration has taken to prevent the spread of COVID-19, I am eager to ensure our meeting is productive," Evers wrote in a letter to Vos and Senate Majority Leader (and congressional candidate) Scott Fitzgerald, R-Juneau. 
Evers made the following requests of the GOP leaders: offer "concrete options supported by science and public health that our administration can take to save lives and keep people safe that you, your caucuses, and your allies will support;" withdraw from litigation challenging the state's mask mandate; encourage Republican lawmakers to support, rather than reject, federal funding for Wisconsin's recovery efforts; share information with constituents about best practices to prevent the spread of COVID-19; and clarify whether it is true, as one state senator indicated, that legislative Republicans plan to exercise their power to strike down the governor's mask order after the Nov. 3 election. 
"The Legislature can end the state of emergency at any time, but so far, it has declined to do so," wrote St. Croix County Circuit Judge R. Michael Waterman, in his rejection of the effort to undo the statewide mask order. The suit was brought by a conservative advocacy group, the Wisconsin Institute for Law & Liberty, and it argued that Evers' administration lacked the authority to declare a state of emergency, which is what is being used to justify the mask mandate, beyond 60 days.
"As the statewide representative body of the citizens of Wisconsin, the Legislature's inaction is relevant and it weighs against judicial intervention, especially when the requested intervention will have statewide impact," Waterman wrote.
And that's the crux of the matter here. Yes, Evers, a Democrat, is Wisconsin's governor. But Republicans still control the state Legislature, as they have for nearly a decade. 
Yes, Evers can veto legislation that comes to his desk from the Legislature, but he cannot compel lawmakers to consider any proposals. And yes, Evers could try to assume the best of the Republican legislators with whom he must work, but it would be hard to blame him for hesitating given the spectre of the legislation passed in the wee hours of the morning shortly before he took office limiting his powers and those of incoming Democratic Attorney General Josh Kaul. 
And yes, this is just another example of how our state government fails, again and again, to come together in a crucial moment to do what's best for its people. 
"As I hope you know, the challenges facing our state are unprecedented," Evers wrote in his letter to Vos and Fitzgerald. "Wisconsinites are scared about what this virus means for their loved ones, their businesses, our state economy, and our country's economy. We desperately need Republicans in the Legislature to start taking this seriously."
We are long past the window during which it could be excusable to be a cautionary tale for the nation. 
If Republican lawmakers want to strike down Wisconsin's state of emergency and end the mask mandate, they should hold the vote now — before the election — and stop hiding behind law firms that don't have to face the voters on Nov. 3. And if they're afraid that wouldn't sit well with the 72% of voters who support requiring masks in public places, then they should put their politics aside and get to work, with the governor, on enacting and supporting policies that will get this virus under control. The partisan fights will still be there on the other side.
Jessie Opoien is opinion editor of The Capital Times. jopoien@madison.com and @jessieopie.
Share your opinion on this topic by sending a letter to the editor to tctvoice@madison.com. Include your full name, hometown and phone number. Your name and town will be published. The phone number is for verification purposes only. Please keep your letter to 250 words or less.
Catch the latest in Opinion
Get opinion pieces, letters and editorials sent directly to your inbox weekly!