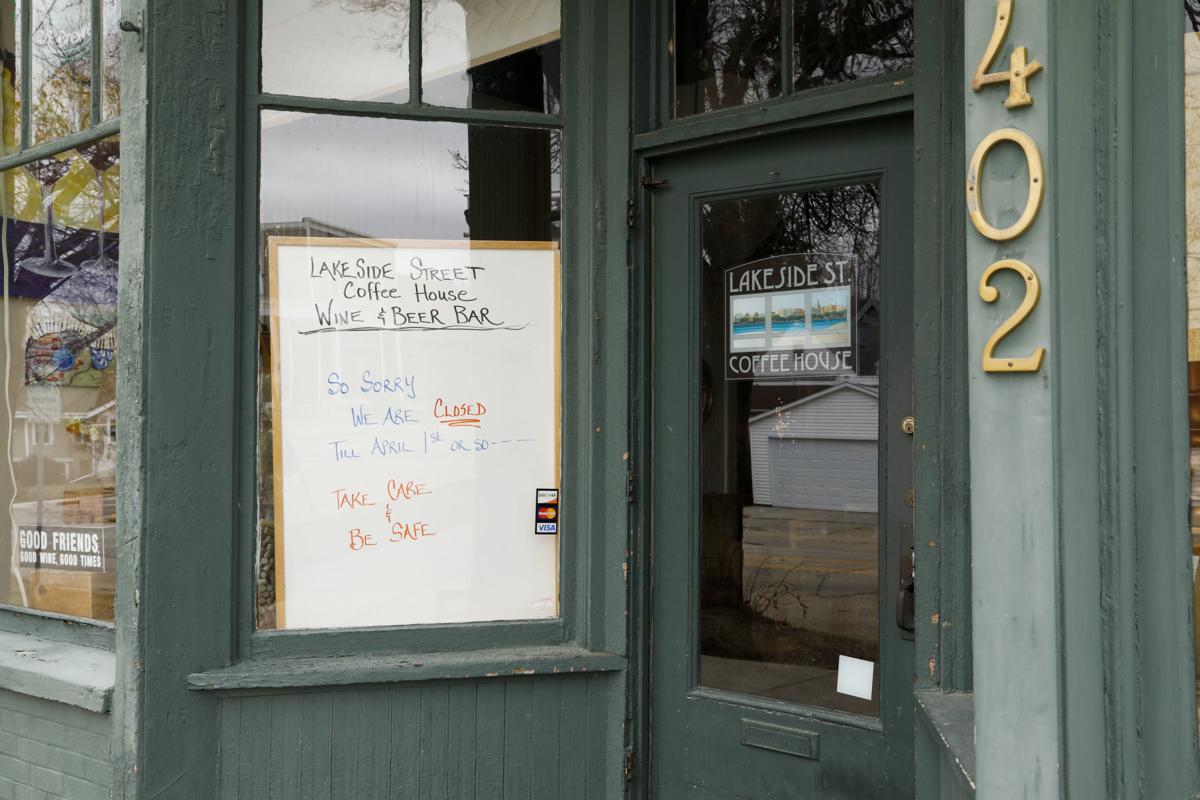 I wanted to write about how I've been going for long walks and cooking healthy dinners, and how I made a spreadsheet of all the nonperishable goods and spices in my kitchen with their expiration dates so I won't end up with too many cans of chickpeas and not enough crushed red pepper the next time I prepare a meal.
I wanted to write about how I miss being around people and how I'm trying to find new ways to stay connected from a distance, and how dogs make everything better and how video chats with friends and family help with the loneliness.
That's what I wanted to write. But the thing is that I am one of the lucky ones. The crushing weight of the fear we all share, that we or our loved ones will contract COVID-19, is the worst of my problems.
My job allows and actually encourages me to work from home during the pandemic. I don't depend on tips. I have health insurance. For now, I am OK.
Too many of my friends are not in this position. They are health care workers on the front lines, they are grocery store and pharmacy employees stocking shelves and selling us what we need to survive, they are musicians who used to travel from gig to gig to earn their money.
And they are service industry employees and employers who make food and drinks we look forward to, and who provide us gathering places that provide an escape or that feel like home. In a necessary effort to fight the spread of COVID-19, they have had to either significantly reduce the scope of their business or close them entirely for the time being.
"Let's come together and save Wisconsin hospitality," said Morris Ramen chef and co-owner Francesca Hong, promoting a letter sent last week on behalf of more than 75 Wisconsin restaurants, bars, chefs and farmers to Gov. Tony Evers.
Hong and others have led the charge to push for policy changes that will help her industry, all while vocally promoting restaurants that have stayed open through tightened restrictions. Morris Ramen shut its doors indefinitely on March 17.
"There are few workers in the state of Wisconsin who are as vulnerable and as valuable as the artists, artisans, and creative forces that fuel our businesses," the letter reads. "There are too many unknowns for us to make informed, heavy, and maybe devastating decisions of staying open or closing. If we knew there was real aid available for our teams we could help salvage what we believe to be an integral part of the Wisconsin identity — communities coming together over food."
The letter makes three requests: extending emergency unemployment benefits to all hourly and salaried workers furloughed during the coronavirus crisis; eliminating the sales and use tax and the payroll tax; and calling for rent and loan abatement for workers and employees.
These are reasonable requests, and some more achievable than others. Evers and his administration have made a good start by helping connect Wisconsinites with federal Small Business Administration loans to help cover losses, by waiving work search requirements for unemployment benefits, and by requiring insurers to cover delivery service functions for those restaurants that are able to offer those services.
What's been made clear to me, as I talk with friends in different situations is that everyone's needs are different and no one remedy will be a solution that works for everyone.
Here are some additional moves that could help. None of them come without consequences, but they are worth considering:
Additional unemployment resources: Unemployment claims will only increase — and not just from the service industry — during this public health crisis. Staffing to process claims should correspond with the heightened need.
Sales tax relief: Temporarily waiving the state sales tax, or reimbursing restaurants' and bars' portions of the sales tax already paid this year. For many, this would make a greater dent than eliminating the payroll tax — at least for now — as employment levels have been reduced dramatically.
Eliminating or adjusting the personal property tax: The personal property tax began as a tax on items like livestock, furniture, jewelry and vehicles. The tax now applies, in general, to furniture, equipment, machinery and watercraft owned by businesses. Permanently eliminating this tax without a long-term plan to mitigate the loss would cut into about 2.5% of the state's property tax base. However, it would lift a burden that small businesses have resented for years.
Rent relief: Not all landlords are on equal footing. Those that can afford to forgive or delay a few months' worth of rent payments ought to do it; keeping an established business alive on their property will ultimately serve them better than ending up with a vacancy. But for those that can't afford to be lenient, federal aid would serve to prop up both storefronts and property owners.
Safety nets that prevent layoffs and mitigate underemployment: Local U.S. Rep. Mark Pocan, with Rep. Rosa DeLauro of Connecticut, plan to introduce legislation that would allow businesses to reduce their hours, rather than their workforce — while allowing employees to receive unemployment benefits to account for lost wages.
Cash assistance: Bailouts are hard to stomach, but sometimes necessary. Loan assistance is a start, but if we care as much about the engines of America — airlines, banks, automobiles — as we do about the small businesses at the hearts of American neighborhoods, it's time to consider direct cash assistance for them.
In addition to federal and state policies, there are things that we, as individuals, can do to help.
Buy a gift card: If your usual restaurant or bar has temporarily closed, see if you can buy a gift card to use at a later date. Keep their cash flow moving even if you can't enjoy your favorites right now.
Order takeout: "It's a tough time for all hospitality businesses in all communities, of course. One positive that has been great to see is the creative ways all restaurants have been transitioning into new ways of doing business, and the way their communities are responding with support," Kris Larson, owner of Becket's restaurant and Wagner Market in Oshkosh, told me.
For now, restaurants and bars with the capacity to do so are allowed to run takeout and delivery services. If you can afford it, place an order and practice appropriate social distancing to pick it up. Tip well. Tip really well.
Send a virtual tip: Is that homemade cocktail not as good as the one you get at your usual watering hole? Do you miss the person who pours you a drink and asks you about your day without judgment? Does the coffee in your kitchen pale in comparison to the one your favorite barista hands you every morning? Pull up Madison's Virtual Tip Jar spreadsheet and tip the person who would get your money in any other non-pandemic circumstance. Or, use the randomizer to select someone at random. You can also donate to the United States Bartenders' Guild charity fund.
We all need each other right now. So if your week would normally be made better by a barista, server or bartender — stop for a moment and think about how you could make the next few weeks better for them. And then do that.
Share your opinion on this topic by sending a letter to the editor to tctvoice@madison.com. Include your full name, hometown and phone number. Your name and town will be published. The phone number is for verification purposes only. Please keep your letter to 250 words or less.
Catch the latest in Opinion
Get opinion pieces, letters and editorials sent directly to your inbox weekly!