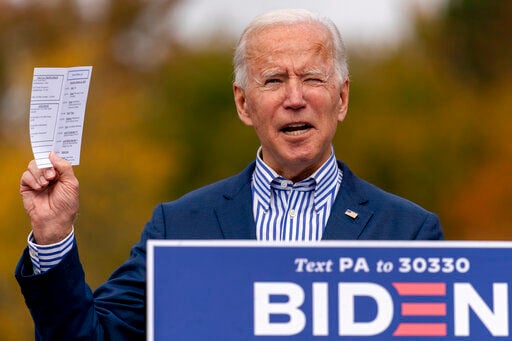 Whatever happens on Nov. 3, don't say Democrats took Wisconsin for granted this time.
Joe Biden will once again make his case to voters in the Badger State on Friday, his campaign announced on Monday — his third time here since winning the party's nomination in August.
It matters that the former vice president is campaigning here. Did Donald Trump win Wisconsin's 10 critical electoral votes in 2016 because Hillary Clinton didn't set foot in the state after losing its Democratic primary to Vermont Sen. Bernie Sanders? Not entirely, no — but any Democratic candidate would be a fool to ignore the harshest lessons from that campaign. Nuance is a luxury not afforded to losers, no matter how virtuous they may be.
So Biden will return to Wisconsin, for a third time as the Democratic nominee, after visiting Kenosha and Wauwatosa on an early September day and Manitowoc later that month. He will deliver, in the days comprising the dusk of the campaign, what campaigns and courts call "closing arguments."
HIs visit comes after two drive-in campaign rallies headlined by Massachusetts Sen. and former presidential candidate Elizabeth Warren, virtual visits from former South Bend, Indiana Mayor and former presidential candidate Pete Buttigieg and other former candidates, in-person visits from Jill Biden, and multiple appeals from former Green Bay Packers Coach Mike Holmgren — not to mention a slate of star-studded virtual fundraisers for the Democratic Party of Wisconsin featuring members of the casts of "The Princess Bride," "Parks and Recreation," "Veep," and "Happy Days."
Donald Trump certainly isn't taking the state for granted, holding frequent rallies himself and benefiting from surrogate visits including members of his family and Vice President Mike Pence.
"Joe Biden will travel to Wisconsin and discuss bringing Americans together to address the crises facing the country and win the battle for the soul of the nation," the campaign said in a statement that would sound melodramatic in any year other than 2020.
There was a time, not so very long ago, that we quibbled over the finer points of policy and didn't care for this, that or the other thing about the candidate we opposed, but ultimately knew that most — if not all of us — sought the same general goals and values for our country.
Donald Trump's presidency has catapulted us far past those quibbles. 
"It's clearer now, more than ever, how important health care is — and how broad the need is, that has been made so much worse because Donald Trump is incompetent and basically seems to have no human empathy," Warren told my colleague Briana Reilly and me after her latest visit to Madison. 'In this election, it is literally the case that lives are on the line."
The choices have become far too weighty for anyone to perceive them as inconsequential partisan disagreements.
"I think that when you put people first, it matters," Warren told us. "But when you back that up with real plans — child care, student loan debt, increasing Social Security — it matters even more."
It matters that Biden has Wisconsin in his sights. It might matter just as much that he has a dedicated army to back him up.
Say what you will about Clinton's 2016 surrogates, but lordy, please don't say they inspired would-be Democratic voters in Wisconsin. Not even the wholesome image of Virginia Sen. Tim Kaine housing some cheese curds at The Old Fashioned could turn out the votes needed to maintain Wisconsin's three-decade streak of Democratic presidential votes. 
But Biden has at least one advantage Clinton didn't: a field full of politicians who, after seeking the party's presidential nomination, have offered nothing but full-throated support for Biden, the party's chosen candidate. 
"Donald Trump has failed his sacred obligation to protect and care for those who serve our country. That disqualifies him from being commander-in-chief," Buttigieg wrote in a Cap Times op-ed. "This election will indeed be a battle for the soul of our nation. Part of that national soul is a fundamental respect for the service and sacrifice of our men and women in uniform. We need to come together and elect a president who reflects these values — and that's Joe Biden. 
Donald Trump won't suddenly change to become a better commander or a better man. As (vice presidential candidate) Sen. Kamala Harris has said: The president he has been is the president he will be. Our country, and all of those who serve it, deserve so much better."
Entrepreneur and former presidential candidate Andrew Yang put it this way when we spoke last week for an upcoming episode of my "Wedge Issues" podcast: "We've all seen that Donald Trump is not the guy that's going to help our country get back on its feet, … We need young people to help clean up this mess. And I tell young people all the time that it's not your fault that this mess has been left to you. But we need your help to clean it up. There's just no other way it's going to get done."
Where Wisconsin goes, Yang continued, the country is likely to go. Trump defeated Clinton here by less than a percentage point in 2016. 
"You have the future of our nation in your hands in Wisconsin," he told me.
It's of little use to lay out any kind of policy argument at this point. The question before us is not a policy quibble; it is a choice that will determine the trajectory of the nation — or, as Biden would say, the soul of the nation.
"With Donald Trump in the White House and Republican control of the Senate, more people are going to die," Warren told us. "The planet could reach a tipping point in the climate crisis. Millions more will fall into poverty, and there will be no racial reckoning. Joe Biden is committed on all of those issues, to building a stronger, better America that works for all of us."
Joe Biden isn't taking Wisconsin for granted. We can't afford to take the future of this nation for granted, either.
Jessie Opoien is opinion editor of The Capital Times. jopoien@madison.com and @jessieopie.
Share your opinion on this topic by sending a letter to the editor to tctvoice@madison.com. Include your full name, hometown and phone number. Your name and town will be published. The phone number is for verification purposes only. Please keep your letter to 250 words or less.
Catch the latest in Opinion
Get opinion pieces, letters and editorials sent directly to your inbox weekly!