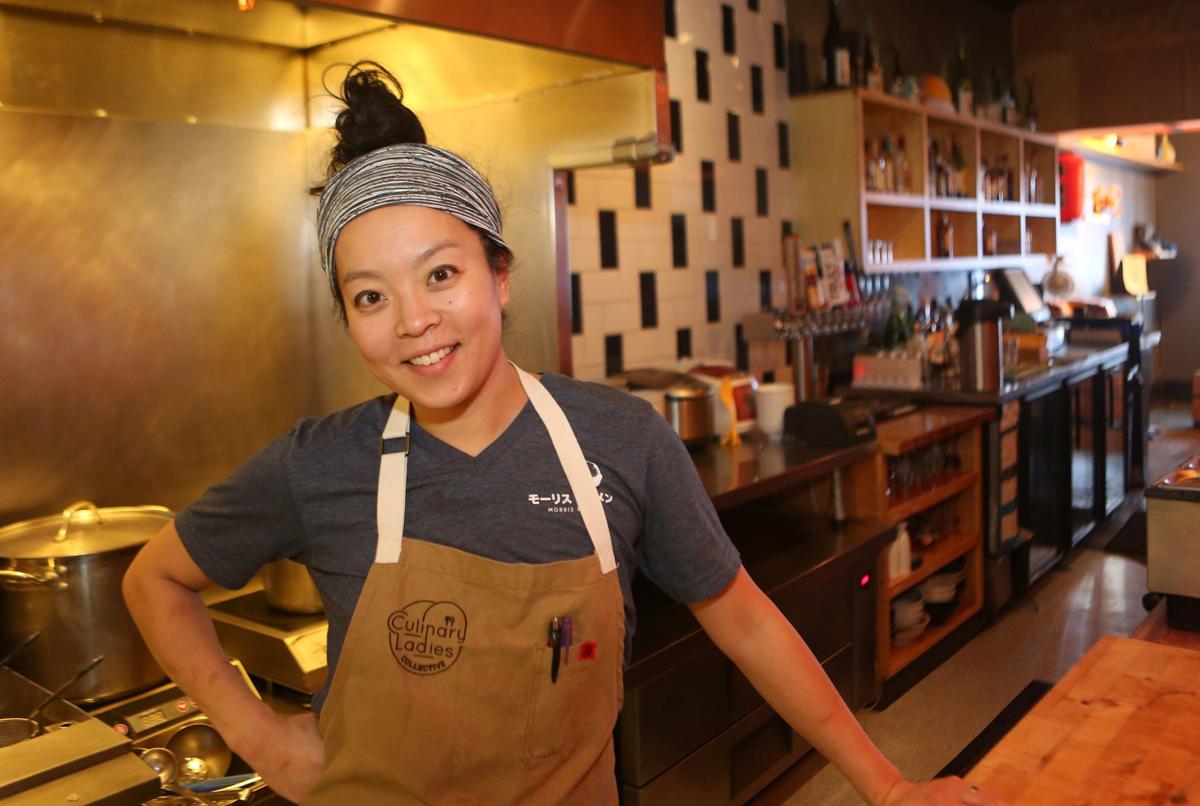 It's not a good time for Francesca Hong to run for office.
Morris Ramen, the restaurant she opened with her husband, Matt Morris, in 2016, faces an uncertain future familiar to many small businesses right now. And as the two of them search for a path toward viability for their business, they're also raising a three-and-a-half-year-old son. Instability looms large for them, as it does for so many of us.
So it's not a great time for her to run for office, but she's pretty sure it's the right time.
"If I don't fight for my business, if I don't fight for the industry, if I don't fight for individuals who are affected by this industry … it's a chain reaction, what happens if our businesses fail," Hong told me. "If I don't at least try to fight for that from a political level, I don't think I would be fighting for my business and my family."
Hong is joining a crowded and qualified field of candidates seeking to represent Wisconsin's 76th Assembly District since Rep. Chris Taylor, D-Madison, announced that she would not seek re-election after nearly a decade in office. The others who have declared (all of them as Democrats) are: Heather Driscoll, an advocate for environmental issues and violence prevention who ran unsuccessfully for the Dane County Board in 2018; Marsha Rummel, a seven-term Madison alder who works for the Wisconsin Department of Revenue; Nicki Vander Meulen, an attorney and a member of the Madison School Board, also the first openly autistic person to hold such a position in the U.S.; Ali Maresh, a mental health advocate, and Tyrone Cratic Williams, a police officer who in 2017 started a financial education business aimed at boosting financial literacy among young people and in communities of color.
I'm looking forward to talking to the other candidates as we get closer to the Aug. 11 primary in what promises to be a fascinating race, but Hong is particularly interesting. Especially in Madison, it's rare to see a run for a state-level office from someone who is not already part of local government or an advocacy agency, so it's intriguing to see how the pandemic has created a potential opportunity for a new voice.
Because as Hong will tell you, food has always been political, and it is very much at the center of pandemic policy debates.
She has been one of the loudest local voices advocating for small businesses in the service industry since the COVID-19 pandemic hit. It started with a letter to Evers written in March on behalf of more than 75 Wisconsin restaurants, bars, chefs and farmers. It asked for policies that would extend emergency unemployment benefits to workers furloughed during the coronavirus crisis; it called for eliminating the sales and use tax and the payroll tax, and also for implementing rent and loan abatement for workers.
She hasn't let up since then. She has used social media to highlight the things that aren't working in the state and federal government's efforts to help the service industry survive this pandemic, to promote other local businesses, to share mental health resources and to create a community for people who are struggling.
In conversation now, she stresses that the service industry recovery will take time — and the industry as we know it might look very different. As a business owner, she's thinking about her own restaurant differently now. Morris Ramen launched a limited takeout menu earlier this month; the kitchen also cooks free meals for those in need and offers free biweekly meals for service industry employees.
Hong questioned, in the initial days of the COVID-19 shutdown, whether her family's business — centered on the experience of eating ramen in a cozy environment just off the Capitol Square — was "essential." She thought it wasn't at first, then quickly realized it was — for their employees, for their suppliers, for their farmers, for their linen delivery service — the list goes on. And she realized that isn't unique to their restaurant.
"We have a very unique industry that accepts anyone to come in and work. You don't have to have a certain background, you just have to have a work ethic and a drive to make others happy and to create and to work as a team," she told me. "It's one of the few industries — it doesn't matter what your papers say, it doesn't matter where you've come from. It's an industry that gives opportunity to other people. I would bring that mindset into the role of assemblywoman as well."
"People are naive if they don't think food is political. Food is highly political, so as a restaurant owner we can't really escape politics," Hong told me. "Business owners have to have certain responsibilities and restraints when it comes to what they're saying — (but) I don't think that should limit people from standing up for causes that help the community. I think it empowers us as a business to take strong stances. I think it inspires others to reflect on what they're doing."
Hong sees herself as someone with a strong voice who can help to provide a platform for those who aren't being heard. She's a business owner now, but worked her way up through the restaurant ranks and cares deeply about workers' rights.
She's also not naive. She knows that, while whoever emerges from the Democratic primary for this seat in August will almost certainly win the general election in November, the state Assembly will likely be under Republican control for the foreseeable future.
Hong's been told that conversations across the aisle won't happen, but she likens that warning to unsolicited advice she received when she was pregnant — she's tired of hearing it. She believes there is common ground to be found.
"I'm going in with humility and a desire to try and learn from them," she said of Republicans. "I want to learn from them why the policies they want to enact are going into place, and I think the conversation starts there. I'm still under the belief that conversation drives policy. People are dying. Lives are going to be changed forever. Those are things that are bipartisan issues."
Whatever uncertainty Hong feels now, she also knows what it feels like in positions further down the ladder. When she was pregnant with her son, George, she received health insurance from BadgerCare, a program for low-income Wisconsinites. Even as a restaurant co-owner, she still washes dishes and cleans grease traps.
I spoke to Hong on Mother's Day, the day she launched her campaign. The symbolism of the day was not lost on her.
"I think having a family, you're always looking, you're always reminded that your life is so much bigger than what you deal with every day. It makes it much easier … to think in broader terms," she said. "Because I want George to stay in Wisconsin, and I want George to have the experiences I got to have and I want him to have the struggles that I had. And having a family and thinking like that for George, it motivates me to make Wisconsin better for him so that he stays here and he invests in his community."
Hong is one of several strong candidates in the running for the 76th Assembly District — but her candidacy reminds us of a few things: Food is political. Workers' issues deserve a platform. It's OK to take a stand.
Share your opinion on this topic by sending a letter to the editor to tctvoice@madison.com. Include your full name, hometown and phone number. Your name and town will be published. The phone number is for verification purposes only. Please keep your letter to 250 words or less.