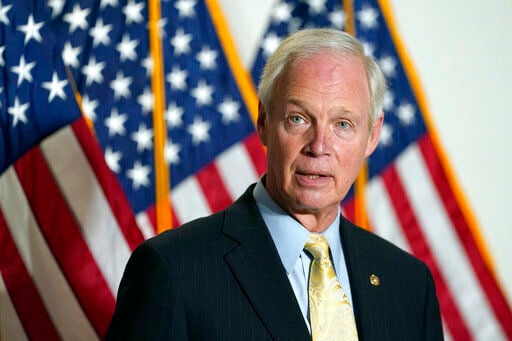 A few days ago, I was scrolling through social media and saw that Sen. Ron Johnson had said he was concerned that people had too much money saved up after the pandemic. The words he used were "excess savings." I never thought I would write to a paper, but I was so frustrated that I had to tell someone what my family is going through. I want Ron Johnson to know what too many families are facing.
Last year was awful. It was emotionally draining and financially draining. Just going by the numbers, more than 6,800 people have died in Wisconsin from COVID-19. Many more lost jobs or were furloughed. Unfortunately, that's my family's story, too.
I've worked most of my life in various health care related positions, currently as a teacher at a daycare center. I'm a single mom living with my father, who I also help care for, along with looking after my grandparents. Unfortunately, health care jobs do not pay nearly what they should and child care centers are at the bottom of the totem pole. In a normal year, I make less than $25,000. Sen. Johnson was worried that people might have too much saved up. It's the exact opposite — I don't have any.
When COVID-19 started, I was scared like everybody else. Knowing my grandparents were having a harder time getting around, and not wanting them to have any more exposure than necessary, I had to leave my higher paying job for something with more flexible hours, but about half the wages. 
I'm the breadwinner for my family, which means it falls on me to pay the bills. My wages just can't go far enough. To make the budget work, and to give my son the life I want him to have, I moved in with my father. I don't think Sen. Johnson has ever had to make a decision like that. Then again, he probably still even has money in his savings account.
When I saw that video clip, I was so upset. Sen. Johnson is a wealthy man. He doesn't understand how blessed he is not knowing what it's like to live paycheck to paycheck. His words hurt, because he doesn't understand what it's like for families like mine. It feels like we don't matter to him.
Nobody can accuse me of not working hard. I'm raising a young boy, taking care of my father, looking after my grandparents, all while taking care of dozens of children at work. Taking care of people is what I do, and it's what I've always done. I want a senator who is going to do the same, by taking care of the people of Wisconsin. We need those relief checks, Sen. Johnson.
Struggling to pay for basic needs is something nobody should have to live with. It's incredibly hard. But having a senator who doesn't even support your needs during a nationwide pandemic is worse — because you feel that he'll never care. Sen. Johnson needs to support relief checks. Wisconsin needs help. 
Jessica Krell is a child care provider and single mother from Horicon.
Share your opinion on this topic by sending a letter to the editor to tctvoice@madison.com. Include your full name, hometown and phone number. Your name and town will be published. The phone number is for verification purposes only. Please keep your letter to 250 words or less.