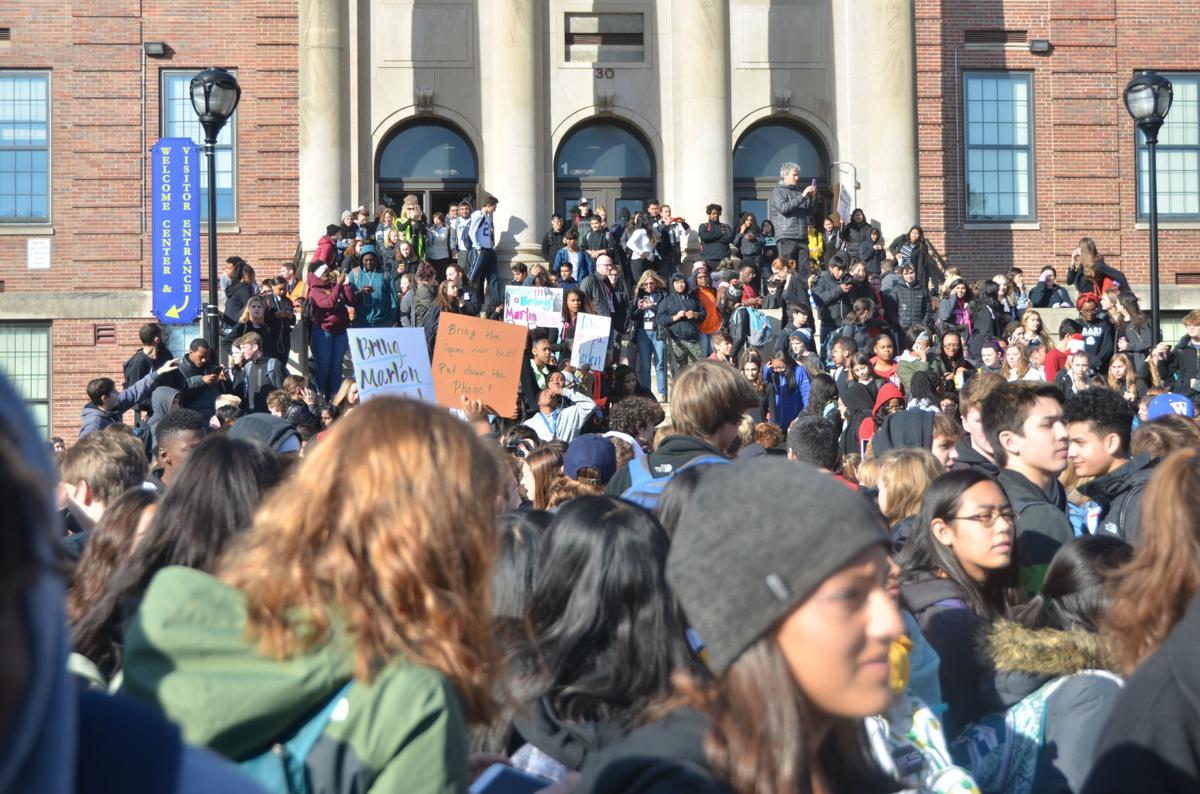 Last week we learned that a security officer at West High School was fired for using the N-word. He is reportedly the ninth person in the area who has been fired or resigned for using the word in the last year. Seven teachers in Madison and one in Middleton. I know of no instance in which the word was used in a hostile way, directed toward a student.
The black officer was talking to students who were using the N-word against him. He responded by exhorting them not to call him that, to not use that word, and he used the word as he spoke to them.
His intent or the context of his remarks made no difference, because the school has a "zero tolerance" policy that there will be consequences no matter how the N-word is used.
The decision was made prior to the incident. It was self-executing; no judgement was involved.
Something similar occurred about 25 years ago. when 26 states passed "three strikes and you're out" laws. Under those laws, a person committing a third felony is imprisoned for life or for 25 years, irrespective of the crime. We know what happened. In one case, an old man, long removed from an earlier life of crime, stole a pizza and was imprisoned for life.
The judges involved in these cases had no choice. The decision had been made for them. This law has cost billions of dollars nationally and has wasted the lives of thousands of our citizens.
Our local teachers, security officers and administrators are trying, with mixed success, to reduce the racial achievement gap among our students.
The recent New York Times special section, "The 1619 Project," reminded us that this problem began as early as 1619, when our then colonies began importing slaves. It continued throughout our history with slavery and a botched Reconstruction that undid much of what the Civil War had appeared to accomplish. More recently, discrimination has continued with denial of federal home loans and other government programs to African Americans, creating barriers to the opportunity for those citizens to acquire modest assets to pass to their children and to help through financial hardships. These are programs that white citizens accept as part our rights. Not all this injustice can be remedied by our public schools.
It is still early in the school year. How many more careers will be destroyed? How much valuable time will be spent on this issue that could be spent learning about best practices and implementing them in our schools?
The public schools in Madison and Middleton have a difficult challenge. It will be met, and can only be addressed, by holding our teachers, staff and administrators accountable, and by supporting their efforts, treating them as the professionals they are.
In treating the N-word as it has, our superintendents and school boards have weaponized one of the most offensive words in this country's troubled racial history. Students know that a complaint from them about a teacher using that word, no matter the intent, can ruin that teacher's career. That was surely not the intent of our school system, but it has become its effect.
Almost 10 years ago, former Gov. Scott Walker and the Republican-led Legislature destroyed the effectiveness of our teachers unions, causing loss of salaries and benefits. They also took away the voice of the teachers. Further undermining public education, Walker and the Republicans authorized and diverted money to charter schools, many with unqualified teachers.
In a well-intended effort to improve our schools for African American students, our schools have not focused on the problems of African American underachievement, but something much smaller. It is understandable, because absolutely prohibiting the use of the N-word — no matter the intent or the context — is something over which they have much more control than gun violence or single-family homes.
The result has been a demoralized professional staff, many of whom have taught long enough to have experienced the destruction of their union and the legislative disrespect of public education and now must deal with this threat.
Our students do not learn only in the classroom, but in the rest of their lives. They learn respect for authority by viewing and experiencing it exercised wisely and with restraint. The schools are inadvertently teaching our students something they have probably already experienced — that authority can be harsh, immediate and impersonal.
The fired security officer sees himself as more than someone who keeps order, but as an educator. He said he has been called the N-word many times, and that he uses the incidents to engage the students in "restorative conversations" — discussions about the history and meaning of the word. And then, as a black man, he poignantly says to the black students, "Don't look at yourself like that. You are not that word."
Although it has been over 30 years since the white author of this column has had a student at West High, and I do not know the security officer, I believe he is too valuable to lose.
If this security guard can engage disrespectful students who call him the N-word in "restorative conversations," should we expect anything less from our elected school boards in Madison and Middleton?
Harry L. Peterson served as former University of Wisconsin-Madison Chancellor Donna Shalala's chief of staff and is president emeritus of Western Colorado University.
Share your opinion on this topic by sending a letter to the editor to tctvoice@madison.com. Include your full name, hometown and phone number. Your name and town will be published. The phone number is for verification purposes only. Please keep your letter to 250 words or less.