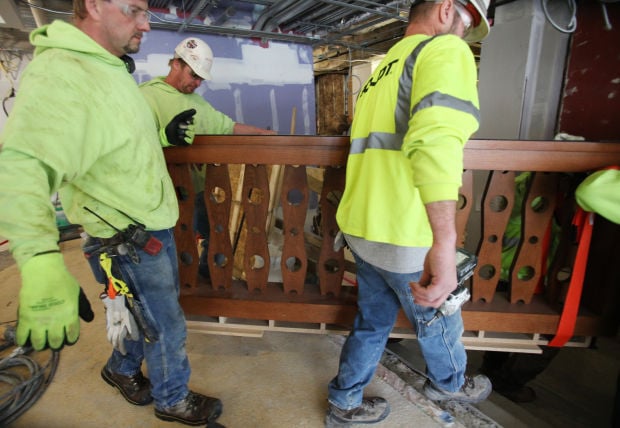 There is nothing wrong with good-faith policy disagreements. However, when facts and evidence are preempted by ideology or special interests, we almost always invite bad outcomes.
In 2017, the Wisconsin state Legislature repealed prevailing wage. The state's prevailing wage laws established local market-based minimum wages on the construction of schools, roads and other taxpayer-funded projects. It ensured that contractors were paying their workers fair market wages while also investing in training and apprenticeship programs that ensure the state has a stable supply of skilled craft workers to perform dangerous and demanding jobs.
Proponents of repeal argued that doing away with prevailing wage would yield hundreds of millions of dollars in project savings, and more competition for project bids.
While the overwhelming consensus of peer-reviewed research and an analysis from Wisconsin's non-partisan Legislative Fiscal Bureau warned repeal proponents that there was no "conclusive" evidence to support such claims, the state nevertheless elected to push through repeal on a largely party line vote. 
Last week, we released — with Dr. Kevin Duncan, Professor of Economics at Colorado State University –Pueblo– the first study to examine how proponents' claims stacked up against actual economic data. It wasn't pretty. Here are just a few of the topline findings:
Repeal has produced a 6% wage cut for skilled construction workers (about $3,000 per year, on average) and a 4% drop in construction health insurance coverage.
Repeal has led to a 60% increase in public projects going to out-of-state contractors.
Apprenticeship completion in Wisconsin is lagging neighboring states with prevailing wage laws.
Bid competition on Wisconsin Department of Transportation projects has decreased by 16%.
There have been no project savings. In fact, the per-mile cost of highway resurfacing projects has actually gone up slightly, as have "cost overruns" on road construction projects.
The core of the narrative peddled by the proponents of repeal was that you can replace skilled craft workers with lower-paid, less-trained workers and still get the same result at lower cost. Such bizarre logic just doesn't square with real-world data — just like you wouldn't expect to replace a surgeon with an orderly to fix your heart at lower cost.
The evidence consistently shows that by investing in higher-skilled workers, prevailing wage standards maximize quality, workforce productivity and safety while minimizing waste and costly mistakes. It also reduces employee turnover, which reduces costs to contractors.
But repeal imposes other costs that don't show up in project bids. For example, when the wages are slashed, it means more workers are forced to rely on Medicaid, food stamps and other government assistance programs to support their families. Those costs are borne by taxpayers. 
And, when policy is distorted to advantage lower-skilled workers from out-of-town, it also means the benefits of job creation and consumer spending that would otherwise be stimulating Wisconsin's economy are now going to other states. Here, it should also be noted that the 60% increase in state highway projects that were awarded to out-of-state contractors overwhelmingly went to companies based in Iowa, Michigan, and Florida — all states that don't have prevailing wage laws.
Wisconsin was not alone in going down the prevailing wage repeal rabbit hole. Indiana, West Virginia, Michigan, Kentucky and Arkansas all did the same thing within the past decade. The Assistant Republican Leader in the Indiana House of Representatives famously told a Wisconsin audience in 2017 that repeal "hasn't saved us a penny." And study after study has shown him to be right.
If there's one thing that tends to unite most Americans, it's a sense that rules affecting their tax dollars and livelihoods keep getting rigged against them. In the case of prevailing wage repeal in Wisconsin, the data unambiguously shows these concerns to be well-founded.
Frank Manzo IV, MPP is the policy director of the non-partisan Midwest Economic Policy Institute (ILEPI), which provides dynamic analyses on major subjects affecting the economies of the Midwest. Read his latest research on the effects of Wisconsin's repeal of the Badger State's Prevailing Wage Law at www.midwestepi.org..
Share your opinion on this topic by sending a letter to the editor to tctvoice@madison.com. Include your full name, hometown and phone number. Your name and town will be published. The phone number is for verification purposes only. Please keep your letter to 250 words or less.