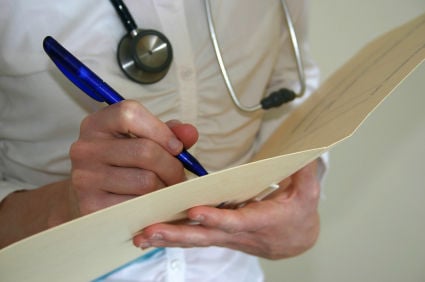 It is hard to watch a loved one as they are dying and to experience loss that leaves a hole in our hearts. And as doctors, there is nothing more we want than to have our patients die in comfort and peace. Telling a patient that her life is no longer worth living, and that we agree that she should kill herself by requesting a prescription for lethal drugs, is not compassionate, and it is not the answer.
Those who promote assisted suicide do so by referencing patients who experience unbearable pain. But, in Oregon, where assisted suicide has been legal for over 20 years, the issue of unbearable pain doesn't make it into the top five reasons why patients want to kill themselves. The top reasons patients commit assisted suicide have to do with disability-related concerns at the end of life. It is so sad when a patient fears becoming a burden, or fears that others will have to take care of them, or perhaps even that no one will care enough to do so. That fear can become so great that suicide appears desirable. Such patients need to be cared for, not prescribed death pills.
Those who support allowing patients to kill themselves by prescribing lethal drugs want to use euphemisms, implying that anyone who disagrees is refusing to help a dying patient. But they refuse to call assisted suicide what it is — a physician assisting a patient to commit suicide — because when the public knows the truth about this practice, support for assisted suicide plummets.
To say that someone has only six months to live — the criteria for requesting lethal drugs — requires a degree of accuracy that, as physicians, we don't possess. One of us has treated patients in hospice for over three decades and has seen many patients who "aged out" of hospice. We shouldn't base life and death decisions upon predictions which are mere educated guesses at best.
The American Medical Association, the largest medical association in the country, just reaffirmed its opposition to assisted suicide, and explained the dangers that come along with it: "Physician-assisted suicide is fundamentally incompatible with the physician's role as healer, would be difficult or impossible to control, and would pose serious societal risks."
When it becomes possible for a physician to become an agent of death, the trust between patient and physician is compromised, and even lost.
Assisted suicide also creates perverse incentives for insurance companies to deny coverage of expensive, life-extending care. We know that death will always be the cheapest coverage "option." But real treatment options will end up being reduced or eliminated altogether. A Nevada physician has already experienced firsthand how his patients from states where assisted suicide is legal were denied coverage for curative treatments and offered assisted suicide drugs instead.
Physicians need to be truly compassionate, to walk with patients and their families in those final days, and to provide them with real care. We don't need the Legislature to turn physicians into suicide enablers.
We should learn from the experiences of people who have been harmed by these laws in states that allow assisted suicide. Wisconsin legislators should reject any public policy that legalizes suicide and instead focus on offering better palliative care and resources for patients at the end of life.
Dr. Cynthia Jones-Nosacek is a family medicine physician from Milwaukee. Dr. Anthony Graziano is a an emergency medicine physician from Oconomowoc. Dr. Robin Goldsmith is an anesthesiologist from Green Bay. Dr. Robert McDonald is a surgeon from Oshkosh.
Share your opinion on this topic by sending a letter to the editor to tctvoice@madison.com. Include your full name, hometown and phone number. Your name and town will be published. The phone number is for verification purposes only. Please keep your letter to 250 words or less.
Catch the latest in Opinion
Get opinion pieces, letters and editorials sent directly to your inbox weekly!