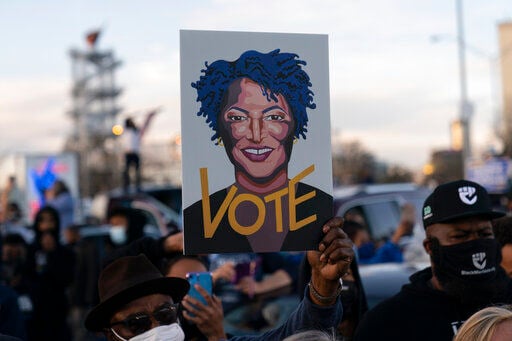 Women's voices should be clearly heard, in every sphere, yet often that is not the reality. That is why March is designated as Women's History Month and it is a celebration of women's contributions to life, culture and society.
Women's History Month has been observed annually in the United States since 1987 as an effort to designate a month for the whole nation to pause and reflect on the wisdom and wonder of women. As we reflect on the close of the month, a lot has happened in the U.S. that is prompting women to speak their minds. Take the state of Georgia, for instance.
Stacey Abrams, a lawyer, author and voting rights advocate, along with a lot of Black women and others, did grassroots work registering people to vote in Georgia and proving why each vote matters. Abrams, who served in the Georgia House of Representatives from 2007 to 2017 — and as minority leader from 2011 to 2017 — is remarkable because in 2018, she became famous as the first African American woman nominated for a gubernatorial bid by a major party in the United States. Her Republican challenger was Georgia Secretary of State Brian Kemp. While Kemp was in office for six years, he canceled voter registrations for more than 1 million Georgia residents due to what he termed "inactivity or error." Abrams termed it disenfranchisement when she analyzed the color and economics of the voters canceled.
Kemp won the governor's race by just over 50,000 votes. Abrams then  announced the launch of a new initiative aimed at countering the voter purges that she held responsible for her loss. Two years ahead of the 2020 elections, Abrams and a network of organizations had registered more than 800,000 voters in Georgia. She and these volunteers are praised for giving Democrats the narrow lead in Georgia to help President Joe Biden win. Abrams and these same volunteers are credited with the two Georgia Senate seats going to Democrats, to enable that party to control the U.S. Senate.
The response of the Republicans in Georgia to retaliate for record voter turnouts has been swift. Late last month, Kemp signed a sweeping voting restrictions bill — while surrounded by other white male politicians — that President Biden referred to as "Jim Crow in the 21st century."
He signed it underneath a painting of a Georgia plantation, which is a historical reminder of the Black slavery responsible for the material wealth of Georgia. And when Georgia state Rep. Park Cannon knocked on the door, trying to witness the signing of the bill, she was handcuffed and arrested. She was charged with two felony charges, felony obstruction and preventing or disrupting general assembly session, because she "knowingly and intentionally did by knocking on the governor's door during session of signing a bill."
The 98 page bill, erroneously titled the "Election Integrity Act of 2021," has asked for additional ID requirements be added to absentee voting and has made it a crime for many volunteers to hand out water or food within 150 feet of polling precincts. The practice of handing out food and water became popular as a method of keeping exhausted voters in line at precincts where wait times can span hours. The law also places drop boxes inside voting sites. These drop boxes, which have been in place since last year, will only be accessible during early voting hours instead of 24/7. All this to make voting more difficult for voters, despite a recent poll that found that 76% of Georgia's population disagreed. The poll, conducted by Target Smart, found that 76% of voters in the state said they oppose the provision that makes it a crime to provide food and water to voters, including 83% of Democrats and 66% of Republicans. Georgia conducted two recounts for the presidential elections (one by hand and one by machines) and there was no widespread fraud. Court cases will be filed against this law because it has nothing to do with integrity.
Women will mobilize again to protect voting rights. Let the women's voices be heard, and thank you, Stacey Abrams.
Fabu, Madison's former poet laureate, is a consultant in African-American culture and arts. She writes a monthly column for The Capital Times. Contact her at fabuwritestruth@gmail.com.
Share your opinion on this topic by sending a letter to the editor to tctvoice@madison.com. Include your full name, hometown and phone number. Your name and town will be published. The phone number is for verification purposes only. Please keep your letter to 250 words or less.