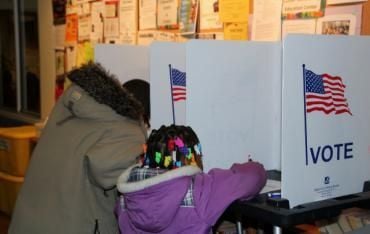 Four years ago this month, I wrote my first regular column for The Capital Times. I didn't realize, back in October 2016, how many new challenges the health and well-being of children and their families would face over the next four years. That column spoke to the need to think about children's issues when making a decision about who to cast your vote for in the coming presidential election.
(While this is ostensibly an election-and-voting column, those of you who have already voted are not magically immune or excused from continuing to read — you'll see why.)
While that "call" hasn't changed — well, it hasn't changed, and that's the problem. Virtually no substantial presidential debate questions really focused on policy around children and families. Why we, as a country, ignore high-profile conversations about a demographic group that is 25% of our population is puzzling — until you realize that, of course, children don't vote.
This is a good thing on some level, because you could likely buy votes with cookies. (Some might argue that adults are just as susceptible, except that the cookies are much larger.) But what is puzzling is how adults appear mostly oblivious to the absence of children's opportunities from policy conversations. While not all adults are necessarily parents, many are aunts, uncles, cousins or family friends to children, and — I can guarantee you this — shockingly, all of them were once children themselves.
Some have argued that issues that affect children and families seem to easily get dropped into partisan camps, with different sides arguing for different aspects of financial considerations, or social policy, or whatever it may be. The reality is that however we may choose to think about how we affect children's long-term outlook, it's fundamentally nonpartisan to actually have the conversation and discuss ideas. To ignore even addressing children's issues is to fundamentally ignore our society's future — because I can also guarantee you that while being 25% of the population is not minor, they are also — astoundingly — 100% of our future.
The return on investment when we look at children is excellent — see the work of Nobel Laureate Professor James Heckman — but more to the point, it has long-term benefit. Paid family leave, strong parenting support, high-quality, plentiful, and stable early childhood education programs, thriving schools, living wages for parents, universal health insurance for children, and so on — these all offer not only short-term benefit, but an immense financial and social return for decades to come. This has been shown in the so-called red states, blue states, and every hue in between.
This is not just a federal issue, but an issue at all levels of government. States wield immense power and influence across so many of these issues, and elections at those levels matter. And let's not forget local levels — county spending on human services or city policies around early childhood centers can have a profound impact on children's well-being, to give two examples.
Finally, it's not enough to just vote — while it's true that we, as a people, have the power of the ballot box, it goes beyond. Our elected officials need our help in order to govern well and wisely. They need your input, your opinions, and your voice, consistently, clearly, and repeatedly. Your job isn't done on Nov. 4. It's only just beginning.
Interested? I'd recommend you look at the American Academy of Pediatrics Blueprint for Children for 2020. It lays out paths to achieve healthy children, secure families, and strong communities, resulting, eventually, in a vision of us as a leading nation for youth. While resolutely nonpartisan, it is unabashedly pro-kid.
And you know something? We all should be. I intend to be here — 55 columns later, I have no plans to stop. There's too much work ahead of us.
Dr. Dipesh Navsaria, MPH, MSLIS, MD, FAAP, is an associate professor of pediatrics at the University of Wisconsin School of Medicine and Public Health and also holds master's degrees in public health and children's librarianship. Engaged in primary care pediatrics, early literacy, medical education, and advocacy, he covers a variety of topics related to the health and well-being of children and families.
Share your opinion on this topic by sending a letter to the editor to tctvoice@madison.com. Include your full name, hometown and phone number. Your name and town will be published. The phone number is for verification purposes only. Please keep your letter to 250 words or less.
Catch the latest in Opinion
Get opinion pieces, letters and editorials sent directly to your inbox weekly!