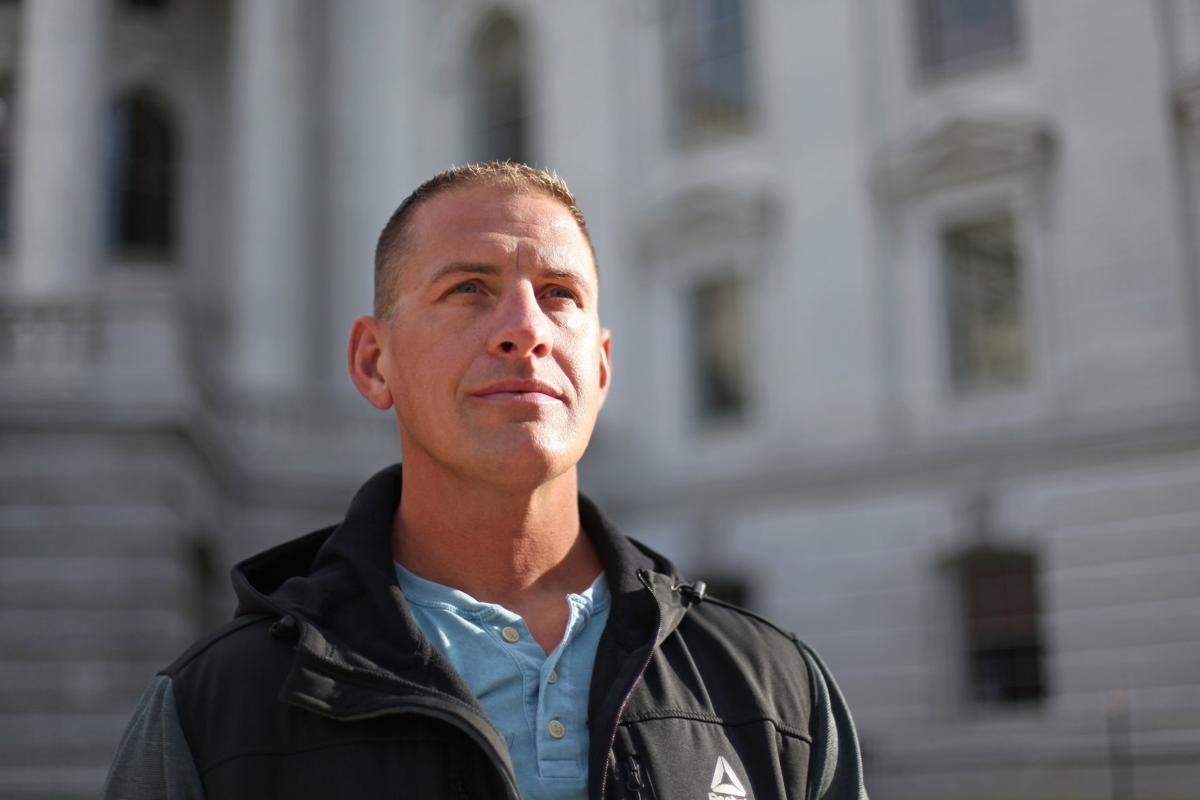 Editor's note: Madison attorney David Relles represented an Iraqi War veteran, a Marine named Eric Pizer, in an effort to get then-Gov. Scott Walker to issue Pizer a pardon so he could pursue a job in law enforcement. Pizer, a graduate of Spring Green River Valley High School, had been home in 2004 after his second tour in Iraq when two days later, he stepped in between a friend and an angry Boscobel man who had accused the friend of fooling around with his wife. Pizer landed a punch and severely broke the man's nose. An assistant Grant County district attorney elected to charge Pizer with a felony. He was convicted and sentenced to two years of probation.
Meanwhile, Pizer studied law enforcement, a job that seemed perfect for a combat veteran. But being a convicted felon prevented him from carrying a firearm, effectively disqualifying him from such a job. Relles took his case and asked then-Gov. Scott Walker to pardon his client. Walker refused, announcing that as long as he was governor there would be no pardons. It was an unusual position. Governors throughout Wisconsin history have issued pardons to those they found deserving as outlined by the Wisconsin Constitution.
When Walker was defeated, new Gov. Tony Evers resumed issuing pardons. Among his first was Pizer. Attorney Relles, along with his son Noah, also an attorney, wrote the following questions and answers in an effort to remind readers not only how the pardon procedures work, but also their importance.
The authors of this column had the honor of representing Marine Eric Pizer in his application for a pardon. Subsequently, Gov. Evers pardoned Eric on Oct. 7. Since then, numerous people have asked us the virtually same four questions about the pardon system. We would like to take this opportunity to answer the most common questions about how pardons are being granted in Wisconsin and, we hope, alleviate concerns that some people have about the pardon system.
Won't pardons put dangerous criminals back on the streets?
No. There is a big difference between pardons and commutations. Only a commutation can provide for an early release from incarceration. In contrast, a pardon issued by Gov. Evers is only for those who have already served their entire sentence. A pardon is an official statement of forgiveness. It also removes legal restrictions placed on convicts in employment, contracting, housing and recreation. To even apply for a pardon in Wisconsin, applicants must have completed every aspect of their sentence at least five years ago.
How do we know that Gov. Evers will not grant pardons to friends and donors?
The pardon process is designed to avoid political pardons. Gov. Evers created a Pardon Advisory Board made up of many decision makers. Under the process, the board carefully screens applications and decides which applicants qualify to receive a hearing. Applicants who have committed another offense after a conviction are ineligible to be even considered for a pardon. The board runs background checks to ensure eligibility. The board also requires verification of everything applicants says in their applications. Applicants who are not granted a hearing are denied a pardon.
Those who qualify for a hearing face very difficult questions from the board. The board might ask what applicants were thinking when they committed the offense, whether applicants thought about their victims during the crime, or whether the applicants admit to committing the crime in the way that the police say it occurred. The board will often ask about a minor infraction such as a speeding ticket, to make sure that the applicants are honest about all past conduct. The board asks difficult questions to make sure that applicants take responsibility for their crimes, do not minimize their role in their crimes and are remorseful. The board must be convinced that applicants who receive pardons can be trusted to not commit another crime.
Board membership is diverse and currently composed of a judge, a police chief, a Department of Corrections administrator, a chaplain, a district attorney, a public defender, a Menominee tribal legislator, an official from the Department of Children and Families, an attorney for the Department of Public Instruction and a director of diversity and inclusion for the Milwaukee transit system.
Following a pardon hearing, applicants who do not receive a majority vote from the board in favor of a pardon are denied. The governor does not even see those rejected applications. Only applications of persons recommended for a pardon are transmitted to the governor. By delegating application review to an independent group with a range of experiences, Gov. Evers has insulated the decision-making process from bias.
Isn't it impossible to determine who is truly deserving of a pardon?
It is tough but not impossible. Broadly speaking, the board considers three factors when deciding who deserves a pardon: the circumstances and severity of the crime, what the applicants have done since their conviction and what they plan to do if they are granted a pardon.
The most common crimes that are pardoned involve either drugs or theft. Many crimes that get pardoned occurred when applicants were very young; some applicants were under 18 but were convicted in adult court. Some crimes that were once categorized as felonies — welfare fraud or marijuana possession for example — would likely be charged as misdemeanors today.
Successful applicants often have led productive lives for several decades since their conviction. They have fully served their sentence, been released from supervision, raised children, worked, supported a family and participated in charitable giving and improving their communities.
Obtaining a pardon can often be a critical factor for someone to pursue employment opportunities. Having a felony without a pardon can make it difficult — and sometimes impossible — to obtain professional licenses, borrow money, contract with government entities, serve in the military, run for local office or travel outside the country. That's why applicants are required to state why they are seeking a pardon. This is very important to the board.
In summary, there is no simple formula, but the board follows consistent and logical criteria to decide who deserves a pardon.
Why should I care that the governor is pardoning convicted felons?
The people who receive pardons are our fathers, mothers, sons, daughters, grandmas, grandpas, business owners, customers, employees, friends and neighbors. People who used poor judgment in committing a serious crime when they were young are capable of showing themselves worthy of a second chance by turning their lives around. And finally, pardons will often allow the recipients opportunities to be more productive, create better lives for their children, and contribute more to their communities. That benefits all of us.
David Relles has practiced law in Wisconsin for nearly 40 years, focusing on areas in civil and criminal litigation. Noah Relles, David's son, is a law clerk and a graduate of Berkeley Law.
Share your opinion on this topic by sending a letter to the editor to tctvoice@madison.com. Include your full name, hometown and phone number. Your name and town will be published. The phone number is for verification purposes only. Please keep your letter to 250 words or less.