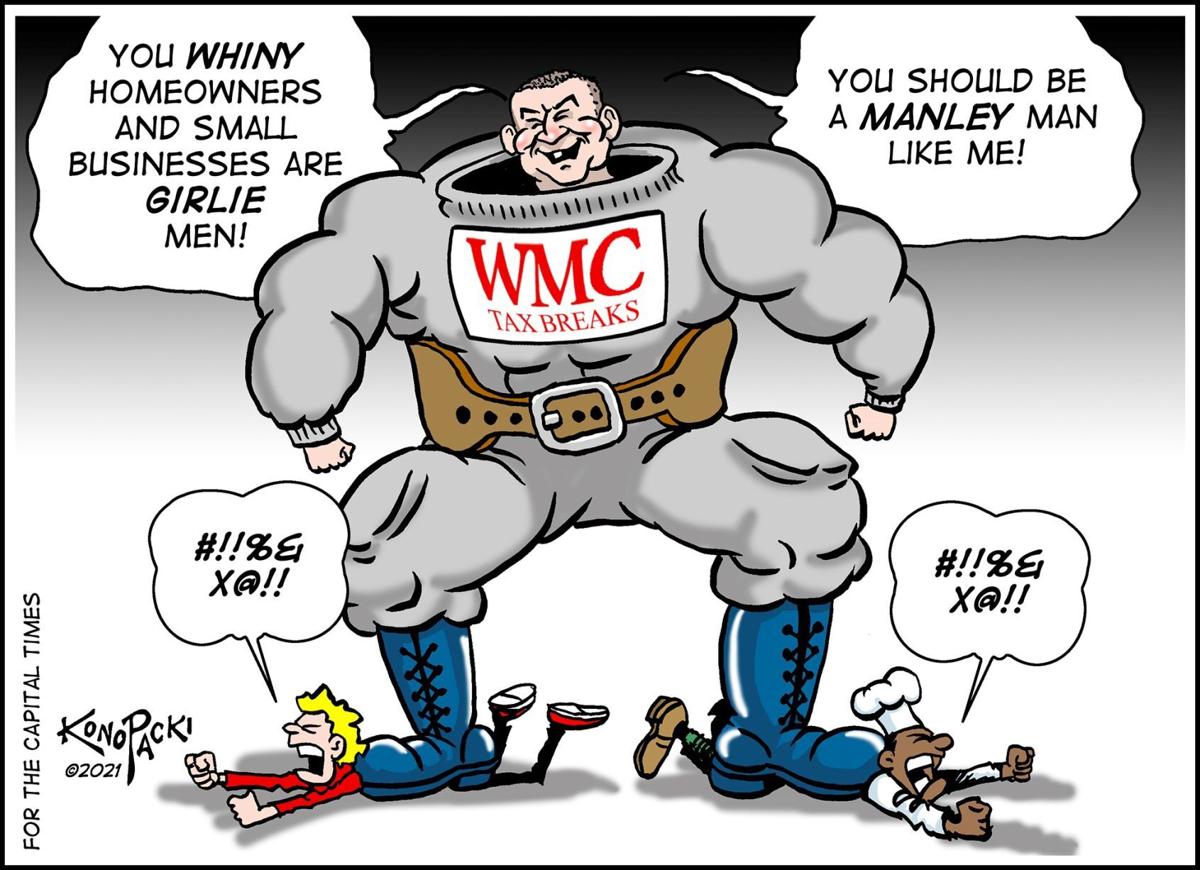 You could practically feel the knees jerking over at Wisconsin Manufacturers and Commerce when, in his budget, Gov. Tony Evers proposed to give counties and municipalities with more than 30,000 people the power to increase their portion of the sales tax by a half-cent if their voters approved.
The words were barely out of Evers' mouth when WMC's dour chief lobbyist Scott Manley predictably proclaimed, "Wisconsinites are still reeling from the worst economic downturn in a generation, and the governor's response is to make it more expensive to purchase everyday items. Our state already has some of the highest tax rates in the country. Now is not the time to make our national reputation as a high-tax state even worse."
Now, I've never been a fan of the sales tax, but I'll take it over the property tax any day — which, thanks to years of Republican tax philosophy is essentially the only tax that municipalities and counties can go to to fund the ever-growing need for local services, everything from police and fire to safeguarding public health, inspecting food, maintaining libraries and public transportation systems and dozens of other needs.
What Manley and the honchos at WMC never bother to consider is what their selfishness has cost local government through the years. No one wants to impose onerous taxes on big business. They do provide needed jobs, of course, but thanks to local services that taxpayers provide to help them make healthy profits, they should pay their fair share. That's all anyone really asks.
They like to claim that Wisconsin is among the highest taxed states in the country (it's actually in the middle) but, they don't tell you how little their big corporate members actually wind up paying. In fact, if they wouldn't have received the huge tax breaks thanks to the legislators on whom they lavish unending campaign contributions, local governments wouldn't have to plead for some extra help.
It's these legislators, cheered on by WMC, who have reduced the tax burden on big businesses and forced the costs onto homeowners and small businesses. Wealthy corporations have succeeded in rigging the system.
A prime example has been the so-called "dark store" loophole that has allowed major retailers — Walmart, Target, etc. — to go to court and force municipalities in which they have stores to assess them as if they were vacant or "dark."
Municipal governments have been trying to get the Legislature to close this loophole for years, but each time they are defeated by a corporate lobbying effort led by Wisconsin Manufacturers and Commerce.
"The dark store loophole means more business costs are being transferred to homeowners," Appleton city assessor DeAnn Brosman pointed out.
Appleton estimates that it alone has had to shift more than a million dollars onto the backs of homeowners and small businesses in the last five years. That's been the case in cities, both large and small, around the state.
WMC has also been the key player behind Wisconsin's manufacturing and agriculture income tax credit that has reduced the state's revenues by $1.4 billion since it began in 2013. As the Wisconsin Budget Project pointed out, that's money that could have gone to building on the progress Wisconsin has made in improving access to health insurance, working to reduce the need for juvenile correctional facilities, and making higher education affordable for all Wisconsin residents.
It also could have been used to restore state aid to local governments to the levels they were before the state started scrimping on its historic role of helping support the state's counties and municipalities.
Interestingly, the Metropolitan Milwaukee Association of Commerce, which is typically in lock step with WMC, thinks the Evers proposal could help its city out of financial peril.
"This could lead to a new way to move Milwaukee forward with a more balanced fiscal structure and make the investments necessary to keep metro Milwaukee a region of choice," said Tim Sheehy, MMAC's president.
The safeguard the governor has built into his ideas is that no municipality or county could enact the half-cent tax unless its voters OKed it in a referendum. Who better than the people who live there deciding whether a need for more revenue is warranted?
But, as usual, WMC doesn't want local people to make local tax decisions. They like their bought-and-paid-for legislators making the call. That way they always come out ahead.
Dave Zweifel is editor emeritus of The Capital Times. dzweifel@madison.com, 608-252-6410 and on Twitter @DaveZweifel.
Share your opinion on this topic by sending a letter to the editor to tctvoice@madison.com. Include your full name, hometown and phone number. Your name and town will be published. The phone number is for verification purposes only. Please keep your letter to 250 words or less.