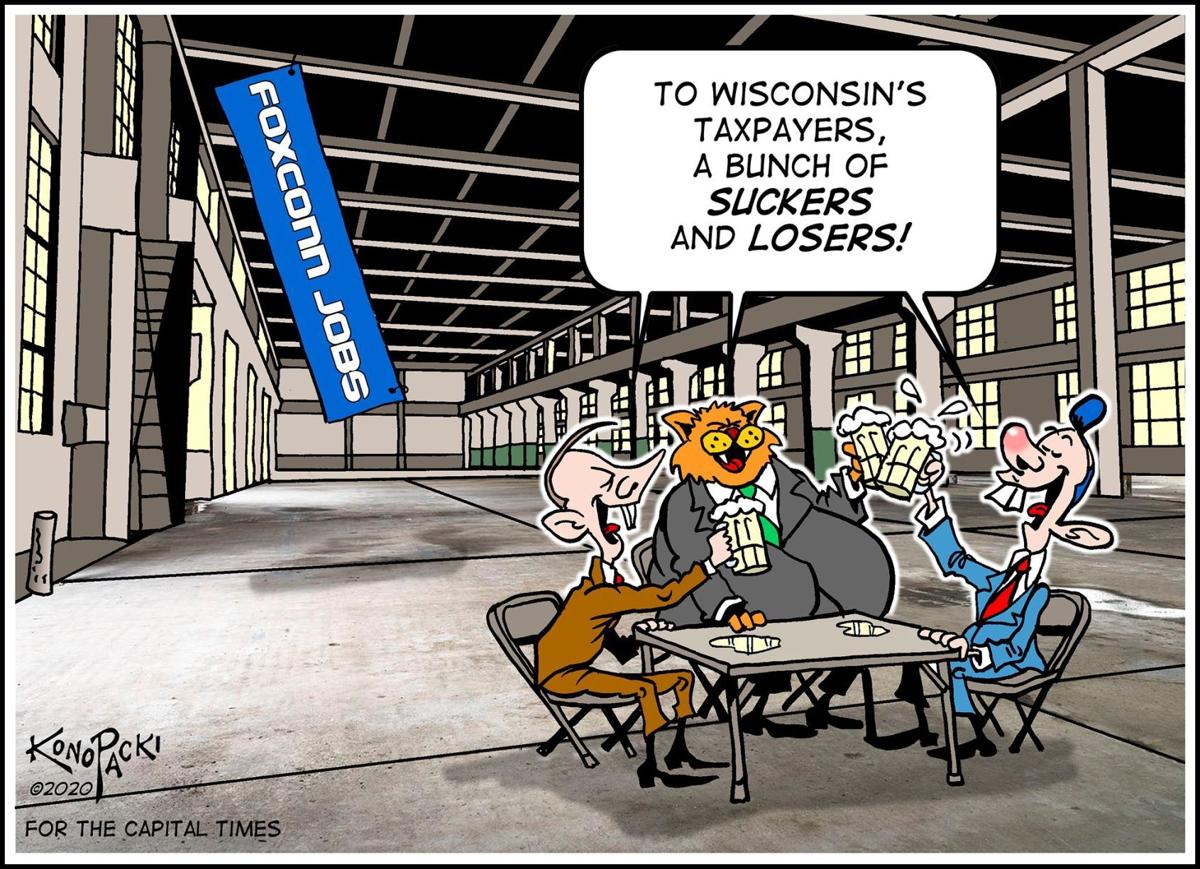 It has been nearly eight months since The Capital Times ran a blockbuster cover story by Madison-based investigative reporter Lawrence Tabak that detailed the problems facing the highly-touted and heavily-subsidized Foxconn development in Racine County's Mount Pleasant.
Before the coronavirus crisis hit, the story foreshadowed the likelihood that former Gov. Scott Walker's deal to give the Taiwanese corporation tax breaks and subsidies of nearly $3 billion — the largest incentive package for a foreign corporation in U.S. history — was already beginning to fall apart at the seams.
Despite warnings from economists and others familiar with Foxconn's history of reneging on promises, Walker and his Republican colleagues in the Legislature convinced business and local government leaders that the deal would be a bonanza for Wisconsin's economy — 13,000 well-paying jobs in the struggling southeastern part of the state and a huge boost to local businesses and service providers. The deal was quickly approved despite objections from many Democrats.
Sen. Dave Hansen, D-Green Bay, called the $3 billion incentive package "a serious case of legislative malpractice."
President Donald Trump, who took credit for convincing the manufacturer of LCD screens for many American tech giants like Apple and Dell to locate in Wisconsin, claimed that it would be the "eighth wonder of the world." He came to Mount Pleasant to join Walker and then-GOP House Speaker Paul Ryan in a photo-op turning over the first shovels of dirt for what was to be a $10 billion plant.
The head of the Metropolitan Milwaukee Association of Commerce, Tim Sheehy, suggested that up to 150 factories, including a $1 billion Corning glass works, would co-locate in Mount Pleasant to feed the massive LCD factory. Tabak predicted then that such claims seemed specially fantastical.
In that March 2019 article, he pointed out that Foxconn had already decided the Racine County plant wouldn't produce so-called 10.5 generation products, which use giant, thin sheets of glass the size of two ping-pong tables pushed together. The glass is too large and fragile to ship; the glass factory has to be on site, hence Sheehy's Corning prediction. Instead it would now be a 6.0 generation plant that works with glass about a quarter that size — Foxconn apparently admitting the glass would be shipped in, not made in Wisconsin.
All of that was confirmed late last month by the The Verge. Based on interviews with 19 employees, the tech publication reported that the building that Foxconn has erected is little more than an empty shell and is being used mainly for storage. The story details the many machinations the corporation has undertaken to meet employment goals so it can cash in on some of the Walker administration's promised subsidies.
Now, under Gov. Tony Evers, the Wisconsin Economic Development Corporation has declared that Foxconn hasn't reached its 2019 goal of 520 employees, but had only 281 — hence the tax credits wouldn't be awarded. WEDC keeps asking Foxconn to renegotiate the Walker-era deal to reflect how Foxconn has now gone in a different direction.
Nevertheless, not only the state, but Racine County and the town of Mount Pleasant have already sunk hundreds of millions of taxpayer money into the project. Wisconsin has diverted roughly $400 million from transportation projects in other parts of the state into widening I-94 through Racine and Kenosha Counties to accommodate what was supposed to be heavy traffic in and out of the Foxconn campus, plus secured approval to build a water pipeline to Lake Michigan for which environmental rules were suspended.
Mount Pleasant itself has bought land it donated to Foxconn and, with the help of the GOP-led Legislature, created a huge TIF that it hopes Foxconn will pay off in the next 20 years. Small farms and even newer homes were threatened with eminent domain if they didn't sell so the land could be made available to Foxconn.
It's not a pretty picture, but it's a predictable one. Foxconn's history of promising big developments and then reneging is legendary. Just before Scott Walker fell for the deal, Harrisburg, Pennsylvania, was stiffed on a $30 million promised development there. Many pointed to that and other fiascos the corporation has been involved in through the years.
But, it was full speed ahead from an administration that, at the same time, was threatening poor people with the loss of their food stamps if they didn't find jobs, and shortchanging schools and the university system while widening tax credits for large manufacturers and factory farms.
When Trump was in Wisconsin campaigning, he told WTMJ-TV's Charles Benson that Foxconn's Wisconsin problems stemmed from the coronavirus pandemic and that, when he wins reelection, it will come in with money like no one has ever seen.
No, the problems had already surfaced before the pandemic. But, like Trump, the corporation has trouble telling the truth, and Wisconsin taxpayers, thanks to a gullible governor and his legislative backers, will pay for it for a long time.
Dave Zweifel is editor emeritus of The Capital Times. dzweifel@madison.com, 608-252-6410 and on Twitter @DaveZweifel.
Share your opinion on this topic by sending a letter to the editor to tctvoice@madison.com. Include your full name, hometown and phone number. Your name and town will be published. The phone number is for verification purposes only. Please keep your letter to 250 words or less.
Catch the latest in Opinion
Get opinion pieces, letters and editorials sent directly to your inbox weekly!