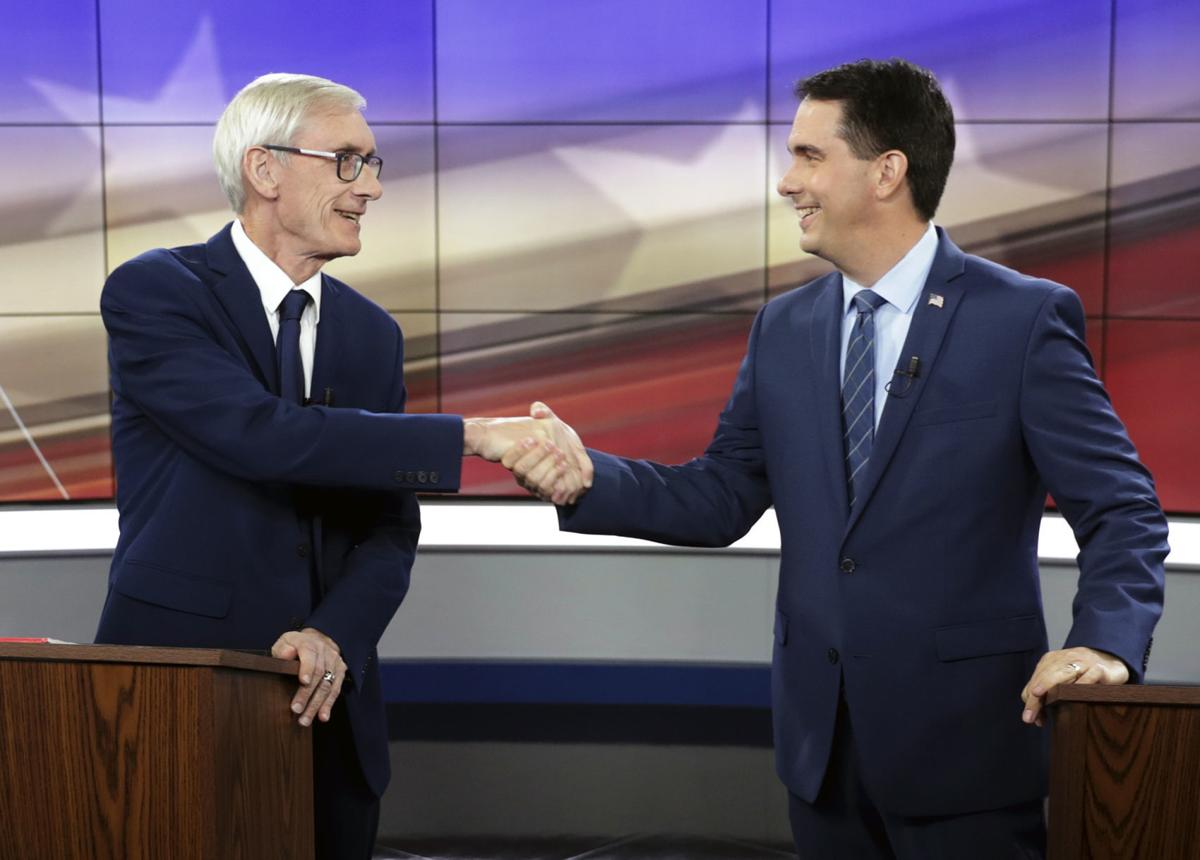 The Wisconsin Democracy Campaign, the venerable nonprofit that keeps tabs on how big money is spent to influence Wisconsin politics and shares that information with the public, notes on the organization's website that the 2018 governor's race cost a record $93 million.
Former Republican Gov. Scott Walker and his running mate Rebecca Kleefisch wound up spending more than $36 million on the Nov. 6 contest while the winner, Democrat Tony Evers and his running mate Mandela Barnes, spent nearly $11 million.
But that was far from all the money, since independent groups, using the Supreme Court's "Citizens United" ruling, spent an additional $40 million. Walker received $21.5 million from the supposed issue ad groups while Evers and Barnes were aided with $18.6 million.
Interestingly, the big business lobby, Wisconsin Manufacturers & Commerce, threw $1.2 million Walker's way, but was actually bested by what is called the Greater Wisconsin Committee, a collaboration of unions in the state and wealthy ideological contributors, which contributes to Democrats, which spent about $1.5 million.
The January Democracy Campaign newsletter also named its "Influence Peddler of the Month." The honors went to the National Rifle Association for spending more than a million dollars on state legislative and the governor's races.
February's honors were won by a new outside electioneering group, High Ground Political Fund. The group is associated with other liberal fundraising groups, including former Attorney General Eric Holder's National Democratic Redistricting Committee. High Ground Political Fund made contributions totaling $715,480 in six Wisconsin Senate races.
WDC, under the leadership of Matt Rothschild, has been active in the movement to get Wisconsin to pass a law to take away the Legislature's power to redistrict the state every 10 years and turn the job over to a nonpartisan panel.
In the bulletin, Rothschild says the good news is that the recent Marquette University Law School showed that 72 percent of those polled favored a nonpartisan redistricting. Even 63 percent of the poll responders who identify as Republican agreed.
Yet, legislative Republicans refuse to even consider such an idea, opting instead to let the party in the majority to continue to set the boundaries.
Dave Zweifel is editor emeritus of The Capital Times. dzweifel@madison.com, 608-252-6410 and on Twitter @DaveZweifel.  
Share your opinion on this topic by sending a letter to the editor to tctvoice@madison.com. Include your full name, hometown and phone number. Your name and town will be published. The phone number is for verification purposes only. Please keep your letter to 250 words or less.