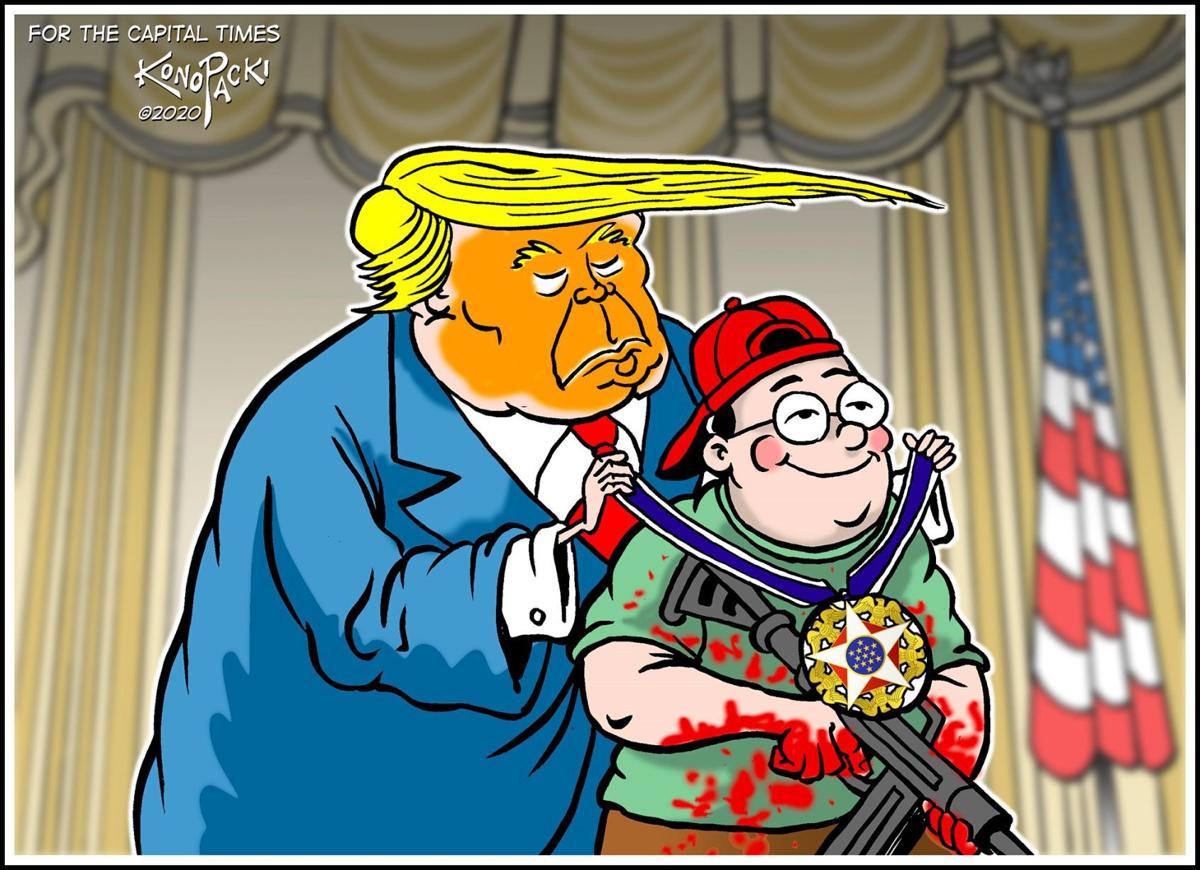 You have to pardon Jeanne Leadholm for being cynical.
At coffee several days ago, she asked me if, since Donald Trump has awarded the Presidential Medal of Freedom to the notorious right-wing radio talker Rush Limbaugh, whether he might do the same for Kyle Rittenhouse, the 17-year-old who traveled from Illinois to Kenosha and wound up shooting three protesters, killing two of them.
This was before the president came down with COVID-19, so it's unlikely he'll be handing out presidential medals anytime soon — but it was an interesting question. The president weighed in on the Rittenhouse case early on, refusing to condemn the shootings and suggesting that the teen was acting in self defense.
"He would have been, he probably would have been killed," he said of the videos he saw of Rittenhouse falling in the street while others were rushing to get the AR-15 out of his hands.
At the point of the evening the president described, however, the teen had allegedly already shot and killed one protester, according to the charges that were filed against Rittenhouse. Trump had no problem, however, during the same meeting with reporters, condemning the protester who shot and killed a white militia member in Portland.
And Don Jr. jumped into the fray, too. He also didn't want to condemn the shootings, adding in a TV interview that "we all do stupid things at 17."
I agree. We'd take the family car on a joy ride and pull pranks on our teachers, sneak cigarettes and maybe a beer — but I don't remember any of my buddies running around in a crowd with a high-powered rifle. We went hunting with firearms, but didn't point them at people.
Reactions like this from the Trumps aren't at all surprising. But, what is, is the elevation of Rittenhouse by many conservatives to a cause celebre status, many proclaiming that what he did should be praised instead of condemned. Here I thought that as a society we had decided vigilantism wasn't the American way to mete out justice. Guess I was wrong.
"How shocked are we that 17-year-olds with rifles decided they had to maintain order when no one else would?" asked Fox News host Tucker Carlson, defending the shootings. "Everyone can see what was happening in Kenosha. It was getting crazier by the hour."
I can see why the 17-year-old's attorney would resort to hyperbole to defend Rittenhouse's actions, describing him as a modern-day minuteman of the Revolutionary War.
"Kyle Rittenhouse will go down in American history alongside that brave unknown patriot … who fired 'The Shot Heard Round the World,''' his lead attorney John Pierce tweeted last month. "A Second American Revolution against Tyranny has begun."
A bit over the top perhaps, but what the heck — it quickly opened the pocketbooks of those who agree, raising more than $2 million in donations to help his defense and make sure the lawyers get paid.
To show just how many conservatives regard the teen as a hero, late last month, the Republican Women of Waukesha County gave Rittenhouse's mother, Wendy, a standing ovation during one of their meetings. She had been invited by guest speaker, conservative provocateur and Fox News contributor Michelle Malkin, who tweeted that the club had given Kyle's mom a huge shoutout.
"I was able to talk to Kyle by phone and THANK HIM for his courage. Fightback," Malkin added.
That was too much for the editor of RightWisconsin, the conservative website that was founded by former Milwaukee talk show host Charlie Sykes.
James Wigderson was blunt.
"Instead of a standing ovation … she should be condemned as a terrible mother," he wrote. "Her decision led directly to those two deaths and the wounding of the third person. Don't praise her. Ask her to consider how she caused two other mothers to bury their children after that night."
He added that the mother wasn't the only one who let Kyle down. He cited the Kenosha police and sheriff's departments.
"When they saw that 17-year-old in a baseball cap carrying a rifle almost as big as the kid himself, did they send him home?" Wigderson asked. "Did one of them tell him to get off the streets before he hurt himself or someone else?"
I fret for the future of our country when we rationalize violence and mayhem — no matter which side it's coming from.
But, when all too many of us believe it's perfectly OK to take the law into our own hands, we're indeed in a heap of trouble.
Dave Zweifel is editor emeritus of The Capital Times. dzweifel@madison.com, 608-252-6410 and on Twitter @DaveZweifel.
Share your opinion on this topic by sending a letter to the editor to tctvoice@madison.com. Include your full name, hometown and phone number. Your name and town will be published. The phone number is for verification purposes only. Please keep your letter to 250 words or less.
Catch the latest in Opinion
Get opinion pieces, letters and editorials sent directly to your inbox weekly!