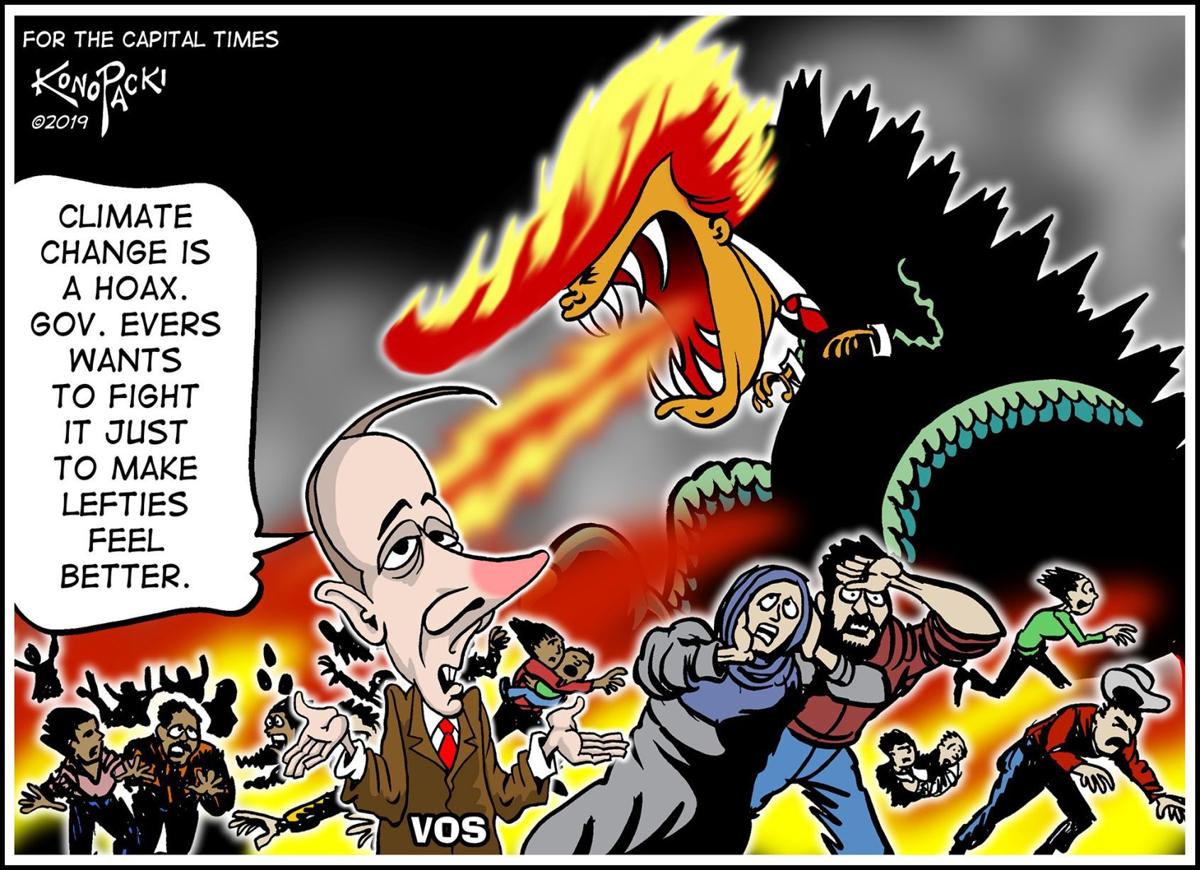 Have you ever wondered what some of these people are going to tell their grandkids?
The glaciers are shrinking. Sea levels are rising. Ice on rivers and lakes is melting faster. Tornadoes and hurricanes are stronger and more devastating than ever. Wildfires fueled by excess heat are causing billions of dollars of property losses. Birds are disappearing.
The 1,300 scientists who belong to the Intergovernmental Panel on Climate Change forecast a rise of 2.5 to 10 degrees Fahrenheit over the next century unless greenhouse gases are reduced. There will be places on Earth that won't be inhabitable. Hundred-year floods will occur every year. The United Nations predicts the costs to cope with severe weather events, rising oceans and severe heat will be in the trillions of dollars.
Yet, in the face of all this, we have government leaders who not only willfully ignore the dangers to the planet and human life — they actually help make them worse.
National Geographic has documented 15 ways that the Trump administration has, in less than three years, changed the nation's environmental policies, increasing the probability that the climate will become unbearable for much of life on the planet.
While there have been publicized changes— like declaring war on California's efforts to reduce carbon emissions by enacting stricter gas mileage requirements on motor vehicles, and the administration's ham-handed pull-out from the Paris Climate Agreement — there have been dozens of rollbacks that have garnered little notice.
Thanks to efforts to clean up coal power plants, restricting the methane-flaring at refineries and working with other nations to fight pollution, the country was finally making some headway in reducing or at least containing carbon emissions. But, thanks to this administration's polices — ostensibly aimed at "unshackling" big business from onerous regulations — 2018 saw a rise in greenhouse gases of 3.4%, the highest increase since 2010.
"(Trump's) administration is filled with former corporate lobbyists, and they have been changing federal policy to make it easier for companies to pollute. These officials like to talk about free enterprise and scientific uncertainty, but their real motive is usually money."
And don't think we any different here in Wisconsin. While our farmers have had to cope with abnormal weather events and several communities have had to deal with annual floods that have ruined homes and businesses, the speaker of the state Assembly belittles the formation of a gubernatorial climate change task force to explore what the state can do.
In his usual display of arrogance, Assembly Speaker Robin Vos, R-Rochester, insinuated the only reason Gov. Tony Evers wants to appoint a task force to develop strategies to deal with climate change is "to make people on the left feel better about themselves."
Like his hero, President Donald Trump, Vos says that, yes, there "probably" is climate change happening before our eyes, but he — nor anyone else, he says — knows what's causing it. Not the 98% of climate scientists who have documented how emissions caused by human activity are contributing to melting polar caps, rising oceans and super-charged storms. The popcorn maker from Racine County knows better.
It took a Swedish teenage girl named Greta Thunberg to call out governmental leaders for sitting on their hands while the world deteriorates. She inspired thousands of young people to join in marches aimed at calling attention to what should be a major — if not the major — issue in next year's elections.
Meanwhile, it's taken an 81-year-old actress named Jane Fonda to call attention to this atrocity. Every Friday she's been arrested at the nation's Capitol for sitting in to call attention to our inaction.
But where are the American politicians who ought to be hammering this issue home, explaining to voters what needs to be done and how they will do it?
As more Americans experience the effects of climate change, this could well be Trump's Achilles heel — and perhaps even Robin Vos will need to answer to his constituents for his pathetic indifference.
If this kind of neglect goes unpunished, what, indeed, will we tell the children?
Dave Zweifel is editor emeritus of The Capital Times. dzweifel@madison.com, 608-252-6410 and on Twitter @DaveZweifel.  
Share your opinion on this topic by sending a letter to the editor to tctvoice@madison.com. Include your full name, hometown and phone number. Your name and town will be published. The phone number is for verification purposes only. Please keep your letter to 250 words or less.
Catch the latest in Opinion
Get opinion pieces, letters and editorials sent directly to your inbox weekly!