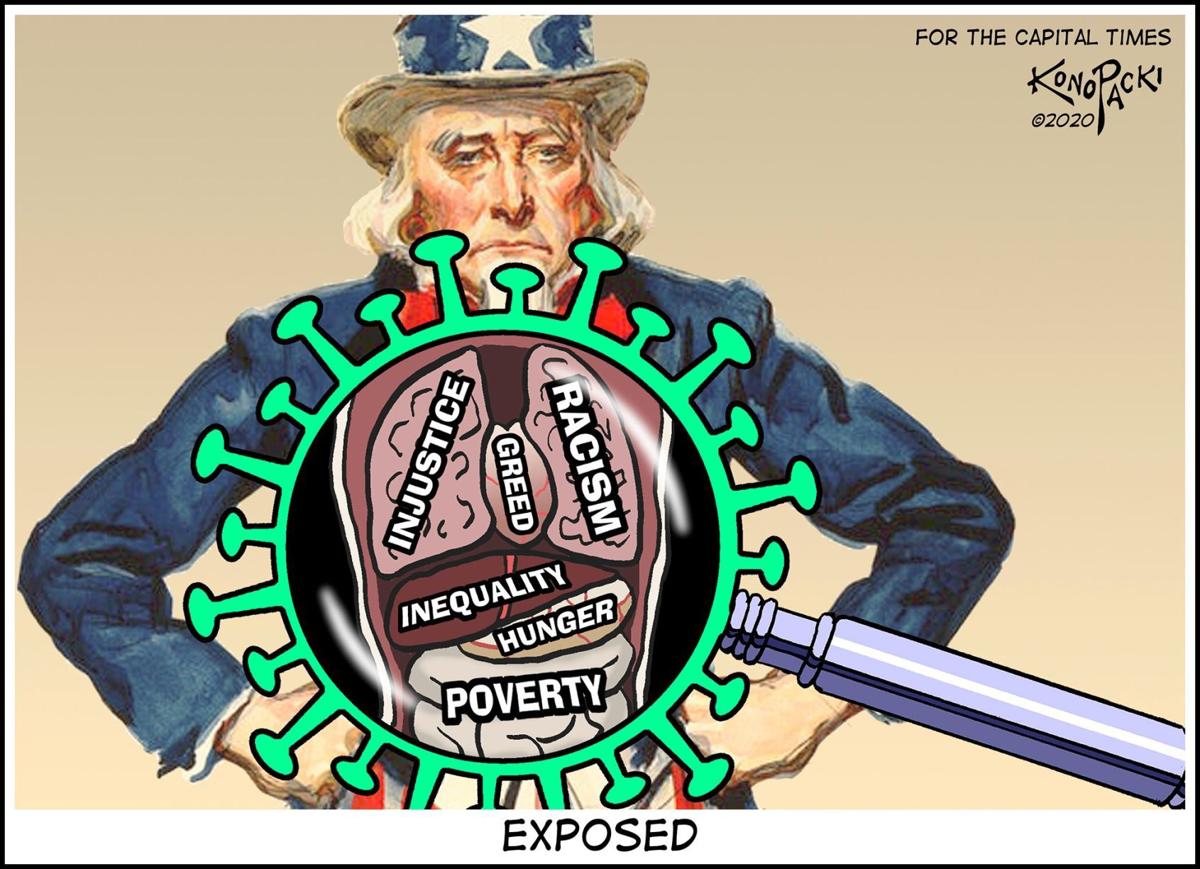 "The last 12 weeks has been a shock to our system. We've had more Americans die than during the Vietnam War. We've had too many black and brown people on the front lines of this pandemic without the proper protective equipment, and therefore being infected and dying at rates that are totally unacceptable. This has laid bare the racial and economic injustice that existed long before coronavirus hit our nation."
These are quotes from a Memorial Day weekend New York Times interview with Mary Kay Henry, the president of the Service Employees International Union that nationwide represents 2 million janitors, health care workers and teachers, including 8,000 members in Wisconsin.
Henry's main message was to ask whether we will learn from the pandemic or return to a status quo that was not good for the overwhelming majority of American families — 64% of workers make less than $15 an hour, forcing them to live paycheck by paycheck, she noted.
Pointing out that 75% of her members have been on the job since the pandemic hit because they are considered essential, she added, "If they are essential, why is it that they have to scratch and claw for health care that they can't afford?"
But, she was optimistic that we will make change.
"This life-and-death situation that we've now all been thrust into has opened up possibilities. Working people want real change, and that I think makes me more optimistic than ever that the change isn't going to be incremental, and that gives me incredible hope," she added.
The SEIU has been in the news in recent weeks in Madison over its efforts to re-organize nurses and other health care workers at University Hospitals. They lost their representation thanks to former Gov. Scott Walker's Act 10, which effectively destroyed public employee unions in the state. The nurses, alarmed by what they say is chronic under-staffing at the hospital, want it to "voluntarily recognize" SEIU Healthcare Wisconsin and to at least bargain on working conditions. So far, the hospital's governing board has refused.
Act 10 is a microcosm of the political decisions made since the advent of Reaganism in 1980 through today — politics that have led to the economic inequality that the coronavirus pandemic has exposed. There have been massive tax cuts for the corporations and pennies for workers. Right-to-work laws have eviscerated unions, even here in Wisconsin, eliminating the one voice American workers had to stand up for fairness.
Here in Wisconsin, our Republican legislators, led for eight years by the corporate-friendly Walker, haven't been able to even consider raising the minimum wage from the $7.25 an hour that hasn't been changed since 2009.
We have no worker protection laws like mandatory paid sick or family leave or, of course, universal health care. Workers are expected to be on call around the clock. Publicly traded companies are typically beholden to stockholders first, even above employees and customers.
And guess who is expected to be on the job during a crisis — those with the lowest pay, the least protections — the "essential" workers who are on the bottom of the economic rung.
Even now, after Congress passed two stimulus packages to lessen the damage of the pandemic, the deck has been stacked for the rich. Congress's Joint Committee on Taxation revealed the administration sneaked a $135 billion bailout for real estate developers into the $3 trillion emergency spending.
Columnist Nicholas Kristof commented, "In other words, a single mom juggling two jobs gets a maximum $1,200 stimulus check — and then pays taxes so that a real estate mogul can receive $1.6 million."
No wonder the nation's top 10% earn nine times more than the bottom 90%.
The SEIU's Henry is optimistic the pandemic's lessons will cause working people to rise up and demand changes for the nation's economic future.
I'm not all that sure. But, it will have to start by replacing the politicians who for decades now have done their best to protect the wealthy while ignoring the people who actually make the country work.
Dave Zweifel is editor emeritus of The Capital Times. dzweifel@madison.com, 608-252-6410 and on Twitter @DaveZweifel.  
Share your opinion on this topic by sending a letter to the editor to tctvoice@madison.com. Include your full name, hometown and phone number. Your name and town will be published. The phone number is for verification purposes only. Please keep your letter to 250 words or less.
Catch the latest in Opinion
Get opinion pieces, letters and editorials sent directly to your inbox weekly!