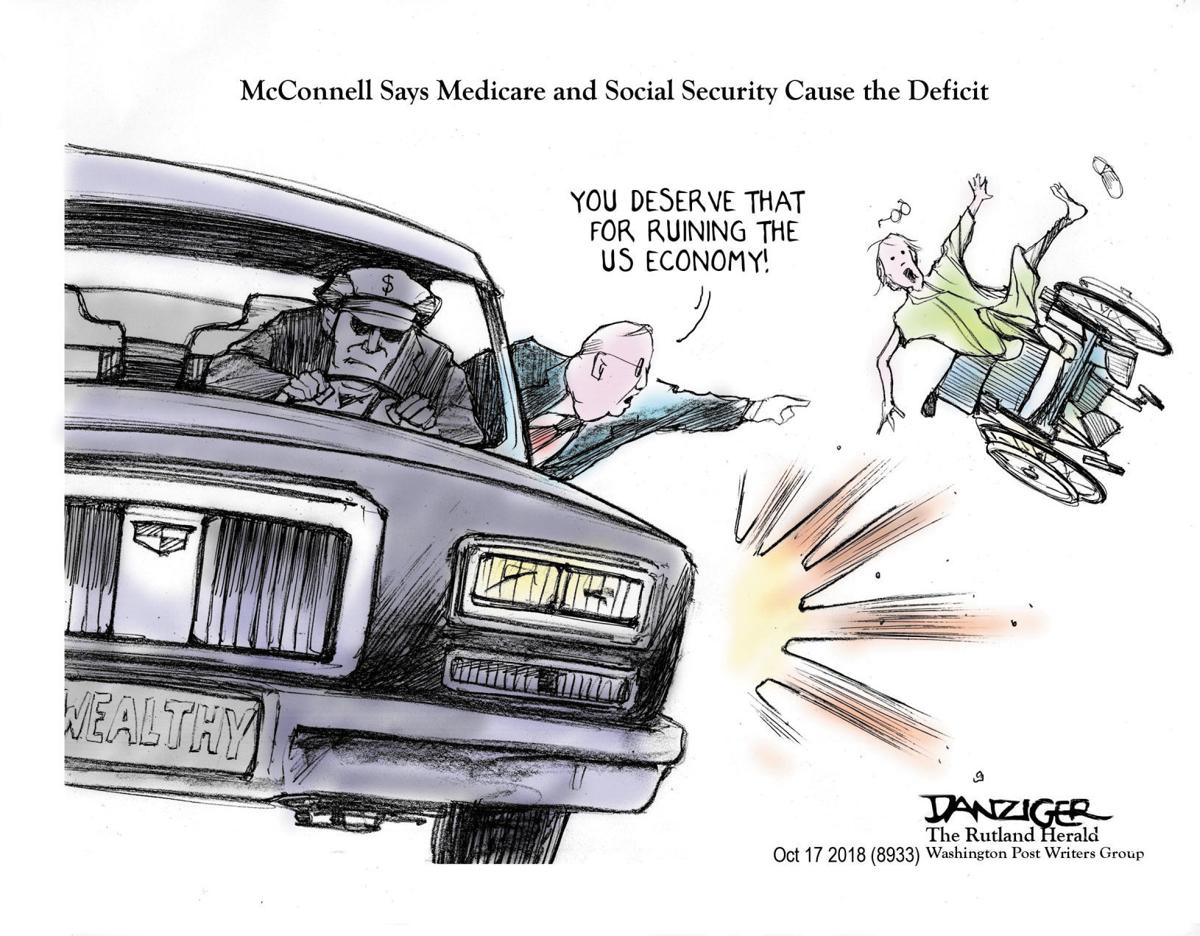 It's getting harder to tell who's the more disgusting American politician these days — Donald Trump or Mitch McConnell.
The dour Kentucky senator who is the Senate majority leader and its master of dishonesty last week did what everyone expected him to do after the news broke that the federal government's debt is rapidly increasing. His response showed brash and audacious chutzpah that was surprising, even for him.
Less than a year after McConnell, House Speaker Republican Paul Ryan and Trump rammed through their "tax reform" package to funnel more than a trillion dollars into cuts for big corporations and the CEOs who run them, this slippery politician didn't even mention the tax cuts that have so severely reduced government revenues that we're now spending $779 billion a year that we don't have.
McConnell was forced to admit that the rising deficit, up a cool 17 percent from this time last year, is "disturbing." Republicans, after all, have historically spent the better part of their political lives railing about debt supposedly caused by Democrats. But that was before Trump — and McConnell's and Ryan's new habit of kissing his ring even if means abandoning their supposedly long-held principles (which were a myth in the first place).
Oh no, the $1.2 trillion reduction in federal revenue from the cuts isn't the problem. It's those darn "entitlements" — Social Security, Medicare and the Affordable Care Act — our Trump Jr. from Kentucky insisted. That assertion is exactly what many political observers, including some conservative pundits, predicted would be made once the impact of the tax cuts started showing.
The Capital Times pointed out at the time that the ironically named "tax reform" would benefit the already rich and powerful, leave working people with crumbs and then, when it came time to pay for it, the poor, elderly and infirm would be asked to pay up.
We didn't think it would come this quickly, but here we are at exactly that juncture.
And to the surprise of no one who pays attention to tax plans, we once again are witnessing the failure of the GOP's fascination with "trickle-down economics." How many times do you make the same mistake before trying something new?
Didn't our departing House speaker from Janesville claim that this "tax reform" fiasco was the fulfillment of his ultimate goal? Remember how he joined Trump, McConnell and a gaggle of Republican congressional elites in celebration at the White House?
Let's not forget, though, that another of Ryan's dreams has been the privatization of Medicare and remaking Social Security to make it more dependent on Wall Street and, hence, the whims of the stock market's ups and downs.
It's all supposed to be so much better for the American people.
But no, it's all so much better for those already at the top. They get their taxes lowered, corporations can set more profitability records and, what has been the sad case for all too many decades, in the end the working folk pay for it all.
That's just one reason Americans need to take a close look when they go to the polls Nov. 6.
Dave Zweifel is editor emeritus of The Capital Times. dzweifel@madison.com and on Twitter @DaveZweifel. 
Share your opinion on this topic by sending a letter to the editor to tctvoice@madison.com. Include your full name, hometown and phone number. Your name and town will be published. The phone number is for verification purposes only. Please keep your letter to 250 words or less.