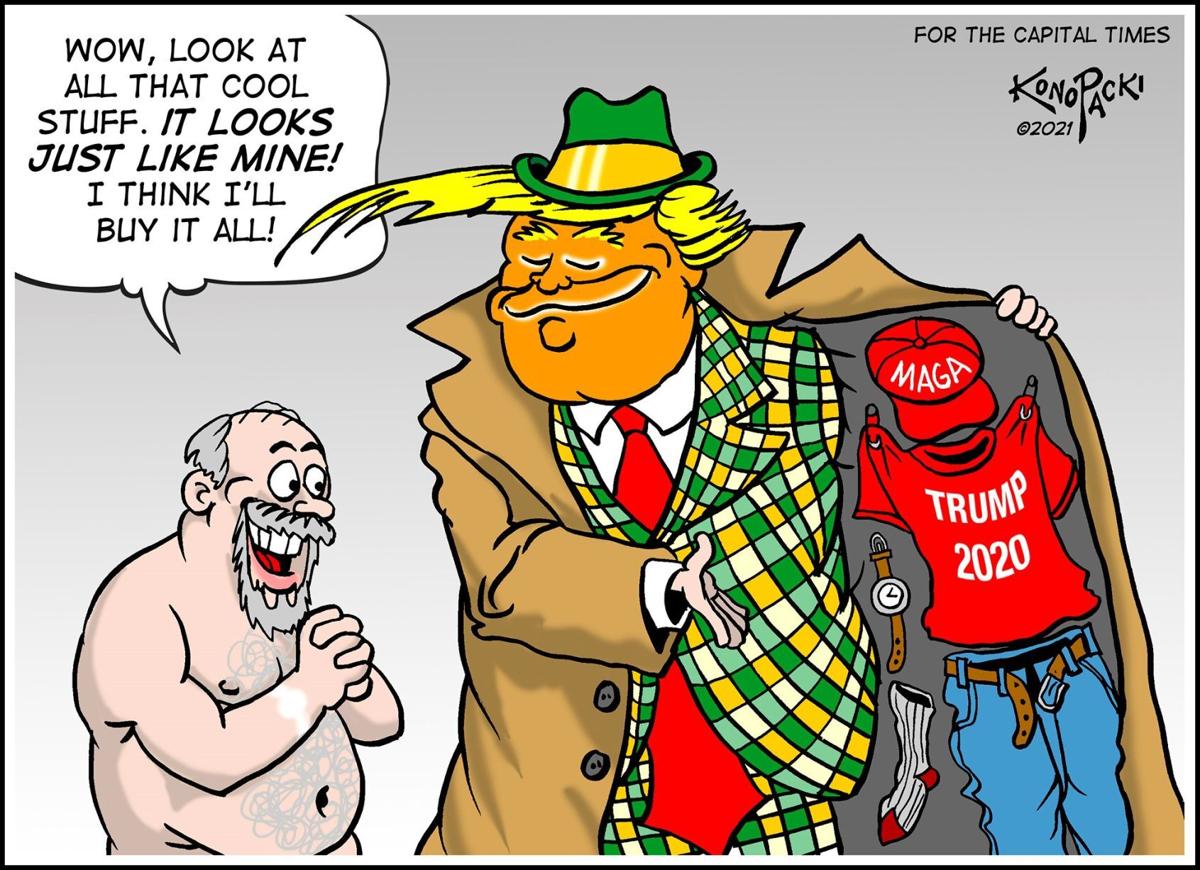 I have to admit getting a perverse pleasure when reading the recent reports that thousands of Donald Trump loyalists were duped into making ongoing contributions to his reelection campaign last fall, helping finance his flurry of failed lawsuits seeking to "prove" the election was rigged.
The reports were an astonishing recounting of how campaign donors, many of them people on fixed incomes and with limited assets, were tricked into sending money to the Trump campaign and the Republican National Committee through fine print gimmicks that would make seasoned scammers blush.
Champions of the common people, indeed.
Many of the donors eventually caught on, and flooded banks and credit card companies with fraud complaints about donations they had not intended to make, sometimes for thousands of dollars. In the final two-and-a-half months of 2020, the Trump campaign, the RNC and their shared accounts issued more than 530,000 refunds worth $121 million to online donors, an incredible figure in today's politics, pointed out by the New York Times.
Trump loyalists were sent solicitations starting last September when the campaign was facing a cash crunch and getting badly outspent by the Democrats. Many members of his die-hard base responded quickly by sending checks or using their credit cards to assist its hero in a time of need.
What they didn't know is that their contributions were to be recurring unless they perused the fine print to discover they needed to uncheck a box to make their money was a one-time donation.
The Times told the story of Stacy Blatt, a Kansas City man who was in hospice with cancer. After listening to Rush Limbaugh tell about how badly the Trump campaign needed money, he went online and sent the campaign $500, which was everything he could afford since he was living on less than $1,000 a month. But that single contribution quickly multiplied. Another $500 was withdrawn the next day, then $500 the next week and every week through mid-October, without his knowledge, the paper reported.
When Blatt's bank account was frozen and his utility and rent payments bounced, he called his brother for help. What they discovered was $3,000 in withdrawals by the Trump campaign in less than 30 days. They called their bank and said they thought they were victims of fraud.
"It felt," the brother said, "like it was a scam."
Blatt was just one of thousands. The paper added that the recurring donations swelled Trump's treasury in September and October, just as his finances were deteriorating. He was then able to use tens of millions of dollars he raised after the election, under the guise of fighting his unfounded election fraud claims, to help cover the refunds he owed.
The news led New York Magazine columnist Jonathan Chait to proclaim that Trump may be the "greatest con man in history. He has specialized in bilking the little guy, stiffing hundreds of contractors, setting up a fraudulent real-estate school, looting casinos, and campaigning as a populist only to govern as a plutocrat."
To be fair, Trump's campaign hasn't been the only one to use deceptive tactics to raise campaign money, but his team made it an art form. Trump, the Republican National Committee and their shared accounts refunded far more money to online donors in the last election cycle than every federal Democratic candidate and committee in the country combined, according to campaign records.
There are other ways donors get duped. The Washington Post reported last week that a new favorite tactic among Republican fundraisers is to spend hundreds of thousands of dollars in campaign donations to buy books in huge quantities written by conservative authors to get them on the bestseller lists. The books are then given free to donors at a certain level.
Four GOP-affiliated organizations, including the Republican National Committee, collectively spent more than $1 million during the past election cycle mass-purchasing books written by GOP candidates, elected officials and personalities, according to Federal Election Commission expenditure reports. The purchases helped turn several volumes into bestsellers, personally benefitting the authors while spreading conservative gospel. Among the beneficiaries have been Sens. Mitch McConnell and Tom Cotton, and Donald Trump, Jr.
While there's nothing illegal about the scheme, the paper said Texas Sen. Ted Cruz may have crossed the line when he used campaign money to boost sales of his newest book. A watchdog organization, the Campaign Legal Center, has filed a complaint with the Federal Elections Commission
The group said Cruz's campaign committee converted campaign contributions to Cruz's personal enrichment, an illegal practice. It alleged Cruz's staff did so by spending $154,000 of his supporters' funds on copies of his book, and an additional $18,000 to promote it via Facebook. Both actions increased sales of "One Vote Away," which in turn allegedly triggered illegal royalty payments to Cruz, the group said.
What's puzzling is that many donors don't seem to care about any of this.
As Chait reported, no matter how many times Trump gets caught cheating people, his victims continue to still adore him. One of the victims of the recurring donation scam, the columnist noted, said, "I'm 100 percent loyal to Donald Trump."
Dave Zweifel is editor emeritus of The Capital Times. dzweifel@madison.com, 608-252-6410 and on Twitter @DaveZweifel.
Share your opinion on this topic by sending a letter to the editor to tctvoice@madison.com. Include your full name, hometown and phone number. Your name and town will be published. The phone number is for verification purposes only. Please keep your letter to 250 words or less.