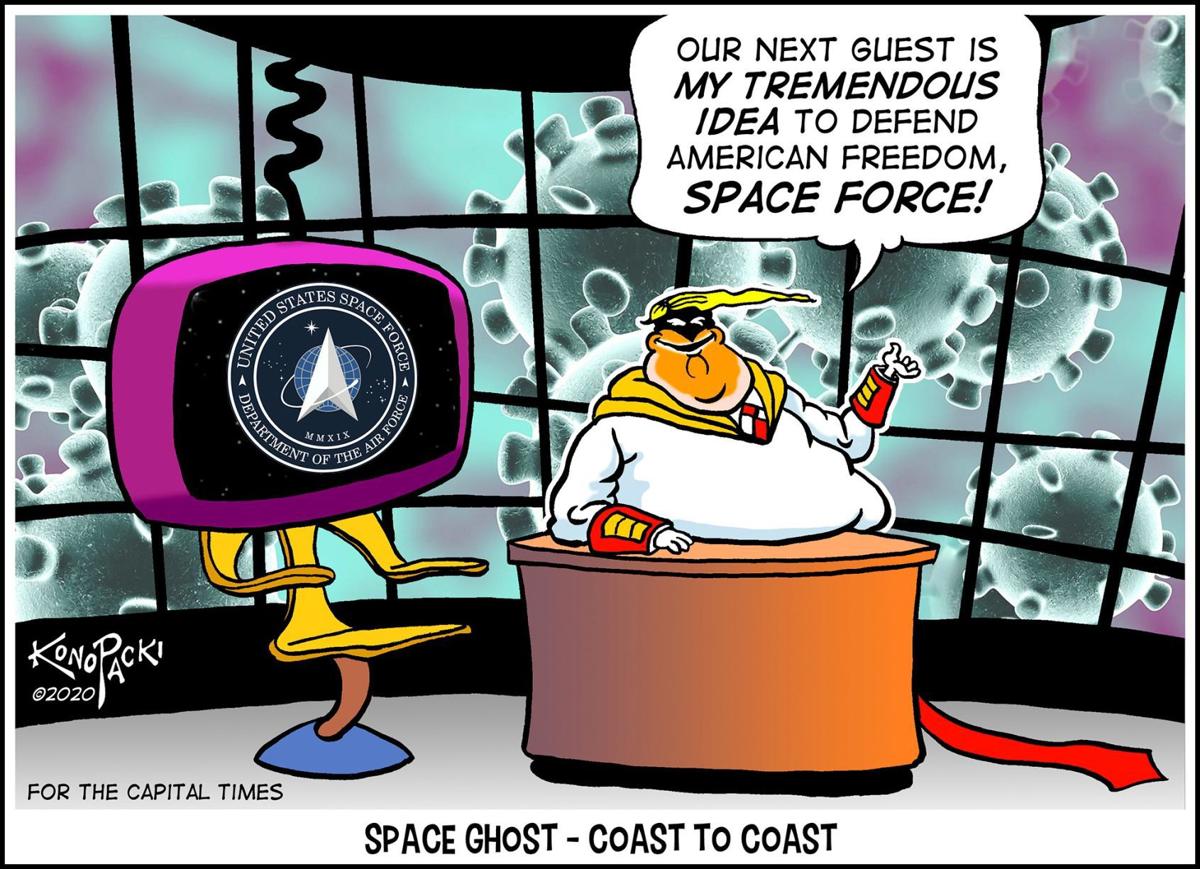 The latest edition of the "Hightower Lowdown," the semi-monthly newsletter produced by my favorite progressive gadfly, Texan Jim Hightower, makes light of President Donald Trump's decision a couple of years ago to establish a sixth branch of America's armed forces — the "Space Force."
"When it comes to defending America, it is not enough to merely have an American presence in space. We must have American dominance in space," Trump said in a March 2018 talk to a couple hundred Marines.
As Hightower notes, the audience laughed, figuring it was just whimsy coming from the president, but it wasn't. Trump went on to direct the Department of Defense and the Pentagon to immediately prepare to launch the new service branch, but so far it basically consists of about 200 officers who are really a part of the Air Force and really has no mission other than, Hightower notes, adding another layer of bureaucracy to existing programs.
It does have a spanking new logo, though, which appears to be a knock-off of the fictional Starfleet Command badge in the old "Star Trek" shows and uniforms that resemble the old Army camouflage pattern of splattered brown and green that troops wore in Vietnam to blend in with the jungle.
But, what isn't funny about this nonsense — the existing U.S. Air Force, after all, is already charged with safeguarding space — is that it is the first step in involving the United States in yet more military-related ventures that have cost Americans dearly and will do so well into the future. It apparently isn't enough that we've stationed troops around the world, declared unnecessary wars that have dragged us down for decades and built billion-dollar boondoggles like the F-35, we need to make sure that we start spending on, as Hightower puts it, high-tech ray-guns and armed rocket ships.
"Do we not have enough wars?" he asks "Have we learned nothing from Vietnam, Afghanistan, Iraq and other prolonged, costly and ultimately pointless conflagrations that should give us pause about lunging into a real-live Star Wars?"
Indeed. Our military budget already consumes roughly half of the country's discretionary budget — more than $630 billion. That's more than the annual military budgets of China, Saudi Arabia, India, France, Russia, the United Kingdom and Germany combined.
And, that doesn't include other military-related expenses — $105 billion for the Veterans Administration, $15 billion for the Department of Energy's National Nuclear Security Administration and a cool $21 billion for the military intelligence program.
Plus, the $69 billion that pays for our so-called War on Terror, which includes military operations in Iraq, Afghanistan and Syria, is listed in a separate category.
The defenders of the military budget insist all that spending is needed to protect the country, to make sure the rest of the world doesn't view us as weak because if they do, they'll try to push us around.
But, the waste and fraud in our defense spending is legendary, and the weapons systems that the Pentagon contends are so desperately needed often turn out to be useless or obsolete before they come into use.
Trump himself has been showing us that there's fat in the DOD budget. Why else then can he "redirect" military dollars to his "beautiful" wall along the Mexican border — $6.1 billion last year, $3.8 billion this past February and another $3.4 billion later this year? It's comical.
There's another glaring atrociousness about all this. Defense gets $636.4 billion (plus everything else) while the Department of Health and Human Services is budgeted for $96.4 billion.
Wouldn't it have been nice if we had devoted more of our resources to explore and develop ways to protect the public's health from dangers like the latest coronavirus — a budget that the Trump people actually reduced — instead of figuring out we can militarize outer space?
Dave Zweifel is editor emeritus of The Capital Times. dzweifel@madison.com, 608-252-6410 and on Twitter @DaveZweifel.  
Share your opinion on this topic by sending a letter to the editor to tctvoice@madison.com. Include your full name, hometown and phone number. Your name and town will be published. The phone number is for verification purposes only. Please keep your letter to 250 words or less.
Catch the latest in Opinion
Get opinion pieces, letters and editorials sent directly to your inbox weekly!