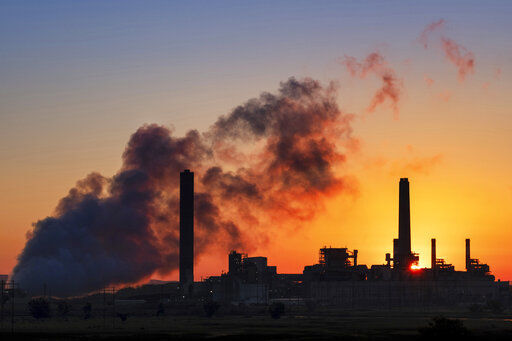 Let's set aside for a moment many of the misdeeds and malfeasances that have occurred under this administration that have done nothing to make America great again.
Instead, let's focus on the one that probably matters more than any — the incredible refusal to not only recognize the existence of climate change, but to overtly enact policies to make the danger to the future of our planet even worse.
Donald Trump had the audacity earlier this week to declare at a gathering in Florida that he is "a great environmentalist." This in a state where the oceans are flooding its coastlines because the ice caps are melting and hurricanes are battering communities with increasing power and frequency.
Yes, the great environmentalist who withdrew the U.S. from the Paris Agreement on climate change, loosened regulations on toxic air pollution, removed climate change from the list of national security threats and, according to those who keep track, has taken an astounding 74 actions to weaken environmental protections.
Meanwhile, historic fires are burning millions of acres of forest lands in the west and the Rockies, destroying homes and even whole communities. Unprecedented temperature drops are stunning meteorologists and here in Wisconsin, after record heat in July, for three straight days this week we set new all-time records for low highs in September.
On the very day Trump was trying to rebrand himself as a great environmentalist, the Chicago Tribune ran a story that was a small example of the environmental havoc that he has caused. The president's Environmental Protection Agency had gutted standards for toxic metal dumped into waterways, most of it coming from coal-fired power plants.
The EPA in 2015 had adopted stringent limits on metals that, according to the Tribune, stick around in the environment and become more dangerous as they move up the food chain. They include arsenic, lead and mercury. One of the worst is the We Energies-owned coal-fired plant in Oak Creek.
It appeared that the Oak Creek plant would have to install more effective treatment methods, but then Donald Trump and his new EPA took office.
According to the Tribune, Trump's EPA even admitted that benefits for energy companies would come at the expense of more than 20 million Americans who drink water polluted by coal plant discharges. But, the financial health of the utility apparently takes precedence.
The Trump administration has frequently targeted regulations governing the production and use of fossil fuels, a prime contributor to global warming and consequential climate change. Trump himself keeps insisting that coal and oil jobs have to be saved, referring to climate change as a hoax.
So, he's lifted bans on oil and gas exploration in places like the Arctic National Wildlife Refuge to the National Petroleum Reserve in Alaska.
Interestingly, his claim of superb environmental stewardship isn't his first. It was only a couple of months ago that he boasted that he is the No. 1 environmental president since Teddy Roosevelt.
It would be laughable, if not so utterly dangerous for the future of humankind.
The Union of Concerned Scientists has made it clear that climate change is here and it will affect virtually every human on Earth in increasingly severe ways. We are now experiencing it every day.
It may well be the most important issue at stake this Election Day.
Dave Zweifel is editor emeritus of The Capital Times. dzweifel@madison.com, 608-252-6410 and on Twitter @DaveZweifel.
Share your opinion on this topic by sending a letter to the editor to tctvoice@madison.com. Include your full name, hometown and phone number. Your name and town will be published. The phone number is for verification purposes only. Please keep your letter to 250 words or less.
Catch the latest in Opinion
Get opinion pieces, letters and editorials sent directly to your inbox weekly!