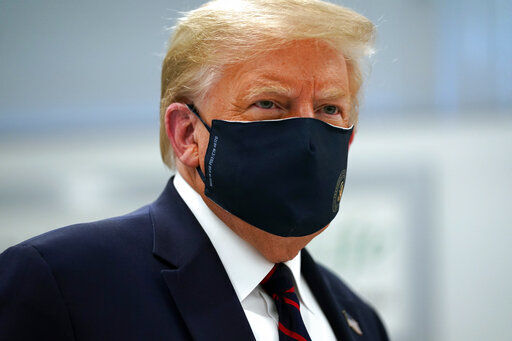 Donald Trump now claims that he's in favor of American citizens wearing masks.
But, as we saw once again last week, he and his pitiful son Donald Trump, Jr., continue to stoke people's animosity to the idea.
Junior got his hands slapped by Twitter after he shared a video which included misleading and false claims about the coronavirus pandemic. His father has also retweeted it.
The video alleges that Dr. Anthony Fauci had "suppressed" the use of hydroxychloroquine to treat the coronavirus. The senior Trump, of course, has touted the drug as a treatment for the coronavirus, even though the Food and Drug Administration determined in June that the drug is "unlikely to be effective in treating COVID-19."
The doctor quoted in the video, Stella Immanuel, claimed that wearing a mask is unnecessary, contradicting widely accepted medical advice and guidance from the Centers for Disease Control and Prevention. She also claimed, without evidence, that there is a "cure for COVID," which, of course, is a lie.
Immanuel, who has a history of anti-LGBTQ bigtory, has also claimed that some medical issues are caused by sex with demons and witches in dreams and that alien DNA is used in medical treatments. Her group is headed by Simone Gold — a doctor supporting President Trump who has joined with Republican operatives to defend Trump's coronavirus response in media appearances.
Although Twitter, Facebook and other platforms have taken down the video, Media Matters reports that it still is alive on the internet and getting many views.
There's little question that it's false narratives like this that help fuel the visceral and often ill-informed pushback to mask wearing during this awful pandemic.
How the Trumps and others sow seeds of doubt by amplifying the internet's disinformation was evident at a Sauk County board public hearing on whether the county should require masks last week.
Baraboo resident Dave Wester, a frequent letter to the editor contributor to area newspapers, sent along a sample of the comments from that meeting. According to Wester, of the 35 who spoke, 32 of them were opposed. The board declined to ratify a mask mandate.
Here, according to Wester, is a sampling of the comments:
"Masks are not effective. They do little to stop the spread of covid."
"Preserve individual freedom."
"Masks take away the breath which God gave us."
"Masks cause people to commit suicide, out of hopelessness."
"There is no evidence that masks protect a person."
"It is part of a socialist agenda and will disappear after the election."
"The virus is weakening."
"Masks increase the risk to cancer patients."
"Masks impair the vision of people who wear glasses."
"Masks are harmful, unethical and unconstitutional."
"I am not speaking just for myself, but for those afraid to speak."
"It is a joke and a lie" (from a man who claimed to be a "born-again" pastor).
"It's part of a conspiracy to end the death penalty so that we have a ready class of murderers."
"There is no consensus on the value of masks. The less government the better."
"Doctors and nurses don't wear masks."
Yup. Probably those darn laws against driving drunk and putting other people's lives in jeopardy are unconstitutional, too.
Dave Zweifel is editor emeritus of The Capital Times. dzweifel@madison.com, 608-252-6410 and on Twitter @DaveZweifel.  
Share your opinion on this topic by sending a letter to the editor to tctvoice@madison.com. Include your full name, hometown and phone number. Your name and town will be published. The phone number is for verification purposes only. Please keep your letter to 250 words or less.
Concerned about COVID-19?
Sign up now to get the most recent coronavirus headlines and other important local and national news sent to your email inbox daily.